What is a bill of entry? When is it filed?
A bill of entry is a legal document that is filed by importers or customs clearance agents on or before the arrival of imported goods. It's submitted to the Customs department as a part of the customs clearance procedure. Once this is done, the importer will be able to claim ITC on the goods. The bill of entry can be issued for either home consumption or bond clearance. When it is issued for bond clearance, the bond number and date of issuance should be included.
Who should issue a bill of entry?
Bill of entry should be issued by:
Firms that import goods from other countries.
Firms that purchase goods from SEZ and sell them within India.
Procedure
Once the bill of entry is filed, an authorized Customs officer will examine the goods.  Then the importer of goods should pay the basic customs duty, IGST, and GST compensation cess to clear the goods. The importer can claim ITC for the IGST and compensation cess, but not for the basic customs duty.
Format of a bill of entry:
Based on the rules prescribed by the Government, here is what a sample bill of entry will look like in the GST regime: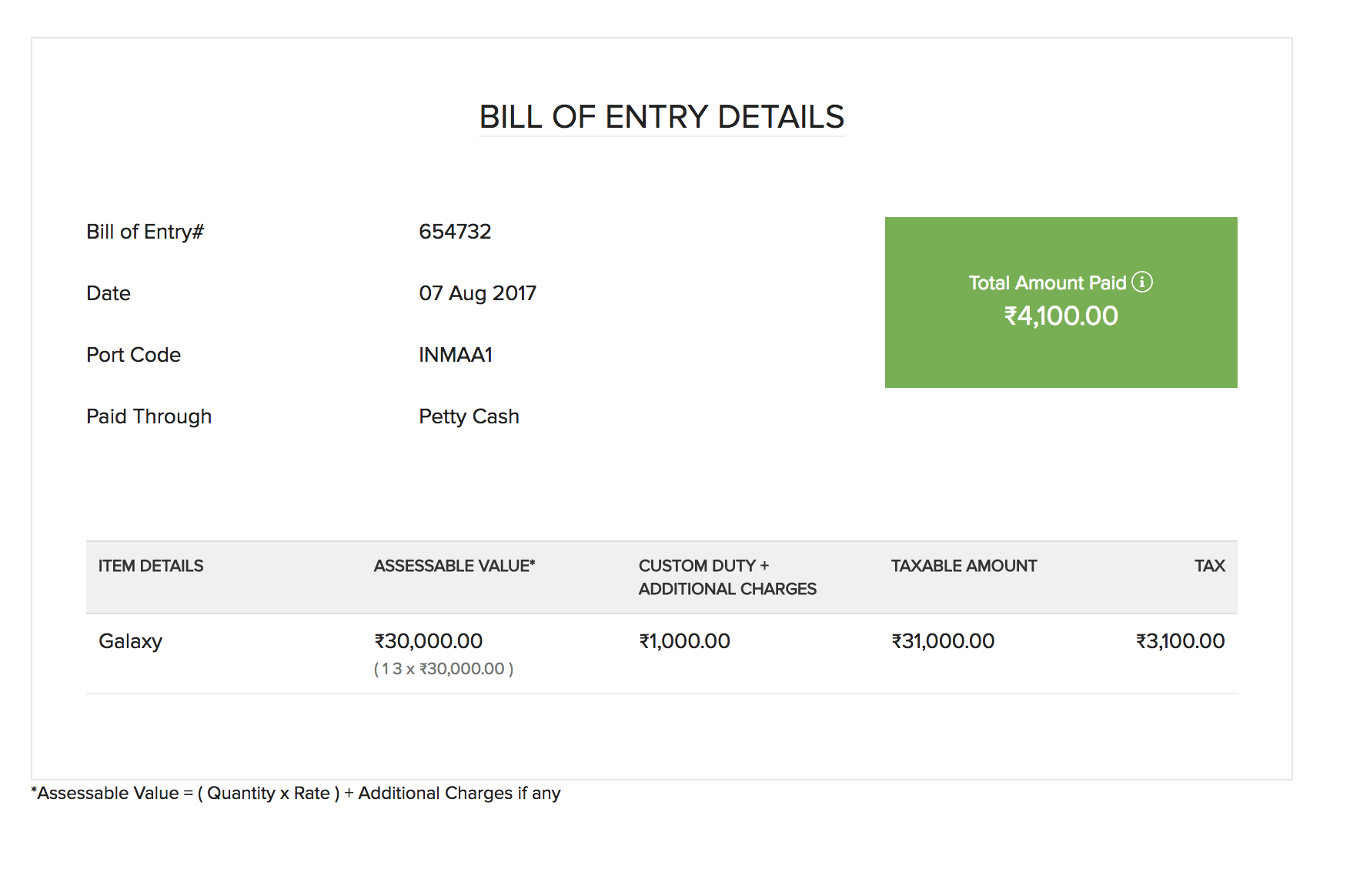 Port code and licence number.
Customs house agent code, Import Export code(IEC), and importer's name and address. The address will be auto-populated if the importer is a registered taxpayer.
NOTE: Most taxpayers will enter their GSTIN (or provisional GSTIN) in the IEC field. If they don't have a regular or provisional GSTIN, they can use their PAN/UIN. Based on this, the importer will be provided ITC for the IGST and compensation cess that was paid to clear the goods. However, ITC can not be claimed on the basic customs duty that is paid for the goods.
Vessel's name, port of shipment, country of origin and country code, country of consignment and its code (if different from the country of origin), date on which bill of lading was issued.
Details regarding the goods and their value:
Packages and quantity:
Serial number, description of the goods, and unit code of the goods
Number of packages and their weight or volume
Description of the goods (details should be given separately for each class)
Customs tariff heading, including the exemption notification and year
  Customs duty
Nature of the duty code
Assessable value of the goods. Additional charges like landing and handling charges (if any) can be mentioned here.
Basic rate and basic amount of customs duty levied
Additional duty
Central Excise Tariff (CET) with respect to the exemption notification and year
Special Additional Duty (SAD) for Customs
Value, rate and total additional duty
IGST
GST code, IGST rate, and IGST amount
Compensation cess amount
Exemption notification for claiming exemption from IGST
Exemption notification for claiming exemption from GST compensation cess
Total amount of duty (assessable value plus custom duty and additional charges) in words, and total number of packages in words
  Two declaration and signature sections: One for the Customs house agent, and one for the importer.