Build Insightful Reports And Visually Analyze Your Business Information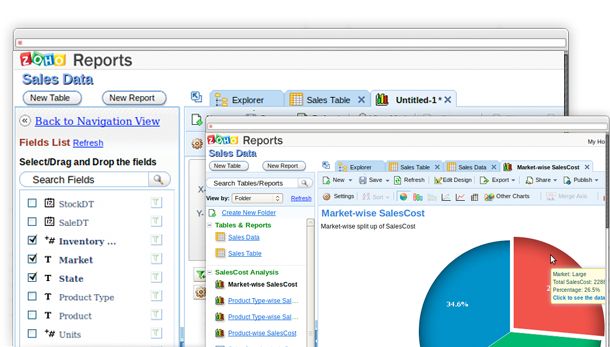 Zoho Reports is a online business intelligence and reporting service that helps you analyze your business data and get real insights for making better decision.
"Unlimited" Reports for FREE. Get Started Now!
Features
|
Zoho Reports + Google Apps
|
Pricing
Business Analysis

Generate powerful report and visually analyze the data with an easy to use Drag and Drop interface. Discover where your business is performing well and where it needs attention. Identify the reasons and devise plans to improve the standard of your business. This helps you to meet the demands of your clients and customers.

Different Types Of Reports

Analysing and interpreting enormous amount of data may be time consuming and confusing. You can use different types of charts like Pie, Bar, Stacked bar, Scatter, Line and Tables and make the interpretation simpler and interesting.

Embedding Reports

Embed your reports in website, Blogs, Microsoft SharePoint Server and Applications. Provide sufficient information about the company's growth to your customers.

Collaboration

Making a decision isn't a cakewalk all the time. Some times, you might need others' opinion to make a better one. You can share the reports with your clients and colleagues, analyze and make decisions collaboratively.

White Labelling

Completely Re-brand and customize Zoho Reports with the White labelling option according to your business requirements.
Watch a Video
"Unlimited" Reports for FREE. Get Started Now!