Great Customer Support Starts Here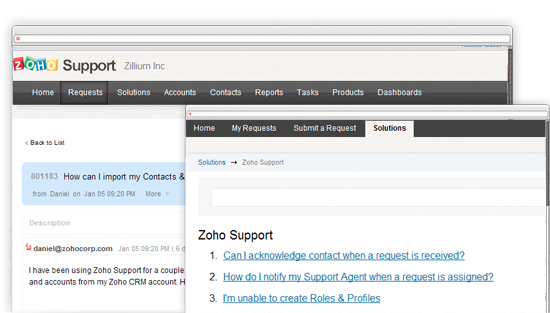 Zoho Support is a comprehensive web-based help desk solution which empowers your business to provide world-class customer support to your customers.
1 Agent "Absolutely" Free. Get Started Now!
Features
|
Zoho Support + Google Apps
|
Pricing
Ticket Mangement

Zoho Support helpdesk software lets you handle huge traffic of tickets and receive any number of mails from both web forms and e-mail.

Contracts, SLAs & Escalations

Set an appropriate deadline to provide a solution. Escalate the ticket if timely resolution is not provided, and ensure better customer experience every time.

Knowledge Base

Help your customers to solve their problems on the own. They don't have to mail or call you for simple issues. Create knowledge bases with respective topics that can be viewed by both customers and support agents.

Workflow

Automate your work process and automatically assign requests, send notifications and modify information based on predefined workflow rules.

Alerts And Notifications

There may be times when you would totally forget tasks that you must complete. Use emails or pop-up alerts to stay reminded.
Watch a Video
1 Agent "Absolutely" Free. Get Started Now!