Create Your Own Private Community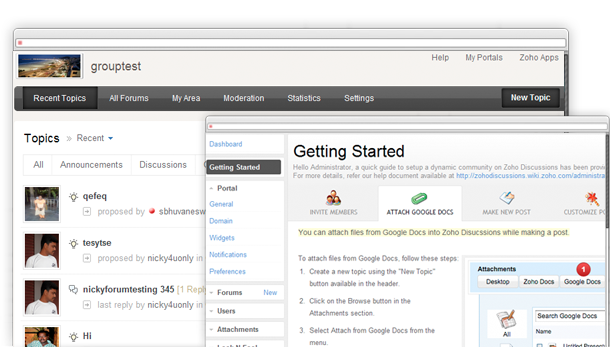 Zoho Discussions helps you to setup your own private communities to exchange ideas, discuss and arrive at better solutions. Zoho Discussions brings all under one roof.
1 Forum "Absolutely" Free. Get Started Now!
Features
|
Zoho Discussions + Google Apps
|
Pricing
Private Community

Create a portal for your employees which paves a way for him to discuss and share innovative ideas. Start a discussion and get to know what your colleagues has opined about your idea.

Feedback Widgets

Set feedback widgets in your portal and collect feedback about products or ideas or decisions. This enables you to improve and deliver a quality work to your audience.

Organize Content

You can create separate Forum with appropriate topics for different conversations and align the discussions under respective topics. This makes it easier for you to collect idea for a problem and solve it quickly.

Spam Removal

Junk content occupies your portal? Mark the inappropriate content and get rid of spam messages with the in-built spam engine.

SEO

With SEO, optimize your portal and get more traffic to your website. Increase the visibility of the website by many folds, to your audience.
Watch a Video
1 Forum "Absolutely" Free. Get Started Now!