Zoho Recruit Integration
This integration allows you to store candidates and contact information collected using Zoho Forms in Zoho Recruit modules. 
Overview
When you integrate Zoho Forms with Zoho Recruit, your form submissions will be saved to Contacts or Candidates modules in Zoho Recruit. This integration lets you collect data from different corners using Zoho Forms and maintain them under one recruitment portal in Zoho Recruit. 
Setup Integration 
To push your form's entries to Zoho Recruit,
Click the Integrations tab on your form builder.

Click Zoho Recruit on the left side menu and click the Integrate button.

Select the required module in Zoho Recruit. 

Map the mandatory fields in Zoho Recruit to the corresponding fields in your form.

To map more form fields to Zoho Recruit fields, click the Add Fields button and map the relevant form fields to Zoho Recruit fields.

To push attachment files received through a form to Zoho Recruit, choose Add Fields under Map Attachments.

Map all the fields, select the necessary actions to be performed on integration, and then click the Integrate button to save your settings.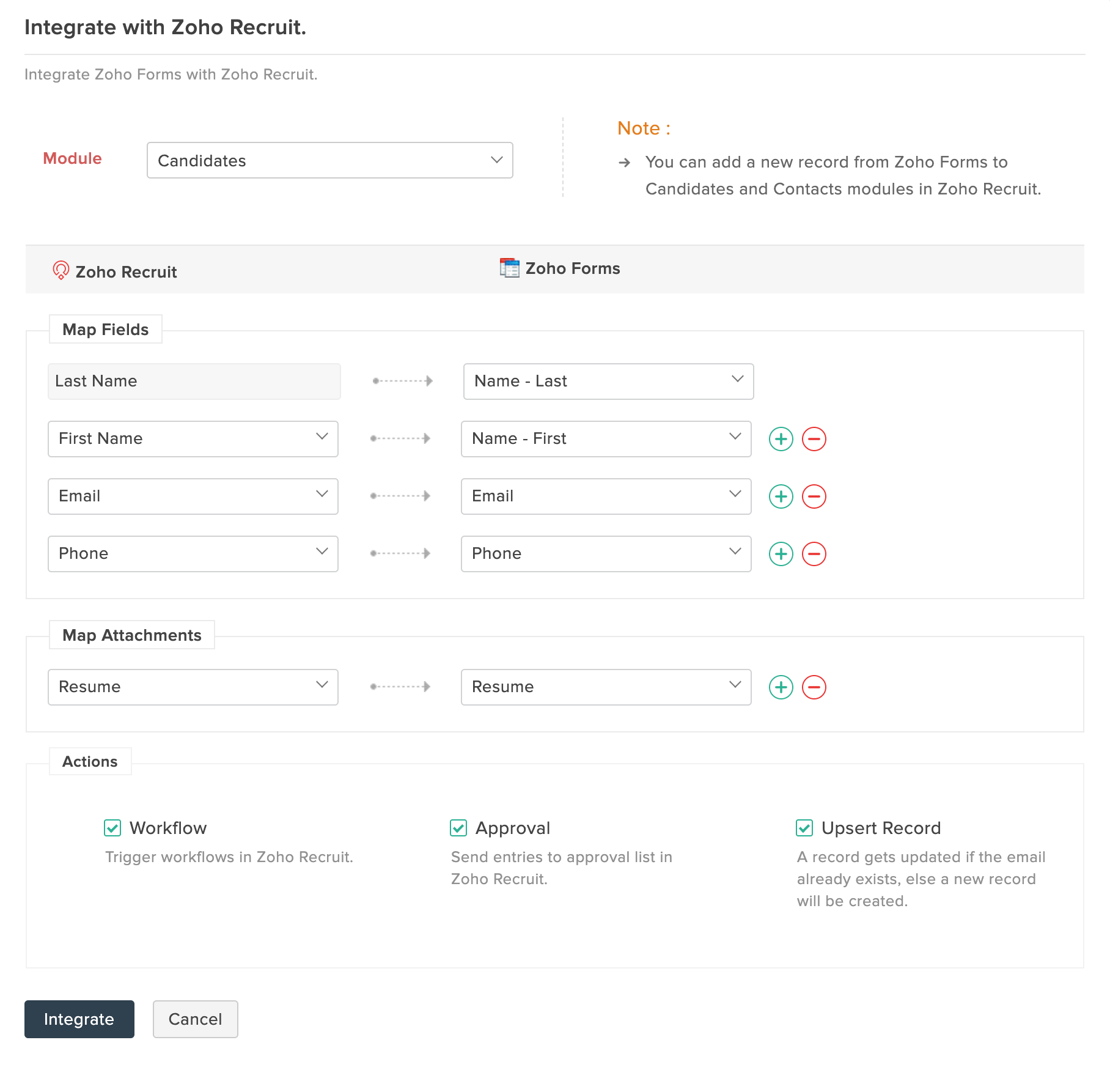 ​
Trigger Actions in Zoho Recruit
Under Actions, you can choose to trigger specific actions in Zoho Recruit every time a form submission comes in.
Workflow: When you choose this option, workflows defined in Zoho Recruit will be triggered while adding entries via Zoho Forms.
Approval: If you choose this option, form entries will be sent to your Zoho Recruit approval list instead of being added to a module right away.
Upsert Record: When you choose this option, a record gets updated if the email already exists in Zoho Recruit. Otherwise, a new record will be created.
Supported Field Types
These are the Zoho Forms fields that can be mapped with the respective fields in Zoho Recruit. 
| | | |
| --- | --- | --- |
| S. No | Recruit Field | Supported Form Fields |
| 1 | Single Line | Single Line, Multi Line, Name, Address, Phone, Email, Website, Unique ID, Dropdown, Radio, Multiple Choice, Checkbox, Matrix Choice, Image Choices, Number, Decimal, Currency, Slider, Rating, Formula, Date, Time, Date-Time, Referrer Name, IP Address, Added Email ID, Terms & Conditions |
| 2 | Multi Line | Single Line, Multi Line, Name, Address, Phone, Email, Website, Unique ID, Dropdown, Radio, Multiple Choice, Checkbox, Matrix Choice, Image Choices, Number, Decimal, Currency, Slider, Rating, Formula, Date, Time, Date-Time, Added Email ID, Terms & Conditions |
| 3 | Email | Single Line, Email, Added Email ID |
| 4 | Phone | Single Line, Phone |
| 5 | Pick List | Single Line, Dropdown, Radio, Matrix Choice, Image Choices, Terms & Conditions |
| 6 | Multi Select | Multiple Choice, Checkbox, Matrix Choice, Image Choices |
| 7 | Date | Date |
| 8 | Date-Time | Date-Time |
| 9 | Number | Number, Slider, Rating |
| 10 | Currency | Currency |
| 11 | Decimal | Decimal, Formula |
| 12 | Percent | Decimal, Formula |
| 13 | Long Integer | Number, Slider, Rating |
| 14 | Checkbox | Decision Box |
| 15 | URL | Single Line, Website |