Salesforce Integration
With the Zoho Forms and Salesforce integration, you can automatically push your form data into Salesforce objects when someone fills out your form.
Overview
When you integrate Zoho Forms with Salesforce, you can push form submissions to the following Salesforce objects:
Leads
Contacts
Accounts
Opportunity
Custom Objects
Every form submission will be pushed instantaneously to the mapped Salesforce object. You can also push form attachments, upsert a record, and trigger approvals and assignment workflows in Salesforce when pushing form submissions. 
Integration Setup
To set up this integration,
Click the Integrations tab from the builder.
Click on the Salesforce option under the Integrations. 
Select Production mode if you are ready to push Form submissions to your Salesforce account or the Sandbox mode if you wish to test the integration.
Click Integrate and authenticate your Salesforce account.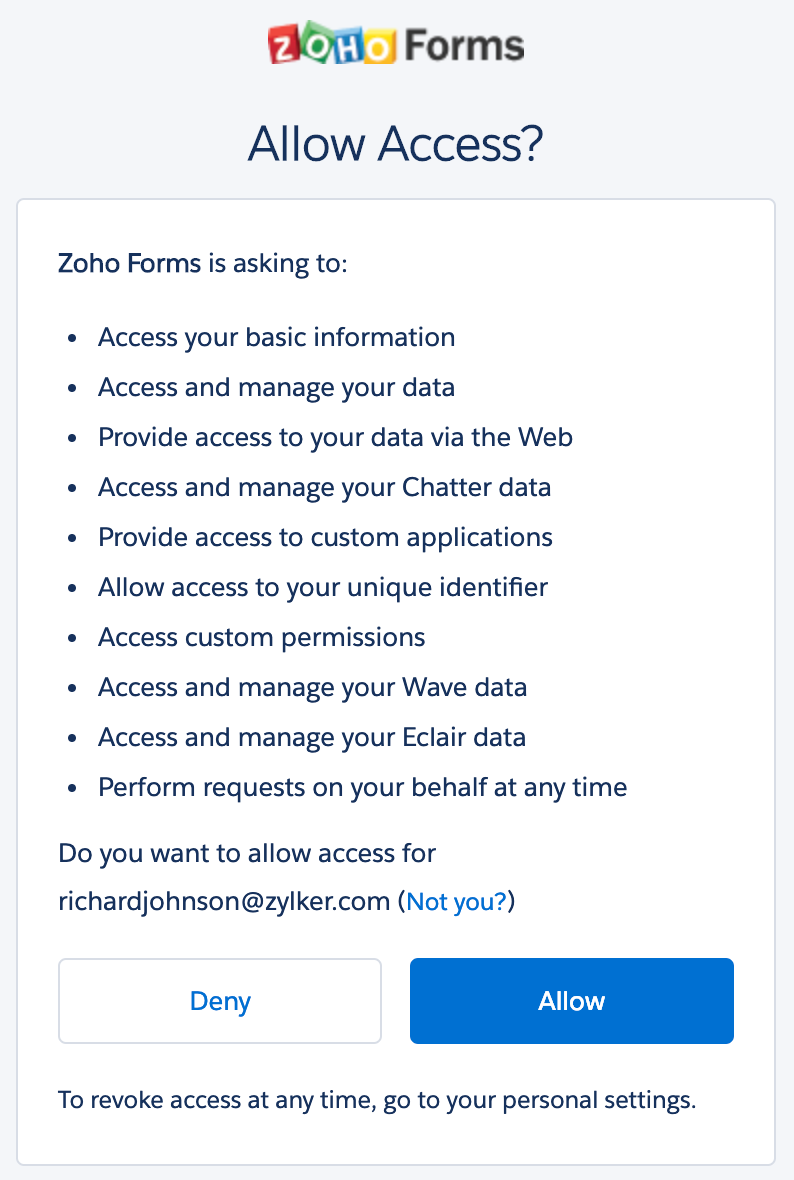 Choose the Salesforce Object and Record Type. 
Map all mandatory fields in Salesforce with corresponding fields in Zoho Forms. 
If you wish to map more fields, click on Add Fields.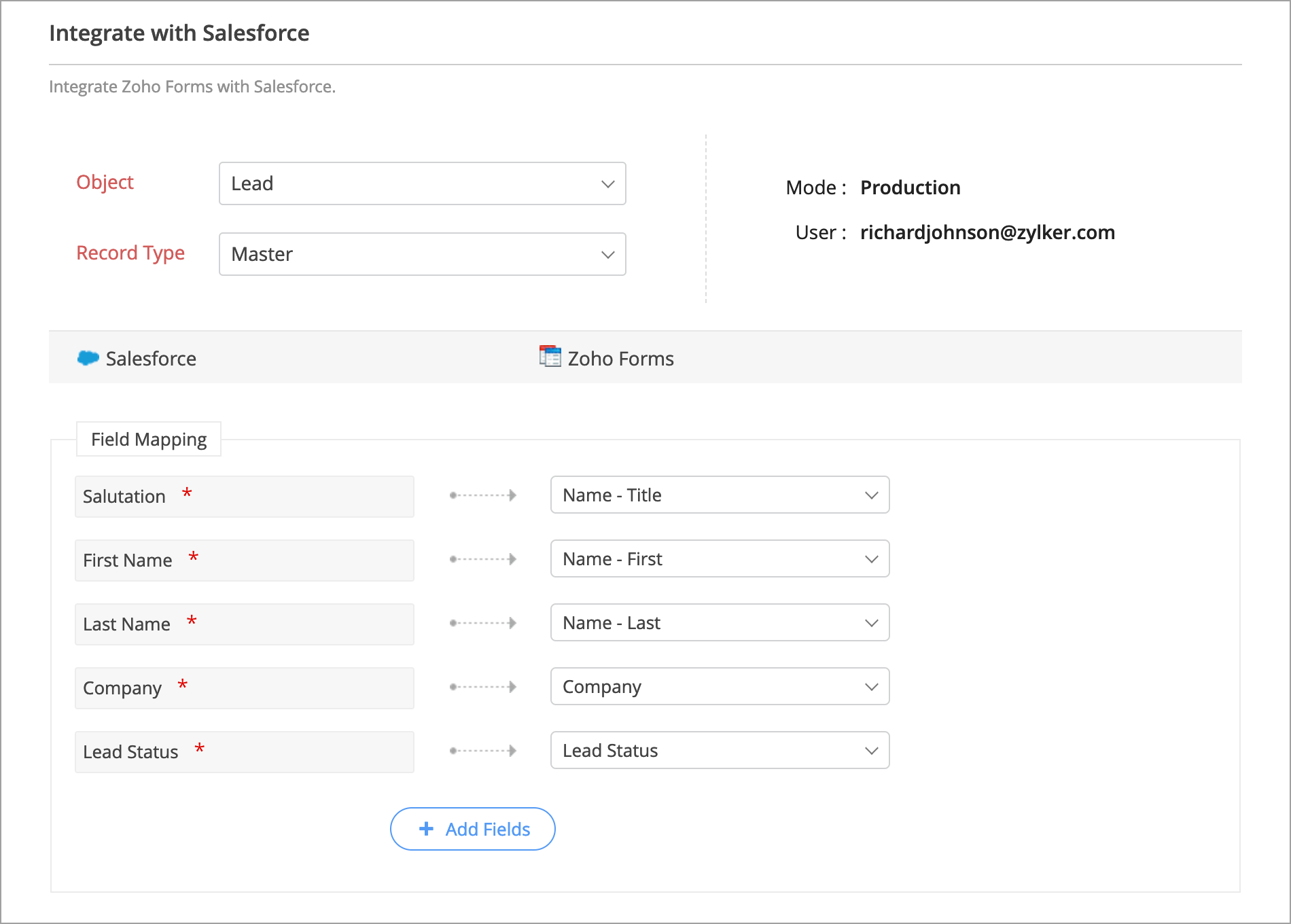 Actions
While pushing form data to Salesforce objects, you can also perform certain actions.

Add Attachments
When you select this option, file attachments from Zoho Forms will be pushed to the mapped Salesforce object. The following attachments can be pushed from Forms to Salesforce:
Signatures
File upload/ Image Upload field attachments
PDF of form submissions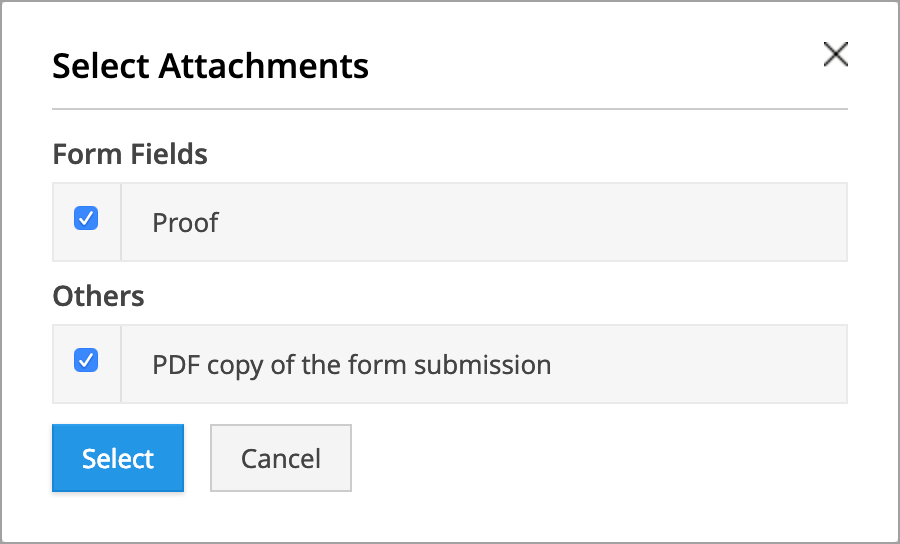 Upsert a record
When you choose the Upsert Record option, if a record with identical upsert value exists in Salesforce, then it will be updated with the new values. If not, a new record will be created in Salesforce.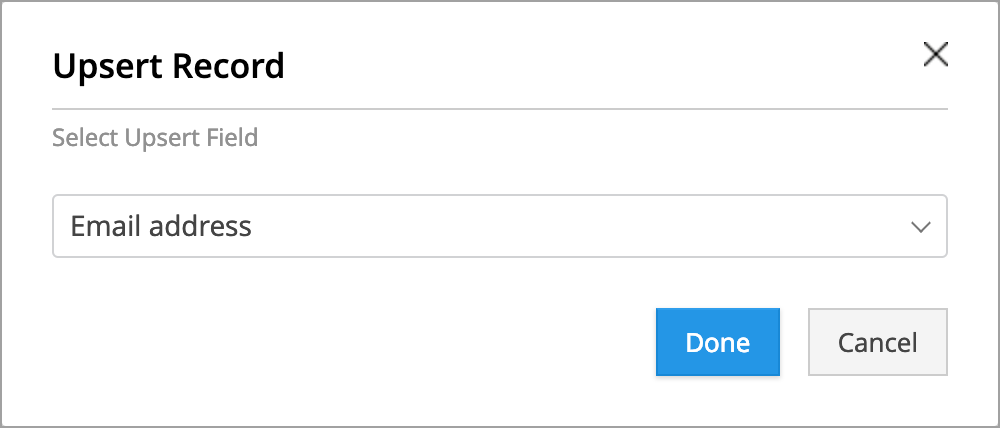 Note: Only the fields with External ID property enabled in Salesforce can be used to upsert a record. 
Assignment Rules
When you choose this option, Assignment Rules defined in Salesforce can be triggered when form entries are added to a Salesforce object. 
To do this, you must configure assignment rules in Salesforce under Feature Settings > Marketing > Lead Assignment Rules. All the rules configured for the selected Salesforce object will be displayed in the drop-down. You can select one rule to trigger upon every new form submission.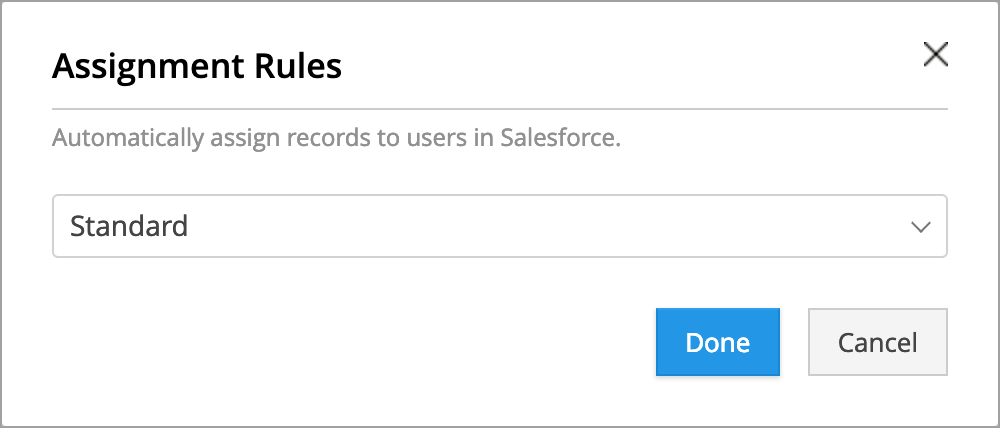 Approvals
When you choose this option, form entries pushed to a Salesforce object will be sent for approval in Salesforce. To configure the approval process in Salesforce, go to Process Automation > Approval Processes.
Supported Field Types
These are the Zoho Forms fields that can be mapped with the respective fields in Salesforce.
S. No
Salesforce Field
Supported Form Fields
1
Checkbox
Decision Box
2
Currency
Number, Decimal, Currency, Slider, Rating, Formula
3
Date
Date
4
Date/Time
Date-Time
5
Email
Single Line, Email
6
Geolocation

Geolocation

7
Number
Number, Decimal, Currency, Slider, Rating, Formula
8
Percent
Number, Decimal, Currency, Slider, Rating, Formula
9
Phone
Single Line, Phone
10
Picklist
Single Line, Dropdown, Radio, Matrix Choice, Image Choices, Terms & Conditions
11

Picklist (Multi-Select)

Multiple Choice, Checkbox, Matrix Choice, Image Choices
12

Text

Single Line, Multi Line, Name, Address, Phone, Email, Website, Unique ID, Dropdown, Radio, Multiple Choice, Checkbox, Matrix Choice, Image Choices, Number, Decimal, Currency, Slider, Rating, Formula, Date, Time, Date-Time, Referrer Name, IP Address, Terms & Conditions, 

Geolocation

13

Text Area

Single Line, Multi Line, Name, Address, Phone, Email, Website, Unique ID, Dropdown, Radio, Multiple Choice, Checkbox, Matrix Choice, Image Choices, Number, Decimal, Currency, Slider, Rating, Formula, Date, Time, Date-Time, Referrer Name, IP Address, Terms & Conditions, 

Geolocation

14

Text Area (Long)

Single Line, Multi Line, Name, Address, Phone, Email, Website, Unique ID, Dropdown, Radio, Multiple Choice, Checkbox, Matrix Choice, Image Choices, Number, Decimal, Currency, Slider, Rating, Formula, Date, Time, Date-Time, Referrer Name, IP Address, Terms & Conditions, 

Geolocation

15

Text Area (Rich)

Single Line, Multi Line, Name, Address, Phone, Email, Website, Unique ID, Dropdown, Radio, Multiple Choice, Checkbox, Matrix Choice, Image Choices, Number, Decimal, Currency, Slider, Rating, Formula, Date, Time, Date-Time, Referrer Name, IP Address, Terms & Conditions, 

Geolocation

16

Text (Encrypted)

Single Line, Multi Line, Name, Address, Phone, Email, Website, Unique ID, Dropdown, Radio, Multiple Choice, Checkbox, Matrix Choice, Image Choices, Number, Decimal, Currency, Slider, Rating, Formula, Date, Time, Date-Time
17

Time

Time
18
URL
Single Line, Website