Reading Time:
7
minutes
Most small businesses, startups, and mid-market companies resort to spreadsheets, paper forms, and other makeshift manual methods for expense reporting. Initially, this can be a good system for companies with a low headcount or for companies that don't deal with many transactions yet. But as a business scales in terms of employees, locations, or customers, it has to deal with a lot of changes in its processes.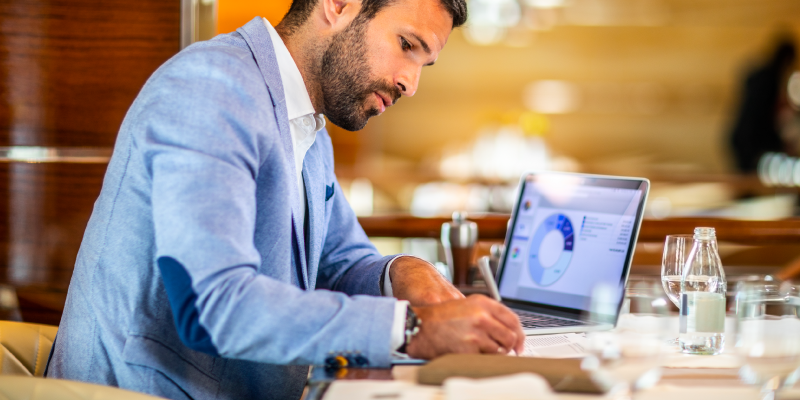 When that happens, continuing to rely on rudimentary ways of reporting and reimbursing expenses generates more problems than it solves—there are hidden costs and challenges in handling receipts, filling out forms, submitting reports, and then having those reports verified manually by the finance team. Still, you cannot avoid expense reporting altogether, since you're legally obliged to reimburse your employees for the business expenses that they've paid out of their own pockets.
You can make life easier for your employees, approvers, and accountants by switching to expense management software. By using software for expense reporting, firms can automate tasks, reduce errors and fraudulent expenses, and accelerate the reimbursement process. It's also a must-have tool for dealing with the abrupt push toward remote work created by the pandemic, which has forced a lot of firms to fundamentally alter their expense reporting process. Before we dive into the details of cloud-based expense management software, let's take a look at the concept of expense management and why it is important.
What is expense management?
The process of reporting, submitting, approving, reimbursing, and auditing employee-initiated business expenses is called expense management.
From time to time, the employees of any organization incur expenses in order to keep the business running, ranging from travel and entertainment expenses to office supplies. To be reimbursed for these expenses, the employees must report them, including details and receipts, and get the reports approved by their line managers and finance teams. Simply put, expense management controls how employees pay for business expenses and tracks their spending.

Why is expense management important?
With efficient expense management in place, firms can stay compliant with tax rules, control costs, maintain accurate financial records, improve employee morale, and enhance their overall financial growth and productivity.
Expense management process
Expense management is a multi-step process that involves:
Employees recording and submitting expense claims

Line or department managers verifying and validating expense reports

Approving or rejecting expense reports

Finance teams auditing expense reports for compliance

Scheduling payment and reimbursing employees

Maintaining records of expenses and receipts for external audits
Drawbacks of managing expenses manually
With an effective expense management process in place, firms can easily track employee spend, ensure compliance with expense policies, and undertake prompt corrective action in case of violations. With traditional expense reporting, which relies heavily on manual data entry and validation, the process becomes far more time-consuming and labor-intensive.
This opens the door to erroneous reports (and spotting the errors, let alone rectifying them, can be a Herculean task), expense fraud, duplicate expenses, missing information, inaccurate reviews, and delayed approvals and reimbursements. In the end, it creates serious issues for both the employees and the company's finance team. The employees are left waiting for reimbursement due to the protracted approval process while they're already racking up new expenses. As for the finance team, they are faced with a lack of visibility into expense fraud and employee spend since they cannot get their hands on real-time data and have to wait until employees turn in their expense reports.
What is expense management software?
Expense management software is a type of application that simplifies the receipt-to-reimbursement process by automating much of it. With this software, firms can manage travel bookings, automate expense report submission, streamline approvals, accelerate reimbursements, and track expense claims in real time. It automates every aspect of T&E management to eliminate the risks associated with manual expense management. 
Automated expense management process
Though the process varies based on the company and the expense management application used, here's the basic workflow:
The employee incurs an expense and pays out of their pocket

This expense is immediately recorded in the expense reporting application along with a picture of the receipt uploaded from the employee's device

The employee submits the expense claim, or groups several expenses into a report and submits the report

The approver is automatically notified of the expense report and they review it, then approve or reject it

On their approval, it's forwarded automatically to the finance team

The finance team validates the report for compliance and authenticity using receipt matching.

The approved claims are reimbursed either immediately or at the end of the month through the application
Why should businesses switch to cloud-based expense management software?
Here are some benefits of switching to expense management software:
Organized receipt management
With expense management software, your employees can accurately report expenses via a device of their choice as they're incurred. Instead of collecting and submitting hard copies of receipts, employees can simply capture an image of a receipt and upload it. A good expense management system will use OCR technology to pull key information from the receipt, like amount, date, merchant name, and category.
Ideally, the receipts attached to claims are stored securely in the cloud. This is particularly useful for finance teams, since they can match the expense claims to the receipts digitally instead of digging through an assortment of paper receipts. This is also ideal for internal and external audits, since accountants can easily conduct pre-accounting and track every reimbursed expense back to its source.
Enforcing travel and expense policies
Administering policy compliance and detecting expense fraud are two major concerns for finance teams. Expense management software addresses these concerns by automating policy enforcement and violation checks to ensure employees don't overspend or incur unapproved expenses. Firstly, the admins of the firm are given the liberty to add and modify expense policies, and define the parameters or limits by which the software evaluates every expense claim. They can also decide the consequences of policy breach and non-compliant expenses.
The built-in features screen the expense claims to detect and mitigate violations effectively. On detecting a violation, the software can notify the approver and the employee automatically. This saves time for the approvers, who would otherwise have to manually verify claims against policies and email the submitters.
Streamlined expense report approval
In traditional approaches to expense reporting, even if the reports and receipts are submitted promptly, it takes time to review and approve them. With an expense management app, you can create automated approval workflows to reduce manual intervention and shorten the approval process. These multi-level workflows can be customized based on your firm's organizational hierarchy, and if you have multiple departments in your firm, you can create separate workflows for each department. You can even set automatic report submission reminders, and auto-approve or auto-reject reports. For example, a line manager can set a condition for expense reports with more than one policy violation to be rejected automatically. This eliminates bottlenecks and saves time for both the approver and the employee.
Simplifies credit card reconciliation
Managing card expenses is easier with expense management software. It helps prevent overspending, enhances transparency, and curbs fraudulent expenses. Travel or finance administrators can assign purchasing cards to employees and define spending limits for them, and the expense management software can be integrated with the card providers to fetch the card feeds directly into the application. When the card feeds are synced, transactions are pulled from the supported bank into the software and displayed on the dashboard, where employees can convert them into expenses and reconcile them. This removes the need to spend time manually matching card statements to receipts and then have the finance team manually audit them for compliance.
Accelerates expense reimbursements
Expense management software expedites expense report submission, processing, and approval—which leads to timely reimbursements. Since reports that used to take a week or more to get approved are processed in a few clicks, finance teams can now push approved reports into the payment processing cycle and provide same-day reimbursements.
Comprehensive data analytics
With employees submitting expenses in real time, finance teams no longer have to wait a full reporting cycle for insights on the company's business expense reports. Expense management software comes with built-in business analytical reports that offer real-time visibility and insight into employee spending at the organization, department, project, and expense claim levels. This empowers finance teams to review spend, look for patterns, and use this analysis for negotiating vendor discounts. CFOs and finance leaders can use the data to modify expense policies, budget, and forecast accurately, and make informed decisions on future spending. 
Powerful integrations
The best expense management applications come equipped with an array of integrations with other applications like accounting software, payment systems, booking tools, HR and payroll software, CRM systems, and so on. Integrating expense management software with other applications leads to seamless data transfer, saving you the hassle of toggling between apps to manually import, export, or re-enter data. Integration with accounting software is vital — the approved expense reports are automatically processed, scheduled for reimbursements, and the data is automatically pushed to the accounting software to be updated and matched under the Chart of Accounts. Also, the expenses and reimbursements are automatically recorded in the organization's books, instead of having to manually enter them. So your firm is guaranteed to have updated, organized finances at all times.
Choosing the right expense management software
There are many expense management applications available in the market as of today. Before setting your sights on a particular application, make sure it's affordable, able to keep up with your business's requirements, and equipped with solid customer support.
Here's a quick checklist to help you select the right expense management software:
Mobile accessibility with easy expense recording options for employees

Multiple ways to record expenses (receipt scan, import from PC or cloud, email receipt forwarding, etc.)

Bank account and card (corporate, debit, and credit) reconciliation

Customizable multi-level approval workflows

Customizable expense policies with automated compliance checking (or rules engine)

Online payment options for quick reimbursement

Powerful real-time analytics and reporting

Integration with other software (especially accounting software)
Once you've narrowed it down to a few options, it's time to evaluate them before making a final decision. You can start by reading detailed reviews and customer testimonials on software review platforms to compare the applications based on their feature sets, prices, ease of use, quality of post-sale implementation and transitional support, and so on. Finally, contact the corresponding sales teams to request demonstrations before purchasing an application.
Here's your takeaway!
Manual expense reporting is a nuisance for business travelers and finance teams. It's expensive in terms of work hours spent on expense report submission, approval, and dealing with policy violations. An efficient expense management application eliminates all these challenges by streamlining the entire process from end to end. It is crucial to pick an expense management system that incorporates all the key features you need and is robust and easily configurable. That's why we've built Zoho Expense, an online expense reporting app tailor-made for businesses worldwide to manage their T&E the easy way. With Zoho Expense, you can automate expense report creation and submission, create and customize multi-level approvals, and issue swift reimbursements. Try our online expense management software for free today to stay on top of your business expenses.