Reading Time:
7
minutes
It seems like remote work is here to stay, whether that's through some organizations going fully remote or others embracing a hybrid work environment. A rise in the number of remote workers has ultimately led to an increase in business expenses and reimbursements for many organizations, making digital expense management solutions that much more essential.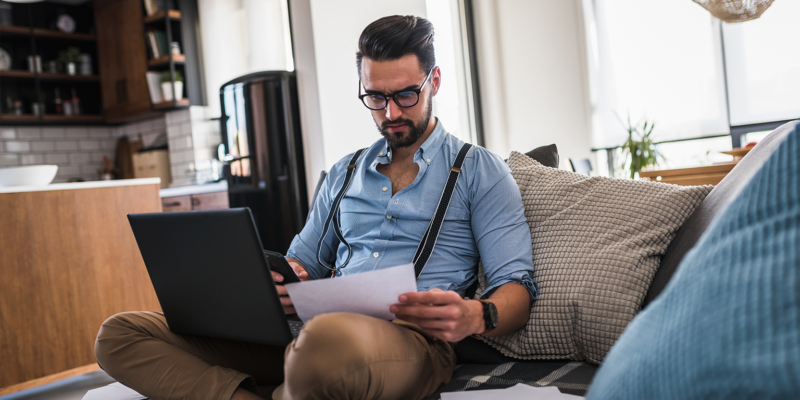 The switch to working from home has presented a radical change in the types of expenses being claimed — internet, fuel, electronic devices, and online conferencing software have replaced air tickets, lodging, and meals. Some companies are going the extra mile by reimbursing employees for health subscriptions and check-up claims as well.
More importantly, however, is that this transition is not limited to the type of expenses being claimed, but also the way they're claimed. Unless given a corporate card to use, employees would typically pay for business expenses out of their own pockets. On returning to their workplace, they would then submit the receipts and expense reports by the end of the month to the finance team for reimbursement. This practice is not restricted to smaller companies– it's common in firms of all sizes. When managing a remote workforce, handing over physical receipts or reports is no longer an option.
Going paperless with expense management
Despite the major digital breakthroughs that we have witnessed in the past years, paper receipts and spreadsheets still rule when it comes to managing expenses, reimbursements, and reconciliation. Yet managing expenses incurred by your remote staff and regular staff have different requirements. You cannot expect an employee working from the comfort of their home to fax or mail receipts and expense reports regularly.
Firstly, it's tedious for both them and the finance team. Not to mention that employees could also end up accidentally mixing personal and business expenses, which would open your business up to expense fraud. This is why you need to have a different set of policies and transparent communication with your entire workforce in order to keep everyone on the same page about expense management, regardless of where employees are located.
Remote work arrangements call for digital solutions, and expense management is not exempt from this. If anything, it work exceptionally well even if your workforce still has a majority of employees who work from the office. With Zoho Expense, for example, you can fulfill the requirements of your remote workforce as well as those of regular office goers. Zoho Expense automates the entire expense reporting process for remote employees, from submission to approval. As an online solution, it keeps data centralized, up to date, and accurate. 
How Zoho Expense helps
In this article, we will look at the different ways Zoho Expense optimizes the expense management process:
Record and submit expense claims from anywhere
When working remotely, your employees could work from a different location or even a different time zone, rendering manual methods of managing employee expenses. It is impractical to expect your finance teams to keep track of physical receipts or manage multiple spreadsheets and concurrently nudge every employee to submit expense reports by the month-end.
By digitizing the process with Zoho Expense, your employees can submit expenses from home, from their work travel location, or right from their office. They can access their accounts from a desktop, laptop, mobile phone, or tablet, allowing them to create digital copies of their receipts and submit them directly from Zoho Expense. Here are some ways in which expenses can be recorded:
Using the auto receipt scan feature, employees can scan their receipts via the mobile app. Alternatively, receipts in their email inbox can be auto-forwarded to Zoho Expense. All the key data such as the monetary amount, date, and merchant name is extracted and recorded as individual expense claims automatically.
If you've handed out corporate cards to your employees for purchases, you can add the cards to Zoho Expense and map them to the respective employee names. Expense claims are then automatically created from the corresponding card transactions.
For remote employees who travel to meet customers, like field salespeople, the distance traveled can be tracked using the GPS in Zoho Expense's mobile app, and fuel reimbursement is calculated automatically.
Simplify policy compliance
Although a surge in the number of remote workers is expected in the future, many companies haven't yet created policies to accommodate remote expenses. Having a mediocre interim policy (or worse, having no policy) has damaged compliance rates across the board because employees may not have a full understanding of what is and is not considered a reimbursable expense. This leaves managers, department heads, or finance teams in charge of making ad-hoc decisions regarding spending and reimbursement.
This problem can be solved by including policies specific to the needs of remote employees. With Zoho Expense, multiple separate policies with different spend limits can be created and implemented at any level, even for individual users. Additionally, you can upload your company expense policy for easy reference. Employees will also be instantly notified of violations when creating expense claims to help eliminate non-compliant expenses before they are submitted. You can choose to reject claims with violations automatically or allow employees to submit them and have a manager check each instance.
Create an expense policy that adjusts to employee needs
Once the pandemic's intensity wanes and disappears for good, businesses will shift their focus to restarting corporate travel. During this transition, it's best to avoid implementing T&E policies that are too dictatorial. For example, when the pandemic first struck, business travelers were left confused as countries imposed lockdowns one after the other. They were left unsure if the company would reimburse them for booking business class tickets if they explained it was the only available option.
It's important to be able to make quick modifications to your policy in emergency situations like these. This way, while your travel team works to keep your employees safe and sound, you can still control spending. With Zoho Expense, you can create a new policy instantly or amend the existing one to accommodate any new rules imposed by the situation. You can allow expenses to be claimed for items that are typically not approved all while gaining real-time visibility into the costs and enabling quick reimbursements.
Prevent and detect expense fraud
The growth of remote work has led to an increase in exaggerated electricity and internet expenses as well as fake office furniture claims. Also, committing expense fraud is easy when your employees have to submit their receipts virtually. With the tools available online, anyone can edit receipts to double or triple the amount as they wish. These claims are likely to be experienced by organizations that use non-transparent systems for expense management, making it almost impossible to detect expense fraud.
To nip expense fraud in the bud, Zoho Expense analyzes expense reports to automatically identify duplications, per diem fraud, and suspicious modifications. This includes data mismatch between expense claims and receipts, and alterations made to expense claims created through ride-hailing apps, online booking tools, and credit card transactions.
When a receipt is modified or submitted more than once, the application automatically detects it and flags it as a violation. A notification is then sent to the submitter asking them to merge or remove the duplicate entry. You can set daily, monthly, or yearly spend limits for the expenses in each category based on the organization's policies. In the event of violations, employees can be warned or blocked from submitting the expense entirely.
Approve and reimburse expenses faster 
A study conducted by the Global Business Travel Association (GBTA) found that processing one expense report costs $58 on an average. Statistically, you would have to spend $580 to manually process 10 expense reports. In addition to these high costs, processing reports manually at a time where the entire company is working remotely will be tedious for line managers and finance teams because coordination with employees must also be done virtually.
Zoho Expense solves this issue by automating the entire approval process. With predefined rules, expenses can be grouped into expense reports and submitted automatically. Once the reports are submitted, managers can view all the expenses in a single place and validate them easily. This helps them get an overall picture of employee spending so they can spot and rectify errors faster. This, in turn, expedites reimbursements and improves employee satisfaction.
The workload for managers can be reduced even further by automating the approval process as well. All expenses that comply with your company policy can be automatically approved so that managers need to check only the ones that contain errors or violations. When managers identify errors, they can communicate the needed steps within the expense report itself, helping employees rectify the problem quickly.
Increase spend visibility
Manually managing business expenses incurred by your employees limits the visibility into your firm's cash flow and makes it difficult to see expenditures in real-time. If you use paper reports or spreadsheets, the insights that you gather after analyzing data could be weeks old and possibly erroneous. To make quick, informed decisions, you should be able to analyze and view data as events take place.
Zoho Expense comes with an extensive array of analytical reports, ranging from spending on basic office supplies to policy breaches, reimbursements, and more. Also, with Zoho Expense, expenses submitted by remote employees can be tagged, and those tags can be used to filter reports and get data that is specific to remote employee spend.
To control expense sprawl and manage cash flow efficiently, finance teams can allocate budgets for trips, expense categories, expense types, and employees with a few clicks. Every time an employee incurs an expense from the allotted budget, their manager will get information about where, why, and when the expense was incurred. Admins can track actual spending versus the organization's budget at every stage, and configure alerts to notify them and block expense report submission or approval when the budget exceeds the defined threshold. With the resulting visibility, it is easy to reduce unnecessary expenses, optimize necessary ones, and both identify and fill any gaps in the expense process.
Final thoughts
With remote work set to become the new normal, every aspect of business, including expense management, will need to be optimized to work at a distance.
When it comes to remote employees, conventional expense management systems cannot make this transition. A good expense management solution is accessible anywhere and at any time. It helps finance teams keep an eye on outgoing expenditures and filter results down into each area of the business—all without having to trawl through stacks of paperwork. Most importantly, an efficient expense management solution saves costs and time by automating existing expense management processes without requiring major changes to employees' workflows.
There's also a post-pandemic benefit to be realized—once business travel is in full swing, you can expect a spike in the volume of travel. By getting your expense management processes automated now, you can save yourself the drudgery of transitioning later and causing a backlog of expense claims.
Zoho Expense solves all of these challenges. Experience it first-hand with a free, fully equipped, no-card-required 14-day free trial. Try Zoho Expense now and find out how it can help your business.