Reading Time:
5
minutes
The World Health Organization (WHO) has declared the coronavirus outbreak a pandemic. By doing so, they have acknowledged that the virus is likely to spread to all countries around the globe.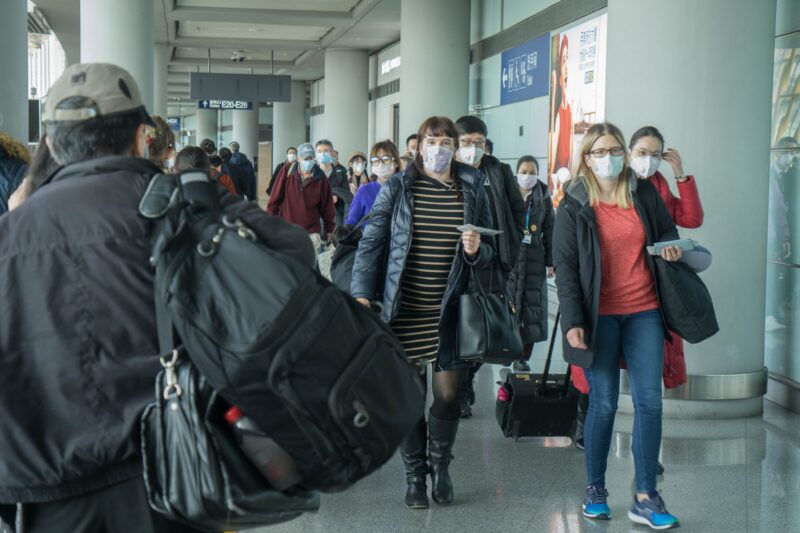 While many industries are feeling the blow, the travel industry has had the greatest setback. Owing to the pandemic, most firms have cancelled long-planned conferences, trade shows, business meetings, and have imposed restrictions on personal and business travel. Employees and other stakeholders are working from home and videoconferencing instead of meeting in person.
Despite the widespread outbreak, business travel has not come to an absolute standstill. Period.
Employees are still undertaking essential business trips, and they are often faced with the dilemma of whether to proceed with their plans or not. Given the widespread panic, second-guessing your trip is normal.
For all the business travellers who are of two minds regarding their business trips, we will walk you through the current situation of the pandemic, how firms all over the world are handling it, how to go about booking and cancelling air tickets and accommodations, and most importantly, how to travel and stay safe.
How the corporate world is managing business travel currently
Many organizations are now prepared to be flexible with travel and expense policies for the safety of their employees. According to a new GBTA poll, 62% of organizations say they have modified their travel safety and security policies for their travellers and 55% of respondents report their company has instituted new trip approval procedures. Non-essential business travel is being restricted, and employers have made business travel approvals more stringent as it's wise to err on the side of caution.
Corporate travel teams are now continually monitoring public information from organizations like WHO and CDC so that they can communicate timely updates to their employees. Most firms are taking a case-by-case approach where travel decisions are made by employees and their managers after consulting the WHO and CDC recommendations for their destinations. If the decision to travel is positive, travel teams are focusing on assessing the safest routes of travel for their employees.
Air travel and accommodation
First things first, is air travel safe?
Many airlines have stepped up their cleaning and disinfecting processes between flights. You're unlikely to catch any illness from the air in your cabin, because the majority of planes are equipped with HEPA (High Efficiency Particulate Air) filters to recycle and refresh the air every 2-3 minutes. Also, just sitting on a contaminated surface would not make you sick. However, touching the surface and then touching your face or mouth would increase your chances of falling sick.
 Booking air tickets
If you have decided to embark on a trip, check for travel restrictions from the governments of both your current location and your destination.

With new restrictions being added all the time, it is advisable to check with the airline you plan to use, as well as your travel team or travel agent, to avoid mishaps.

Book your ticket quickly. No matter how you decide to reach your destination – booking a fresh ticket, changing an existing one, or booking an award flight, make it quick.
Travel insurance 
Your current standard insurance plan will not cover losses due to the COVID-19 outbreak. Also, if you made the arrangements for your trip before the end of January when the outbreak started gaining news coverage, your travel insurance will not cover any losses incurred. If you are not sure about your travel insurance coverage, read the fine print of your policy for details.
So how do you limit the chances of losing your money?
To maximize your chances of being covered, purchase independent travel insurance— preferably, "cancel for any reason" or "change of mind" coverage. This way, you can recover at least part of your costs if you cancel your trip. While travel insurance can be purchased up until the day before departure, certain coverages, like "cancel for any reason," must be purchased immediately after paying for the trip.
Here's how you can stay safe during the outbreak
Tips to stay safe during air travel:
Carry an alcohol-based sanitizer (containing 60%-95% alcohol) or disinfecting wipes.

Using either one of those, sanitize surfaces like the armrests, tray table, TV screen, and remote, and other common surfaces you are likely to touch.

Faeces contain viruses. So if you are using the lavatory in the plane, close the lid before flushing to minimize particles in the air.
Tips to stay safe in the hotel:
Once you have checked in, wash your hands thoroughly.

Next, wipe the frequently used surfaces with disinfectant wipes. This includes switches, door handles, remote controls, the alarm clock, and the phone, among other things.

As an extra step, ditch the pillowcases and comforters and use your own bedding if possible. You could even ask the room service staff for linen that have not been used or opened yet.
Here are some general tips for your safety:
Wash your hands regularly for a full 20 seconds.
Avoid touching your face.

Avoid handshakes (yes, they are hard to avoid on business trips, but it is for the best).

Cover your mouth and nose while coughing or sneezing. Use your elbow to cover if you are out of tissue paper.

Avoid any form of contact with sick individuals. It is advisable to maintain a safe distance (6 feet) from anyone coughing or sneezing.

Stock up on flu medication before travelling to avoid having to track down pharmacies at your destination if you fall sick.

While wearing a surgical face mask does not offer protection against an airborne virus, by wearing a mask when you are sick, you can help protect people around you.

If you have not gotten your flu shot already, you can do so before you leave on the trip. While it doesn't offer protection against COVID-19, it helps build immunity against diseases like bacterial pneumonia. Read more about the benefits of flu shots.

To avoid contact with contaminated surfaces, pay using your credit card instead of cash.

Avoid crowds, keep yourself hydrated, and get plenty of sleep.
What should I do if I have decided to cancel my plans?
If you have to postpone or cancel your trip to avoid any unwarranted risk, here's what you can do:
Airlines
You can start by checking your airline or travel management company's policies. Here's some good news for you: airlines are now more flexible with their flight-change, cancellation, and refund policies. You probably don't have to worry about hefty fees for changing or cancelling your trip, since many airlines have waived them.
If the airline itself cancels your trip, you will get a full refund or the opportunity to be rebooked on to a different flight or a later date.
Hotel
In light of major trade shows and conferences being cancelled, hotels are being more flexible with their refunds too. Most hotels are now waiving change fees or offering full refunds in regions affected by government-issued travel restrictions. Major hotel chains like Hilton are now offering to cancel or change reservations up to 24 hours before arrival at no charge.
We hope these tips are helpful and that you are now well-stocked with the information you need to make a decision regarding your trip. If you have other travel tips to add, please share them in the comments below. We wish you a safe and productive trip!
Note: If you have symptoms of COVID-19 or if you have tested positive, please seek medical care and remain under isolation. The above tips are only for individuals who have tested negative for COVID-19 and are deemed fit to travel.
Business travel post-COVID-19
Experts have projected a potential rebound for corporate travel once the travel restrictions are lifted. However, before resuming business travel, firms need to update their travel policies to keep up with the newly proposed rules by airlines and hotels, and to ensure the safety of their employees at their destinations.
To quickly adapt to the new norms and get going, it's best to have a Travel and Expense Management (TEM) system like Zoho Expense in place. With Zoho Expense, all you have to do is simply create the new travel and expense policies, and they are automatically implemented when your employees raise travel requests. You can add multiple expense policies for different cost centers. You can also set up multi-level approval flows to make sure all business trips are properly vetted before departure. Try our Travel and Expense Management solution to manage business travel efficiently.
Visit our COVID-19 Resource Center for more guides, webinars, and other resources to help your teams navigate the challenges ahead.