Policies
Expense policies are an effective way to control your employee expenses. It defines the rules and limits that every employee should keep in mind while incurring expenses on behalf of the company. Manually enforcing the policy is as much a pain as manual expense reporting. We understand your pain and hence, we have taken the first step towards automating your expense policy.
So, how does this work? The magic happens in the Admin > Policies section. To begin with, a default policy will be enabled for 'ALL' the employees in your organisation, with zero limits and rules. You(being the admin) can change the limits and rules in the default policy, but cannot delete it.
Since the nature of work is different for different departments, it is possible that the spending limits might also vary. In such cases, you can create multiple policies that cater to individual departmental needs. For instance, since the sales team travel a lot more than other departments, they will be provided with a higher limit on 'Travel' expenses when compared to other departments. Here, you can create a policy named 'Sales Department' and associate it with the corresponding department. Similarly, you can create expense policies that can be assigned to individual users.
Wondering what the rules and limits are? They include the following:
Once you are done creating the policy and assigning to users, it will be automatically applied on all expenses. Expenses exceeding the defined limits will be flagged as a policy violation. Currently, we do not block the submission of such expenses. But don't you worry, we'll be supporting that soon!
Uploading travel document
Apart from the spending rules and limits, Companies will have a travel document with rules on corporate card usage, list of allowable expenses, timeframe on submission, approval and reimbursements of expenses and so on. You can upload the soft copy of this travel document for easy reference. Your employees will be able to view the travel document on the dashboard of their respective Zoho Expense accounts.
Upload the travel policy in one of the following formats:
PNG
JPG/JPEG
PDF
doc/docx
Ensure that the file size is less than 7MB.
Configuring general rules, applicable to all expenses
General rules are applied to all expense categories by default. These limits will be applied only on users associated with the policy. General rules include the following:
Expense amount limit: You can set an amount limit for every expense entry. Expense entries exceeding the limit would be considered a policy violation.
Receipt required limit: You can set a minimum amount for which receipt submission is required. Any expense entry exceeding the receipt required limit will require the attachment of a receipt as proof of expenditure. Failure to attach receipt will be flagged as policy violation.
Make Description mandatory: You can make description mandatory for all expenses.
Allow uncategorized expenses to be part of expense reports: Uncategorised expenses are seen when you autoscan a receipt containing a new merchant. On disabling this option, users cannot add it to an expense report.
Defining category-specific rules
Here, you can select the categories that you want your employees to see. If you have integrated with Zoho Books or QuickBooks Online, the imported accounts will also be available in the list. You can set individual limits to each category. i.e override the general rules and make them category specific. To do that: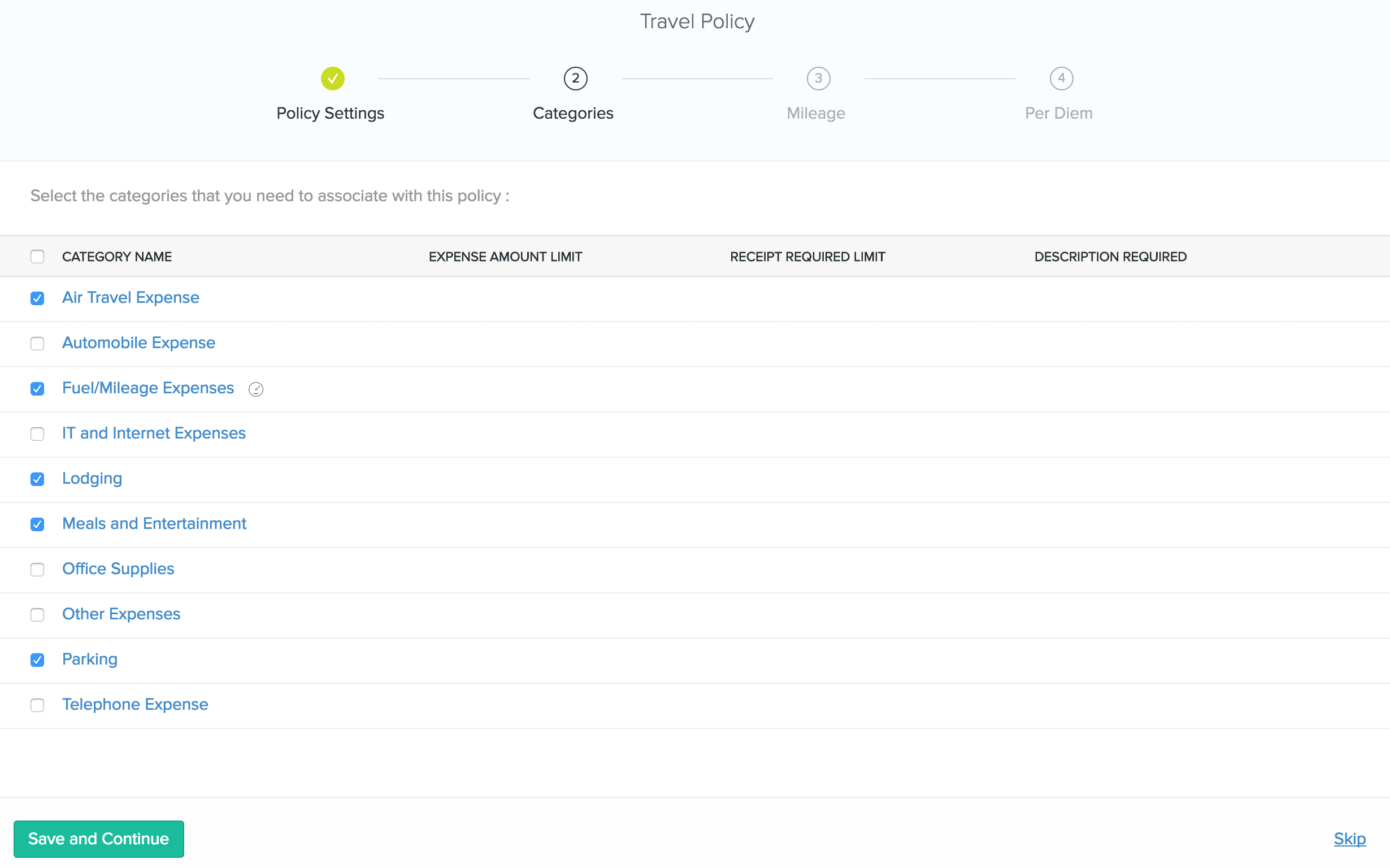 Hover over the category for which you would like to set the limits.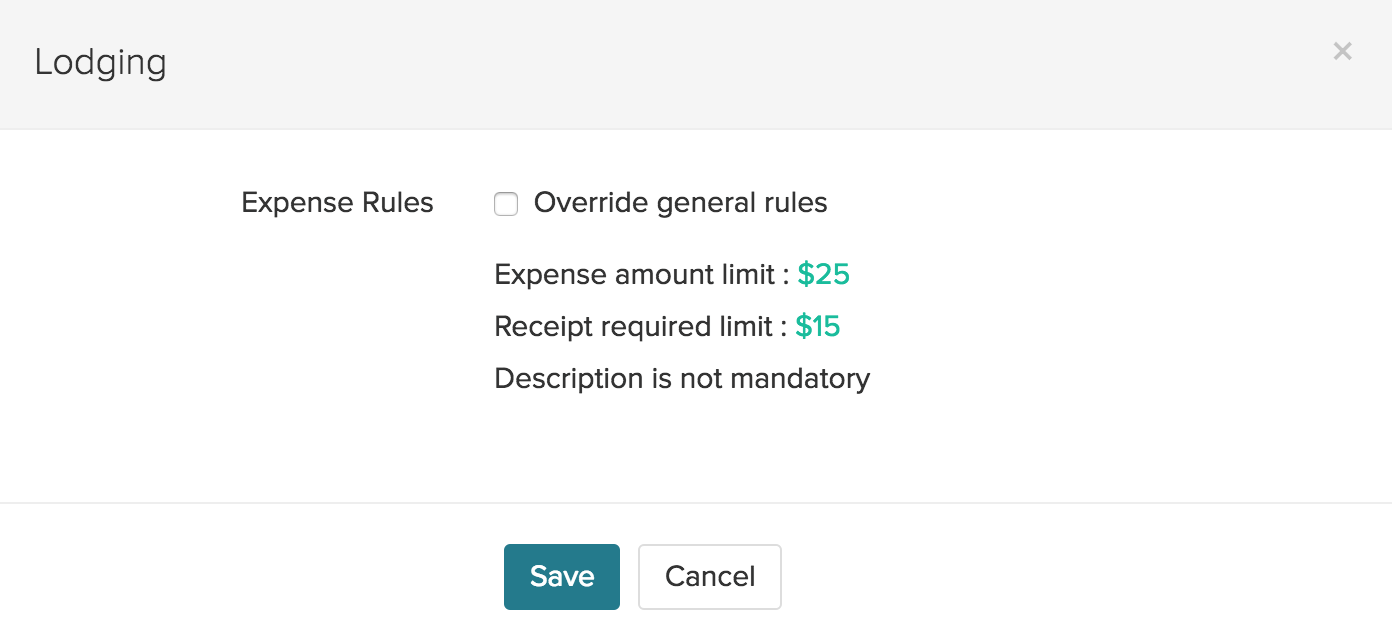 Click on the override option located at the far end corner of the row.
Select and provide the expense amount limit and receipt required limit specific to that category.
Choose whether or not to make description mandatory.
Click Save and Continue to proceed to the next step.
Configuring mileage and per diem rates
Mileage Rate
If your employees regularly incur mileage expenses, you can add mileage rates based on which the mileage expenses will be calculated.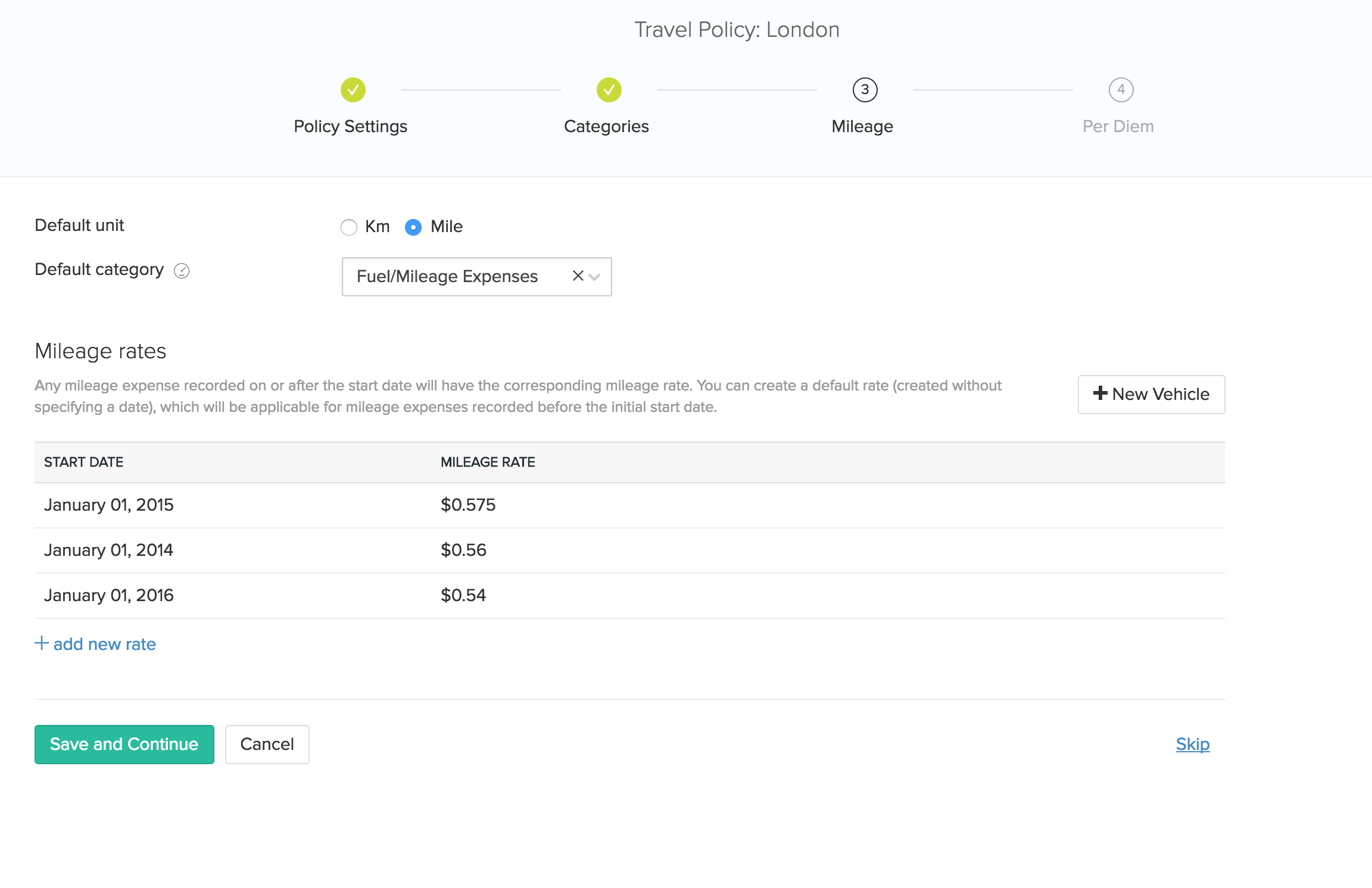 Select a default mileage unit (km/mile) and Category (Fuel/Mileage expenses). This cannot be changed while creating an expense.

Click on +add new rate.
Provide a start date and a mileage rate for that date.
You can create a default rate (created without specifying a date), which will be applicable for mileage expenses recorded before the initial start date.
If mileage rates in your organization are vehicle specific, you can associate a vehicle with the mileage rate by click on the +New vehicle button on the top right corner of the list. The vehicles you add will be common to all policies.
Click Save and Continue.
If you do not want to configure mileage rates in the policy, click Skip to continue to the next step.
Per Diem Rate
Per diem is a daily allowance that an organization provides to an employee while they travel for work. It includes meals, lodging and other incidental expenses like tips to hotel staff, baggage carriers etc. If your company doesn't provide per diem, you can skip the per diem configuration and complete the setting.
Admins can set up various per diem rates according to the travel duration and the location (cities and countries) to which employees will be traveling to.
Let's say, your employee's work requires them to travel only for a couple of hours in a day. You can set up per diem rates for specific number of hours and per diem expenses will be calculated based on the hours your employee records.
Setting up Per Diem
Admins can set up per diem for their organization.
Default Category: This category will be shown by default while creating a per diem expense.
Default Rate: This rate will be used to calculate per diem when an employee records a per diem for which you have not configured the main per diem rate.
Note: You can configure Travel Day Per Diem(early access) if you wish to provide your employees allowance based on the number of hours they travel instead of a full day allowance.
Configure Travel Day Per Diems: You can set per diem rates for different travel durations (0-6 hours, 6-24 hours, etc). If the duration your employee records, falls in any of the configured travel durations, per diem will be calculated by applying the corresponding percentage of the applicable per diem rate.
To configure:
Check the Configure Travel Day Per Diem option.
Enter the Travel Duration and the Percentage. (Eg. 0-5 hours & 70% of main per diem rate)
Per Diem Rates: You can set up different per diem rates by configuring them under this section.
To configure:
Enter the City, Country or an appropriate display name and the corresponding Rate.
Enter the Effective Date (The date from which the rate will be applicable).
Click Save.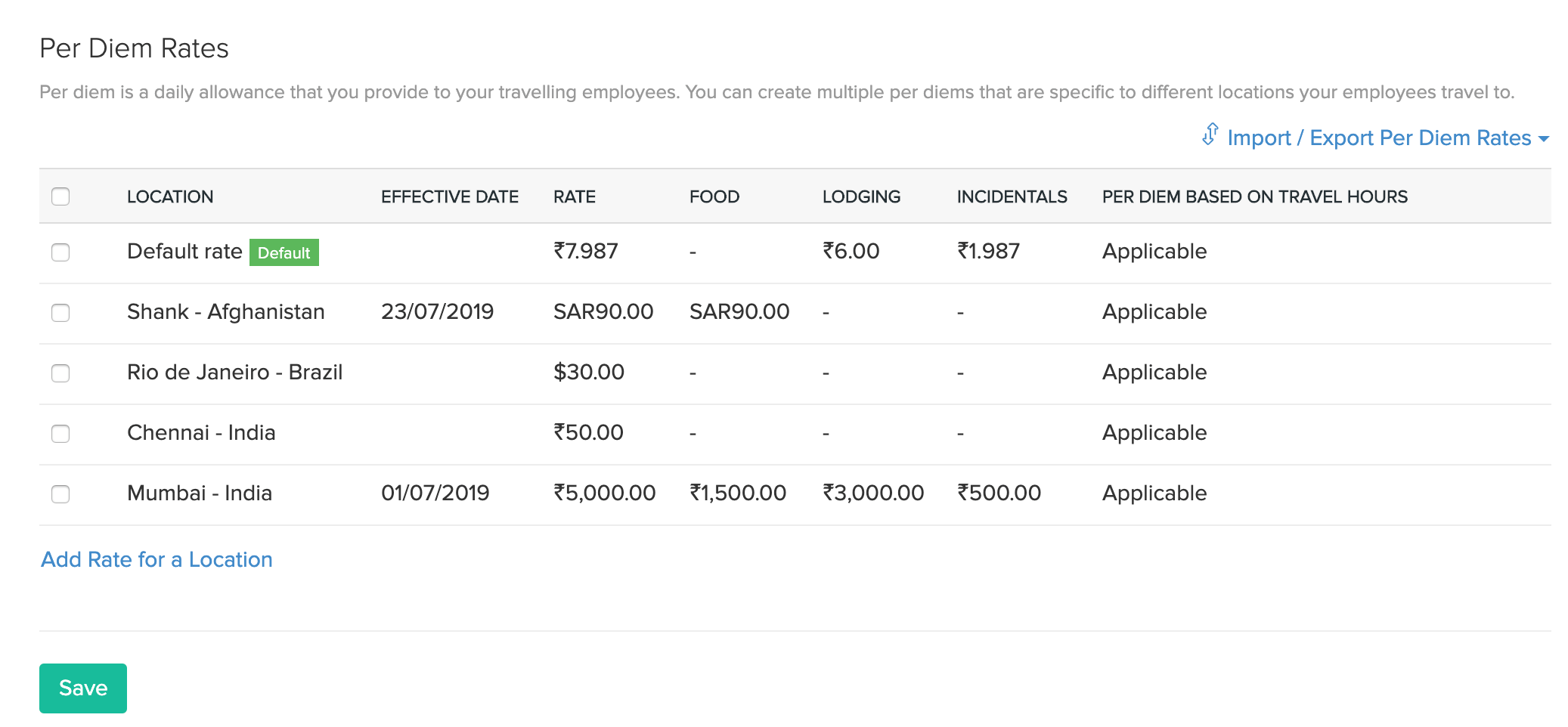 Associating policy with a user
On creating an organization, a default policy would be automatically created for you, sans any limits or rules, which will be applied to all the users by default. However, if you would like to associate policy to individual users, perform the following steps. To associate a different policy with user, please perform the following steps:
Navigate to Admin > Users.
Go to the user on whom you want to apply the policy.
Scroll down to the Policy field.
Select the policy from the drop-down and click Save.
Policy based access permissions
In Zoho Expense, you previously had the option to restrict/grant access permissions while creating roles and assigning them to users. You could restrict the user to view their report alone or grant them access to all company reports.
To add to this, you can now create roles, set policy based permissions, and assign them to your users. This option enables users to perform certain actions based on the policy they are an admin of. 
Note: Only policy admin(s) can be given the access permissions.
Let us take a look at a couple of scenarios where this feature will come in handy.
Scenarios 
Scenario 1:
Case: Mark Ryan runs a construction company which has branches at France, Canada, and Egypt. He has a finance team for each of his branches. He wants each finance team to be able to view expense reports from their respective branches only.
Solution: He can create policies, namely France, Canada, Egypt and add the finance team members as policy admins to their respective policies. This would ensure that they can view the expense reports submitted by the users from their policy.
Scenario 2:
Case: Rupa Ved is a member of the logistics department of Silver Spoon firm. She wants to view the expense reports, trip requests, and advance requests of her department members.
Solution: The Admin can create a policy with Rupa as the policy admin. This would ensure that she can view all the expense reports, trip requests, and advance requests of her department members.
Quick links:
How to add a policy admin?
To add a policy admin, follow the instructions mentioned below:
Go to Admin from the left-hand sidebar.
Click Policies.
Hover your cursor over the policy for which you wish to add an admin, and click edit.
Under Policy Settings, navigate to the field Policy Admin(s) and add the user(s).
Hit Save.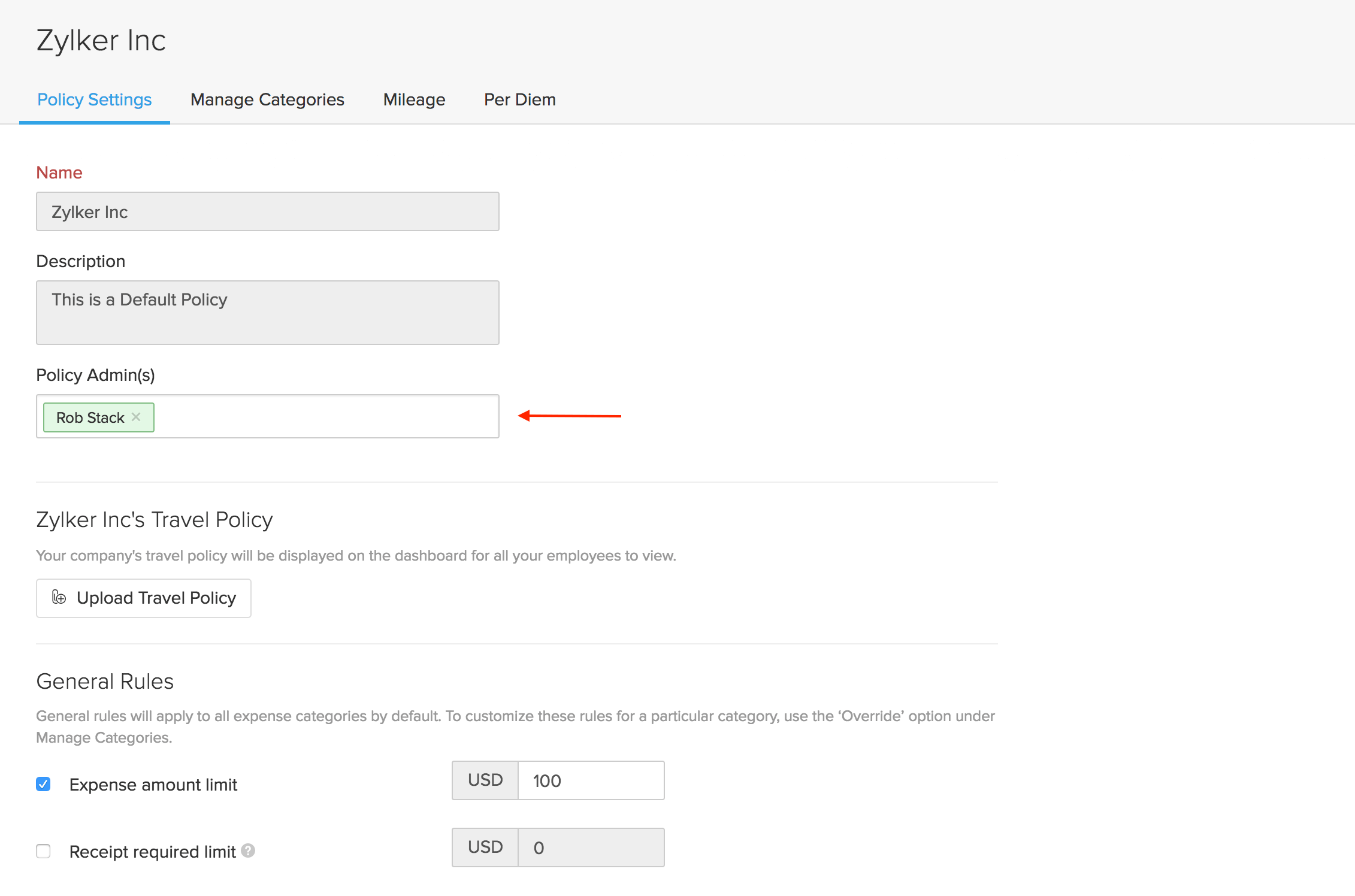 Supported policy based actions
For now, you can give policy based permission to view expense reports, advance payments, and trip requests, to policy admin(s). We will be adding more policy based actions in the coming days. 
Note: Trip requests is a feature which is available for early access. Contact support@zohoexpense.com if you would like us to enable it for you.
Create a role with policy based permissions
Click the gear-shaped Settings icon and go to Users.
Move over to the Roles tab.
Click +New Role.
For expense reports: Under Expense Report, click the View Report field. From the dropdown, select Policy Reports.
For Advance Payments: Under Advance Payment, choose Policy Members in the Record Advance For field.
Scroll down and hit Save.
Now the users with this role will be able to view all the reports and advance payments in the policy for which they are an admin.  
Policy admin's actions
Once you have everything set up follow the steps mentioned below to view the policy based expense reports/trip requests/advance payments:
Go to Reports Approval.
Switch to the All Approvals tab. Here you will be able to view all the expense reports submitted by your policy members.
Follow similar procedures for trip requests and advance requests.