Reading Time:
4
minutes
It's well-known that finance teams work on strict deadlines. Your finance manager wants to close each quarter on time so they can have an accurate picture of the business' finances for that period. While there are several factors that could disrupt your finance manager's quest for accuracy, the major disruptor in the T&E management domain is having a sluggish travel expense reporting process. While your finance team can process expenses like rent, electricity, and wages all by themselves, employee expenses cannot be processed until the expense reports have been submitted.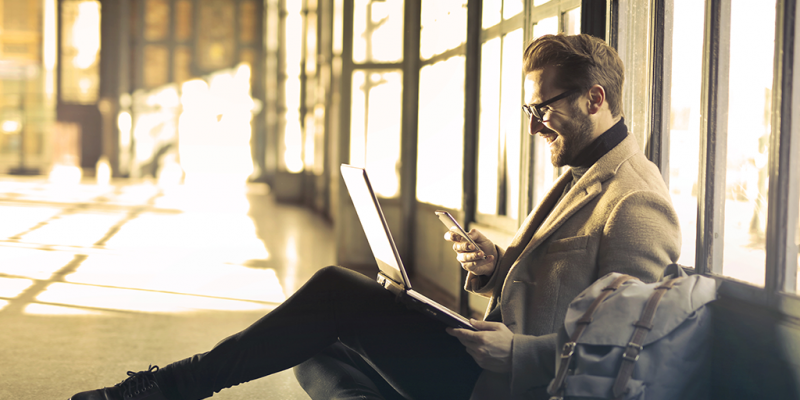 This leads us to the root of the problem — why aren't your employees submitting their reports on time, when they clearly want to be reimbursed promptly? Well, the process is a struggle, that's why. Most if not all travel expenses are incurred while your employees are on the road, and they should be able to record these expenses as they're incurred. A delay in submitting expense reports will delay the reimbursement process. This impacts the accuracy of your firm's quarter-end figures, too, since your finance team may have to close a quarter without the delayed expenses and reimbursements.
The solution to this challenge is small but significant: a mobile expense management application. In addition to submitting expense reports on time, your employees will be able to make their pre-submission process faster. It's a win for all your employees— your finance team, your travel team, and the business travellers themselves.
Here are some ways in which a mobile expense management application can help your employees:
Simplified pre-trip process
Your star employee and most frequent flier can tell you how grateful they would be if they could create a travel request for their next trip while they're still on their current trip. Using a mobile application, your employees can create travel requests for their managers to approve their trips while they are still on the road. Once the trip is approved, your employees can book their tickets and accommodations using the mandated booking tools and upload their air tickets, hotel reservation documents, and itineraries to the TEM application. Now they can have all the important documents within an application in their mobile devices. Also, they can keep an eye on their flight status details and get directions to their hotel just by switching between different applications.
 

Maintaining policy compliance

Your travel policy provides an essential framework for your travel. It dictates how your employees travel, where they stay, and which expenses are acceptable and which ones are not.

When your employees use the TEM (Travel and Expense Management) mobile application that you've implemented, your firm's travel policy becomes an active element in the expense management life cycle.

 Here's how that happens. You can customize your travel and expense management system based on your firm's travel policy, which sets boundaries and eliminates the possibility of overspending or expense fraud. Your employees will be notified if an expense exceeds the cap set for the category, or if they are required to submit a receipt for an expense. You can also use the app to show employees the preferred airline carriers and hotels to book from.
Recording expenses on the go
Employees don't have to wait until they get back to their desk, or even their hotel room, to record their expenses. Using a TEM app, your employee can simply snap a picture of the receipt on their mobile device—the app will capture the necessary details, like merchant/vendor and amount, and record a corresponding expense entry.
The receipts are stored digitally for report generation and future reference so your employees will no longer have to worry about losing receipts. Also, some apps offer offline expense recording, where your employees can add their receipts to the app and have them synced automatically once they are connected to the internet. On the whole, recording expenses using the mobile app accelerates the expense reporting process.
Mileage tracking
Mileage reimbursement fraud, in which travellers exaggerate their mileage expenses, is one of the most common expense frauds. Detecting and controlling mileage expense fraud is tough, since you rely solely on the data provided by your employees. Using a TEM mobile application is the best way to track mileage expenses and overcome fraud.
To begin, your travel manager can set default mileage rates for different vehicles and locations. When your employees are on the road, they can enable GPS on their mobile devices to record point-to-point mileage with the mobile application. Or they can record their mileage using the vehicle's odometer reading or by entering the starting and ending points of their trip. Once recorded, the mileage expense can be added to an expense report. In addition to being accurate and reliable, the mileage tracking feature simplifies the expense recording process for your employees.
Streamlined after-trip process
At the end of the trip, your employees can easily gather the expenses they've incurred to generate an expense report for the trip and submit it through the mobile application. After this is done, they can get real-time notifications regarding the approval status of the report and the reimbursement process. To speed up the process, the employees' line managers will also be notified when there are reports waiting for their approval. They can approve or reject the reports through the TEM application.
Detailed insights into your travel expenses
A TEM mobile application helps you track your expenditures. You can view how much you've spent per category, or how much you've spent on a particular merchant or vendor. This will help you analyse your spending throughout the trip, track excessive spending, and keep an eye on policy violations. You can use these insights to plan your budgets for your future trips effectively.
Limited accessibility makes it difficult for travelling employees to record their expenses. It's not fair to expect your employees to immediately rush to their laptops to record each expense as it occurs. A travel and expense management mobile application can simplify this task for your employees. Instead of fishing out receipts shoved in their wallets and spending time recording the details manually, your employees can raise travel requests, record expenses, submit expense reports, and track the approval process on the go.