Superfast work. Steadfast growth.
Bring the very best out of your customer-facing teams with robust automation, comprehensive analytics, personalized solutions, and more. Sign up and get started in no time—the fastest implementation in the enterprise CRM market.
Sign up for free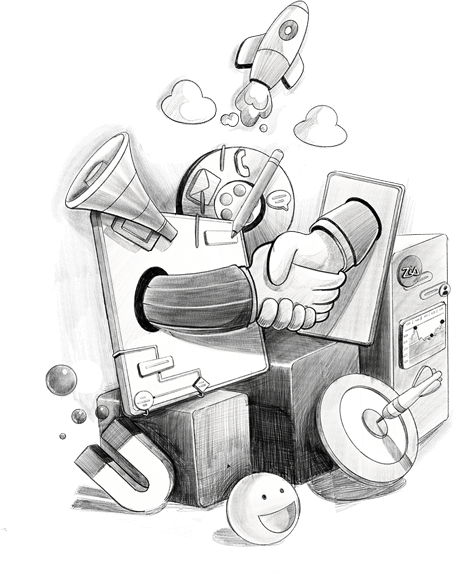 Get started with your free trial
Trusted by 250,000 businesses worldwide
For happier customers
Build excellent customer relationships
Engage with your customers through the right channel at the right time and with the right message. With Zoho CRM you can harness the power of omni-channel presence, segmentation, KPIs, predictive intelligence, and more to deliver personalized experiences that breed customer loyalty.
How

Zoho CRM

can help build better relationships





For a streamlined work experience
Maximum productivity with minimum use
Let's break the myth that CRMs are all about data entry. Zoho CRM is built to get more done in less. Automate your workflows, processes, campaigns, customer journeys, and more so that you can focus less on software and more on relationships.
How to get more done in less time with

Zoho CRM




Sensational software for a sensible price.
For a successful business
Hyper-manage operations with rich analytics
You can make informed decisions with agility using Zoho CRM's advanced analytics tools. Derive actionable insights, create custom reports and dashboards, and measure operations in real time to drive growth in a sustainable manner. Leverage our intelligent AI Zia to get accurate predictions and next steps to be taken for each lead.
How to get the in-depth insights with

Zoho CRM






For A PERSONALIZED IMPLEMENTATION
Customize, upscale, and deploy with ease
Manage Zoho CRM from the bottom up without breaking a sweat. Wield a dedicated admin panel, state-of-the-art customization, and a powerful developer platform to extend what Zoho CRM can do.
How

Zoho CRM

can be truly yours
No-Code

Pro-Code

Integrate
Zoho CRM

with over

800

+ apps

Zoho CRM works seamlessly with your favorite apps–or
find the right app for your needs at Zoho Marketplace.

Learn More


Why choose

Zoho CRM?
Refreshingly simple to use—a modern CRM for a modern business
Dedicated programs for migration, deployment, and training
Extensive developer platform for custom solutions and integrations
Flexible contracts with no lock-in periods
No hidden costs—we don't nickel and dime features
Price protection–get the best deal, always
How a leading global franchise development company scaled faster with the help of Zoho CRM
Brent Dowling, CEO, RainTree
The complete CRM for modern enterprises.
Fastest deployment in the market
Highly customizable verticals on demand
Premium support for zero downtime
Learn more

What makes us the

#WorldsFavoriteCRM

More Case StudiesMore Testimonials

Agappe Diagnostics achieves complete digital business transformation with Zoho CRM

India's largest online Investment Platform Increases Productivity 5X by Implementing Zoho CRM

A CRM deployment of this magnitude would normally require 18 to 24 months.

"Zoho CRM offers us technology that allows us to be more proactive and insight-driven, with all information in a single place. With our complete business under control, our productivity is up by 80% in the last year that we have been using Zoho."

Thomas John,Managing Director,
Agappe

"As a CRM manager, I can plug myself in directly to the sales team and make sure they never slip out of deals, with the help of working tips provided by Zia. In addition, Zoho Support is amazing. They have assisted me any time I needed help."

Divya Sundaraju,Assistant manager - Learning & Development,
FundsIndia

"The launch of Zoho CRM is one of TAFE's significant initiatives to drive digital transformation and growth. The solution with Zoho is very innovative and truly digital. There was a complete re-engineering of processes done for simplification, and Zoho team completed this project in an astounding six month."

Shobhana Ravi,Chief IT, Innovation and Learning Officer,
TAFE
More Case Studies
More Testimonials
Improved Sales. Lasting Relationships. Faster Growth.
15-day free trial. No credit card required.