Right Side Panel : To check the upcoming slide, to move between the slides, to check your list of participants, and to invite them during the broadcast, use the features on the right side panel.

1. Next Slide:

To take a look at what's coming next, click icon.

Notes: To view your speaker notes while you deliver and to keep track of the key points of your current slide, use Notes.

2. Slide Preview:

To get a thumbnail view of all your slides and to jump to a specific slide, click icon.

3. List of Participants:

To check the list of participants watching the presentation, click icon.

4. Invite Participants:

To invite your participants to join the broadcast, click icon.
Notes
Toggle View - To hide the chat panel and get an enlarged view of the broadcast screen, click » icon in the right corner of panel.
Navigation Panel : To highlight specific elements of a slide, use the features on the navigation panel.

Zoom: To enlarge a particular detail in your slide, use icon.

a. Arrow or Pointer: To point to details or specific areas of the slide, use icon.

b. Pen or Highlighter - To write or highlight on your slides as you present, use icon.

Go To Slide: To jump to any slide during the presentation, use Go To Slide option.
Right and Left arrow: To move to the previous or next slide, use icon.
Tracking Panel : You don't have to use your own phone or watch to keep track of time. Let our timers keep you on track, down to the minute. Pause, reset the timer, or stop the broadcast anytime.
Timer:
To keep track of the time elapsed during your presentation, follow the Timer. Once the presentation begins, the clock will start recording the amount of time spent on each slide. You can also click on the pause button to take a break.

Blackout:
To freeze and mask the slide to make your participants focus on your narrative and not on the slide screen, click Blackout. To continue presenting, click Uncover.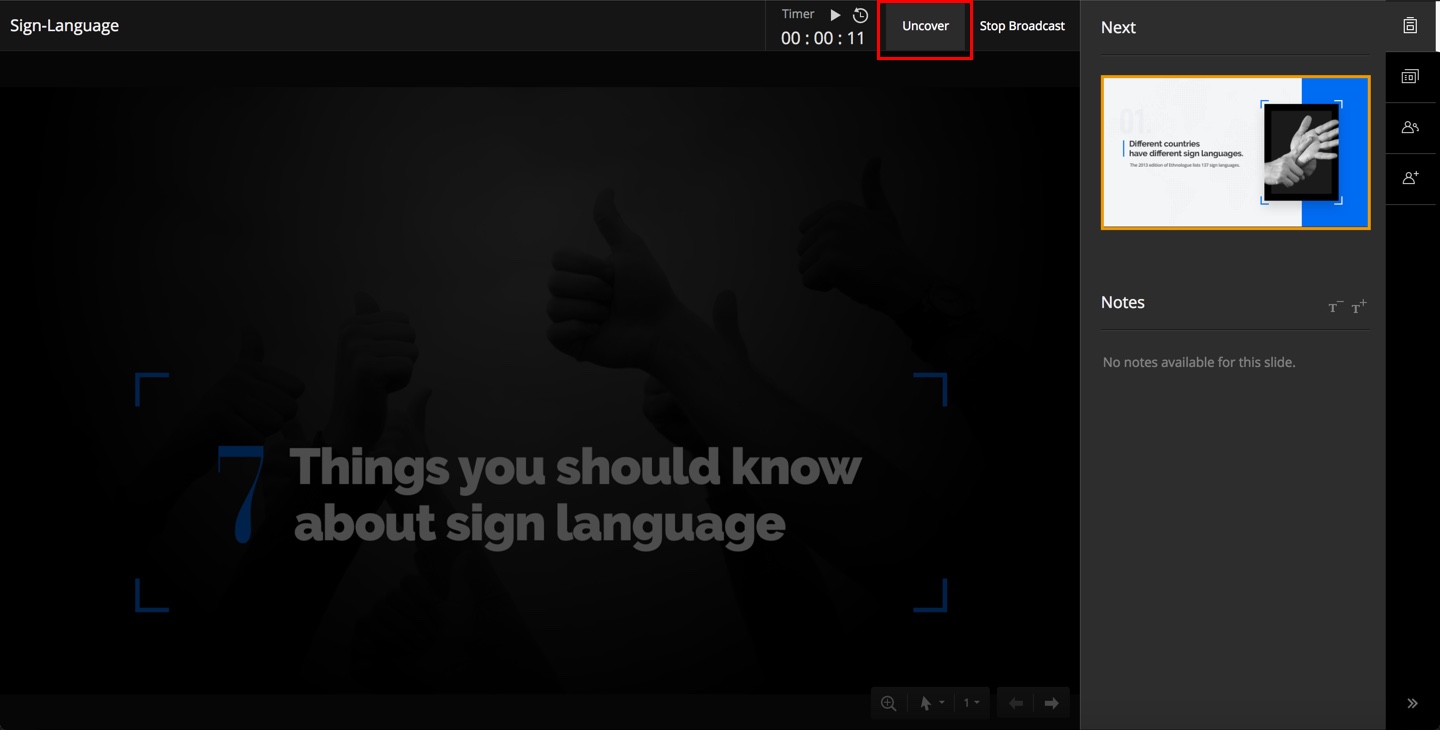 Stop Broadcast:
To stop the broadcast, click Stop Broadcast.