File visibility.
No need to send documents individually to everyone concerned. Get a link and share it privately, or make it public to everyone in your organization. Decide who can see files by using specific criteria.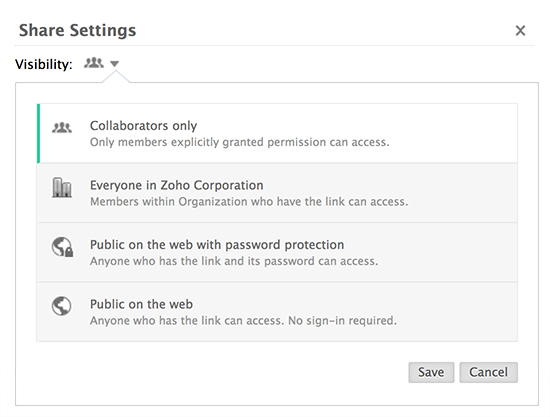 Collaborators only
Invite specific people, using their individual email addresses to grant them access to the file.
Visible within the organization
Have something to announce to your company? Make your files visible within a particular domain.
Public on the web
Spread your ideas to the world. Make your files open to everyone using a web link.
Public on the web with password
Filter access to your files on the web. Protect your files with a password so that you can choose who can see them.
Decide who does what.
Grant access based on each team member's function.
Co-owner
Share equal responsibility. Enable co-ownership for a document.
Read/Writer
Let people collaborate with you. Permit them to view and edit your files.
Read only
Keep your partners and stakeholders in the loop by allowing them to view your documents.
Read/Comment
Invite suggestions from your co-workers. Allow them to review and comment.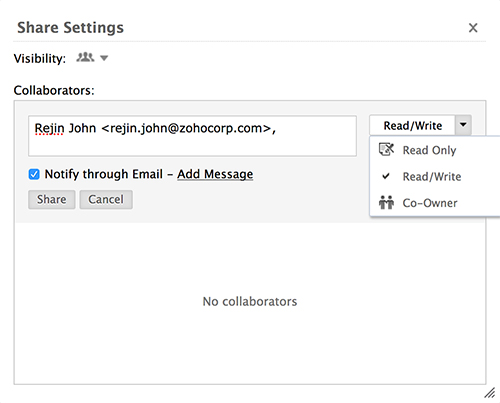 Work together. Work efficiently.
Make better decisions and bring out the best in your team. Take the confusion out of collaboration and bring focus to your tasks.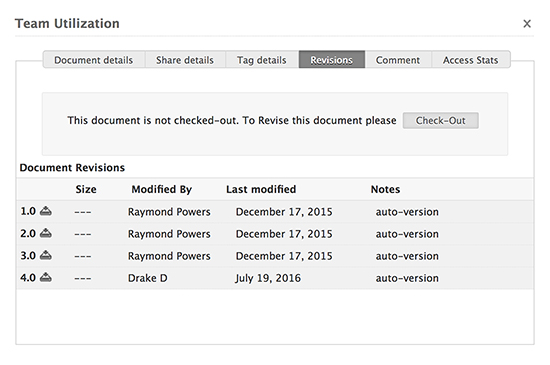 Debate and discuss
Interact with your collaborators while you work using the in-app chat feature. Alternatively, you can chat with anyone in your organization with the integrated Zoho Chat option.
Be in control
Eliminate overwriting while collaborating with your colleagues. Take sole charge of your work with the Check-In/Check-Out feature, which allows only one person to work on a document at a time.
Revisit your work
Does yesterday's write-up seem better than today's copy? Zoho Docs lets you recover all previous versions of a document. Avoid the mess of creating multiple copies of the same file. Compare versions, and assess which parts work the best.
Mark as final
Make your meetings meaningful. Finalize your document to know exactly which file to present and discuss. Keep all your collaborators on the same page with file status updates.
Be more aware.
Manage user and file activities, and keep track of them at all times.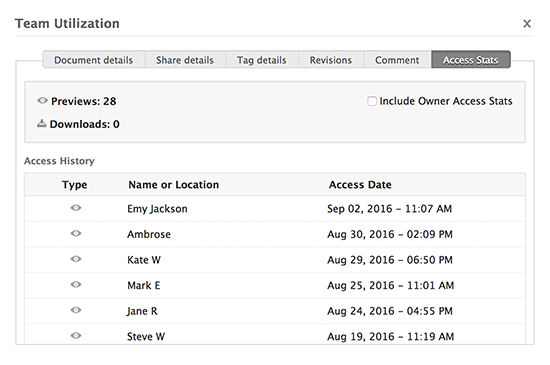 Audit trail
When collaborating on a document, it's important to keep track of who made which changes. Hold collaborators accountable for these changes.
Get notified
Don't get lost in a maze of edits. Get instant notifications via email any time changes are made and stay up-to-date on modifications made to your file. 
Access reports and stats
Identify who has accessed and worked on your documents. Get details about the date, time, editor name, and number of times your file has been opened.