Now, meet
Zoho WorkDrive:

our file storage and collaboration tool for modern teams.

Zoho WorkDrive, with its collaborative workspaces and customizable sharing controls, makes work more team-centric and gives team members timely access to information to make informed decisions. Simply put, WorkDrive makes the right information available to the right person at the right time.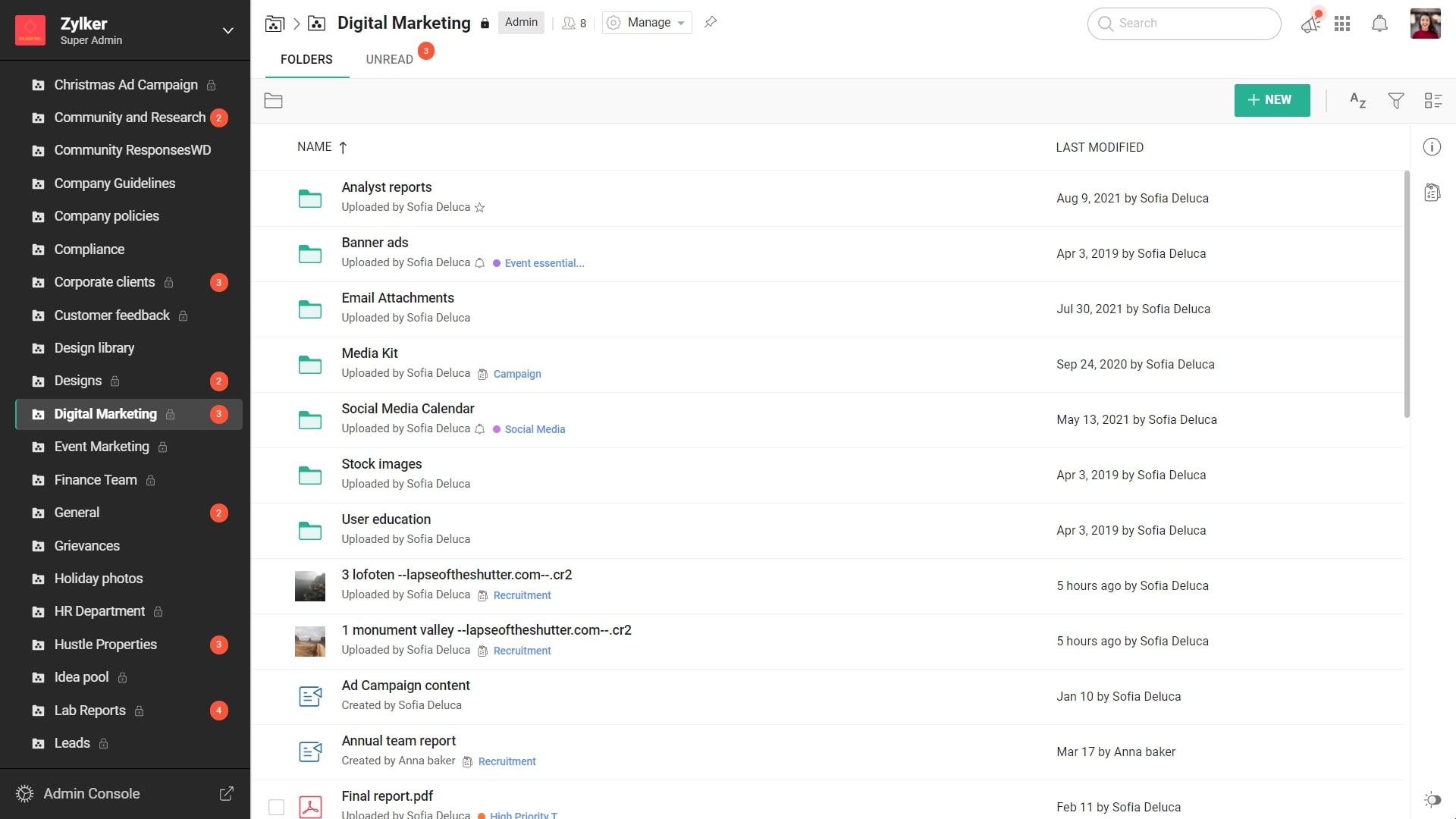 Shared storage for your team
Zoho WorkDrive is built around the team as a work unit. Each member of any team has different storage needs. To cater to this, WorkDrive gives your entire team a shared storage space with no individual limit. That way, everyone gets the storage they need, and nobody's unused space goes waste.
Team Folders for better teamwork
A Team Folder in WorkDrive is like a virtual container created for a particular department, purpose, or project. Instead of working and sharing files individually, users create a Team Folder, add team members to it, and assign roles and permissions within it. Any document dropped in the team folder will automatically be available to everyone associated with it.
My Folder for working on personal goals
WorkDrive's My Folder gives you a separate space to create, upload, and work on private files. When you want to involve your team, you can always move the files to a Team Folder and start collaborating, or you can share it individually with team members as well.
External sharing, redefined
Forget the hassle of emailing large documents to members outside the organization. With WorkDrive, you can now generate an external link for any file or folder, and easily send it to your key stakeholders.
Enhanced User Interface
WorkDrive's user experience is simple, yet powerful, and is focused on presenting the user with the right information and options at the right time.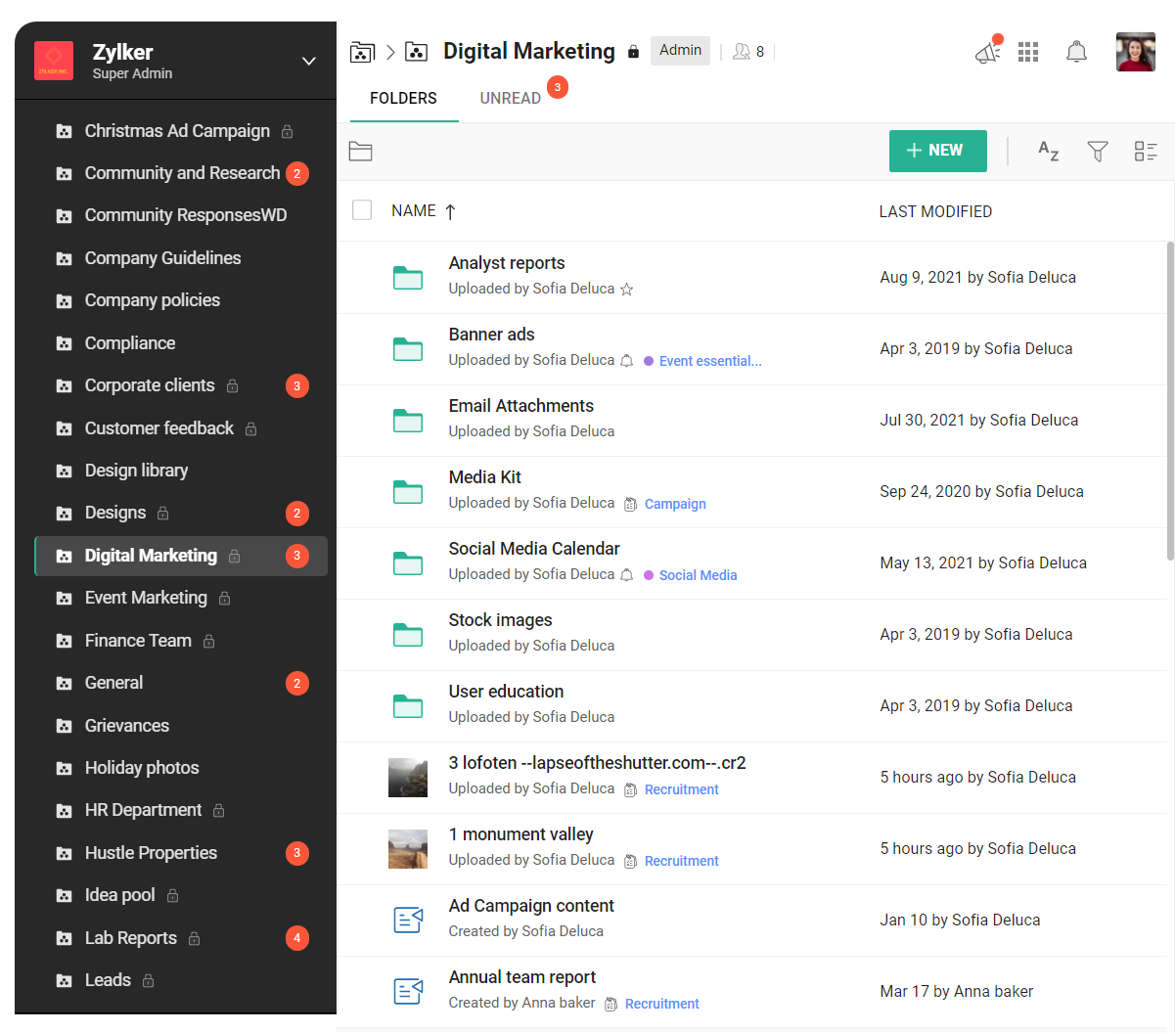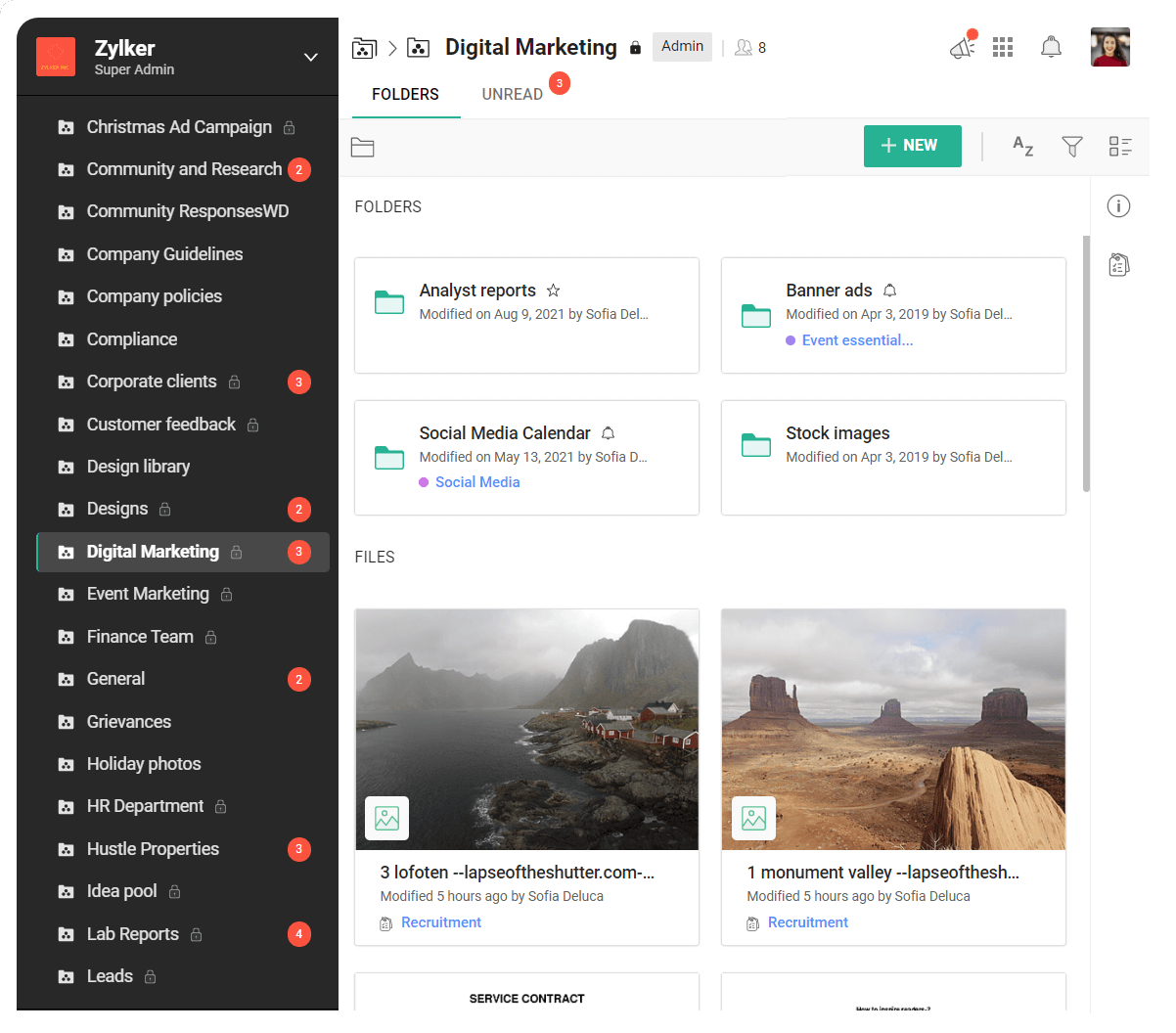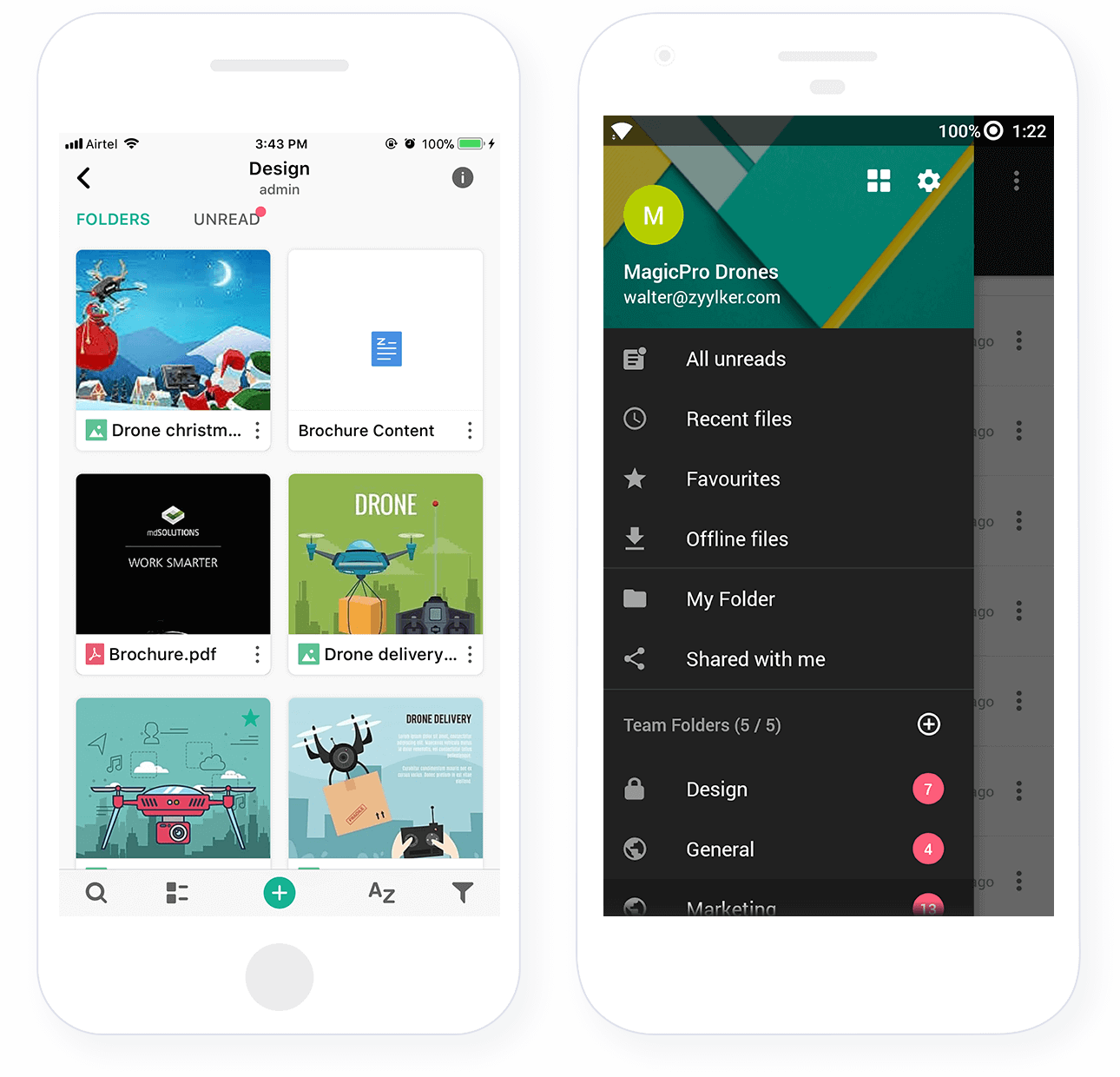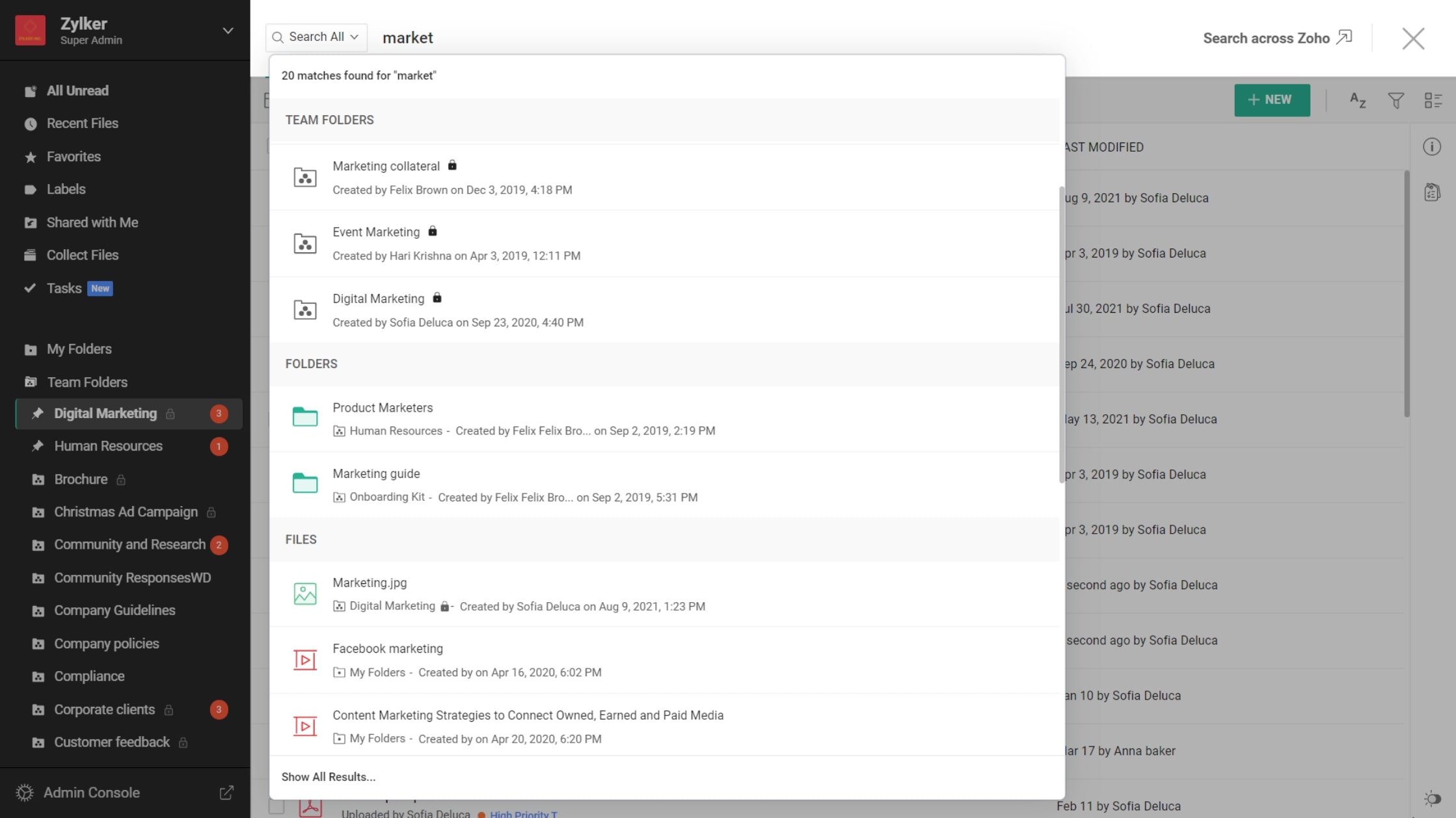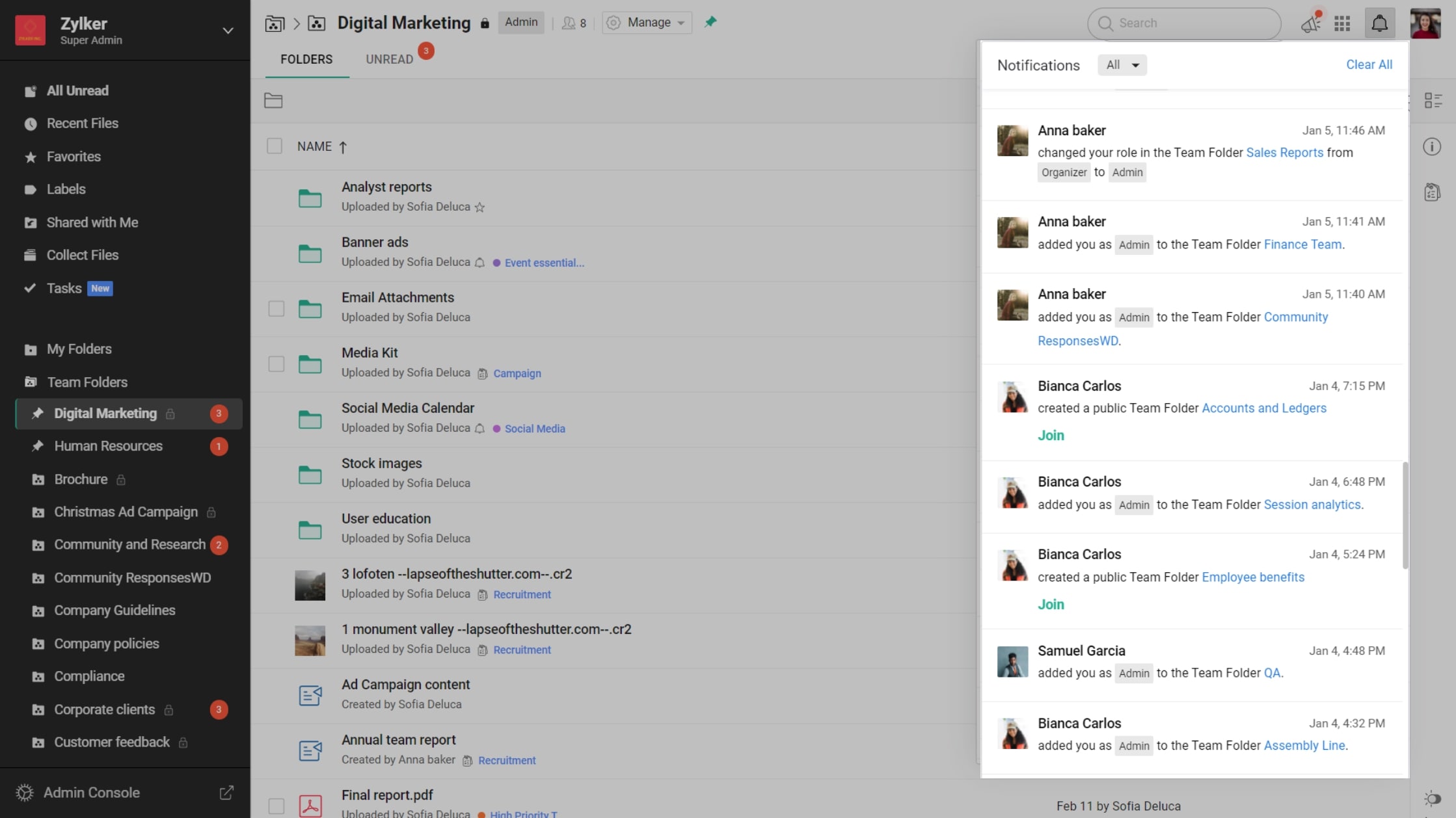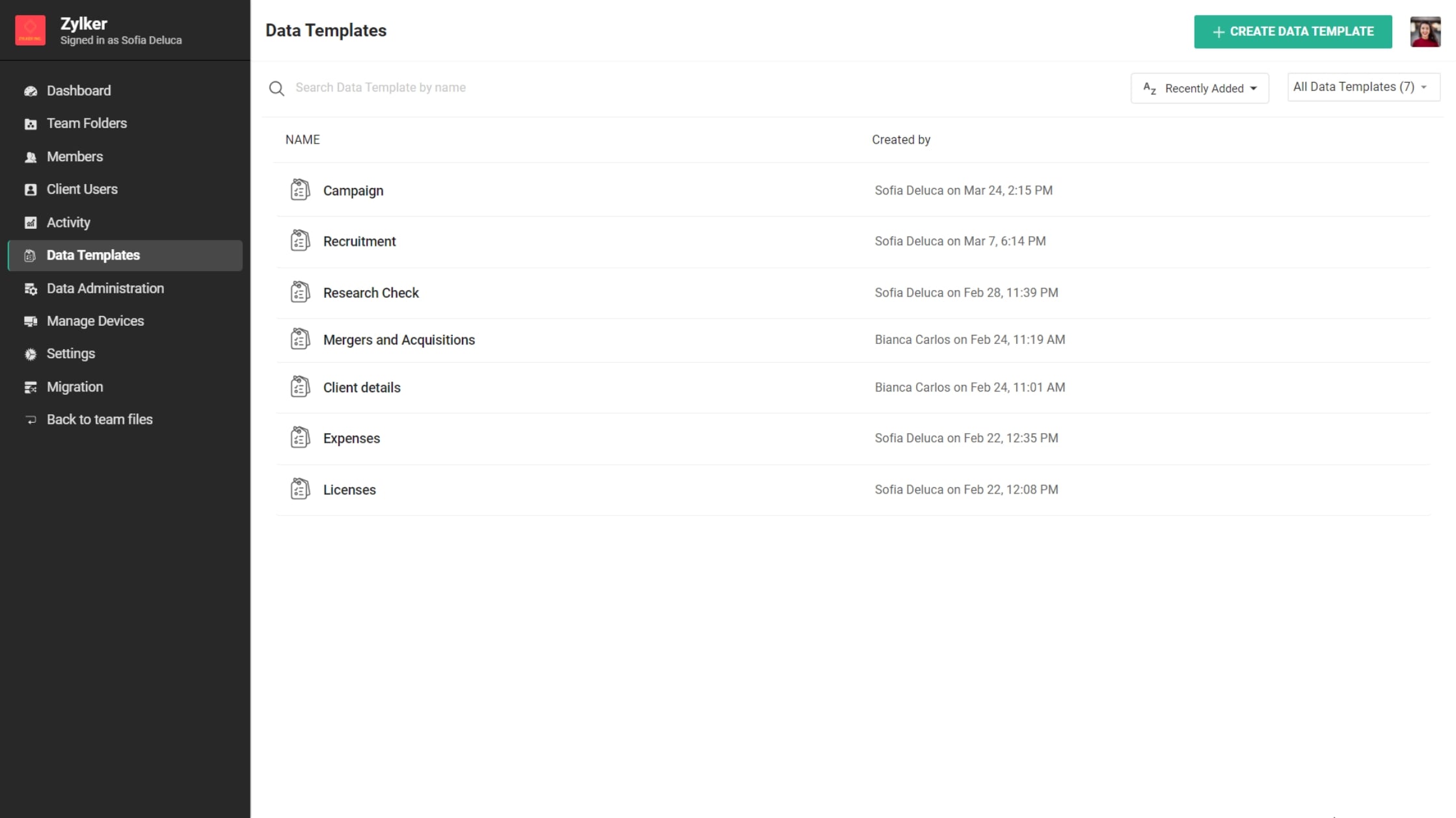 Universal content search
Get a seamless experience across the web and on your mobile devices. With the WorkDrive apps for iOS and Android, you can access files from anywhere, create Team Folders from your smartphone, share files, manage external share links, and more.
Notifications to help you stay informed
WorkDrive offers two kinds of notifications, one at the Team Folder level, the Unread section, and another at the team level, the Global notifications. We've intentionally separated this section into two so users are not flooded with updates, potentially missing the important ones.
Data Templates to add structure to your data
With WorkDrive, you can associate purpose-based classification to your documents using metadata. This makes storing, searching, and managing your digital assets seamless.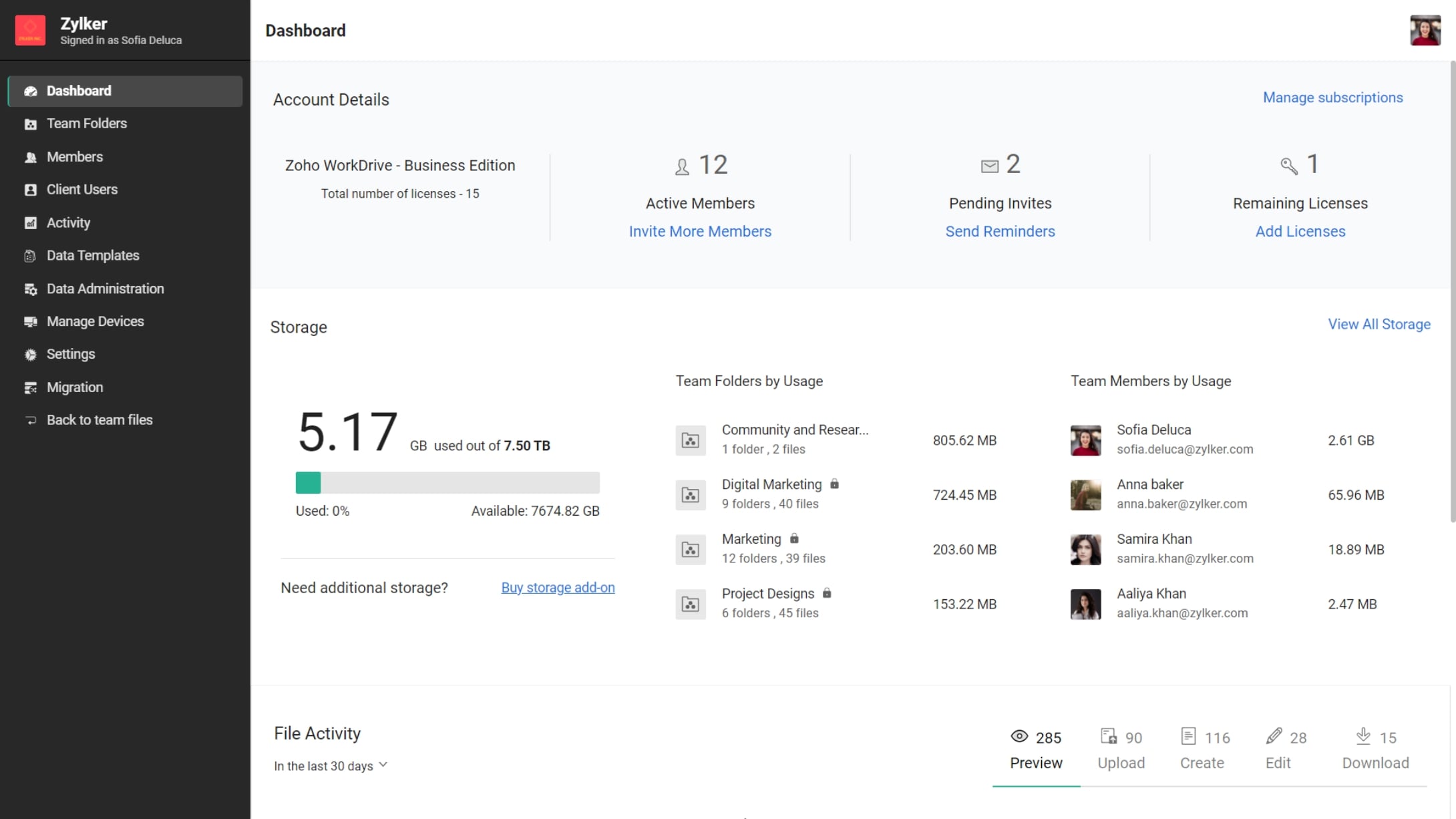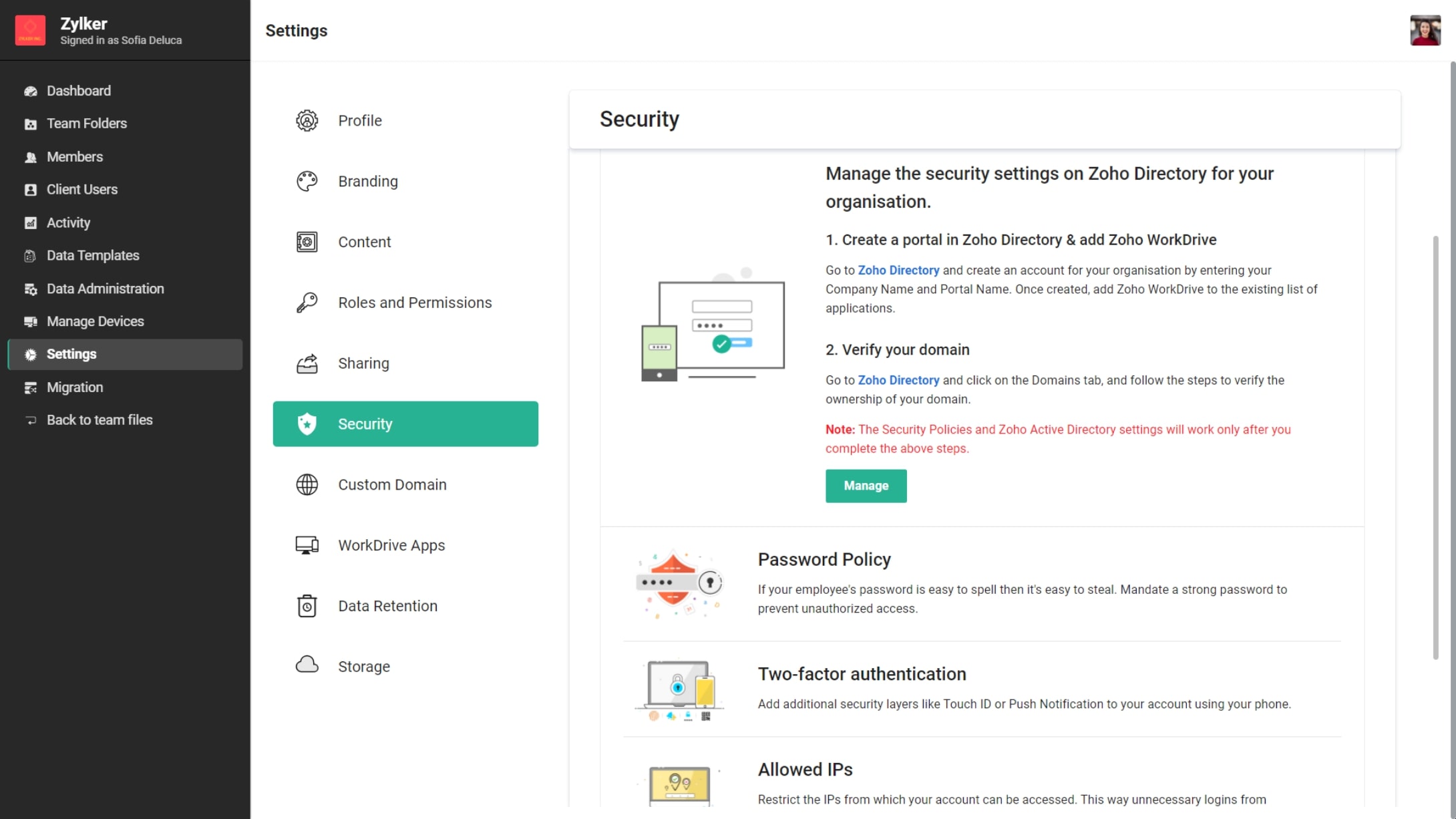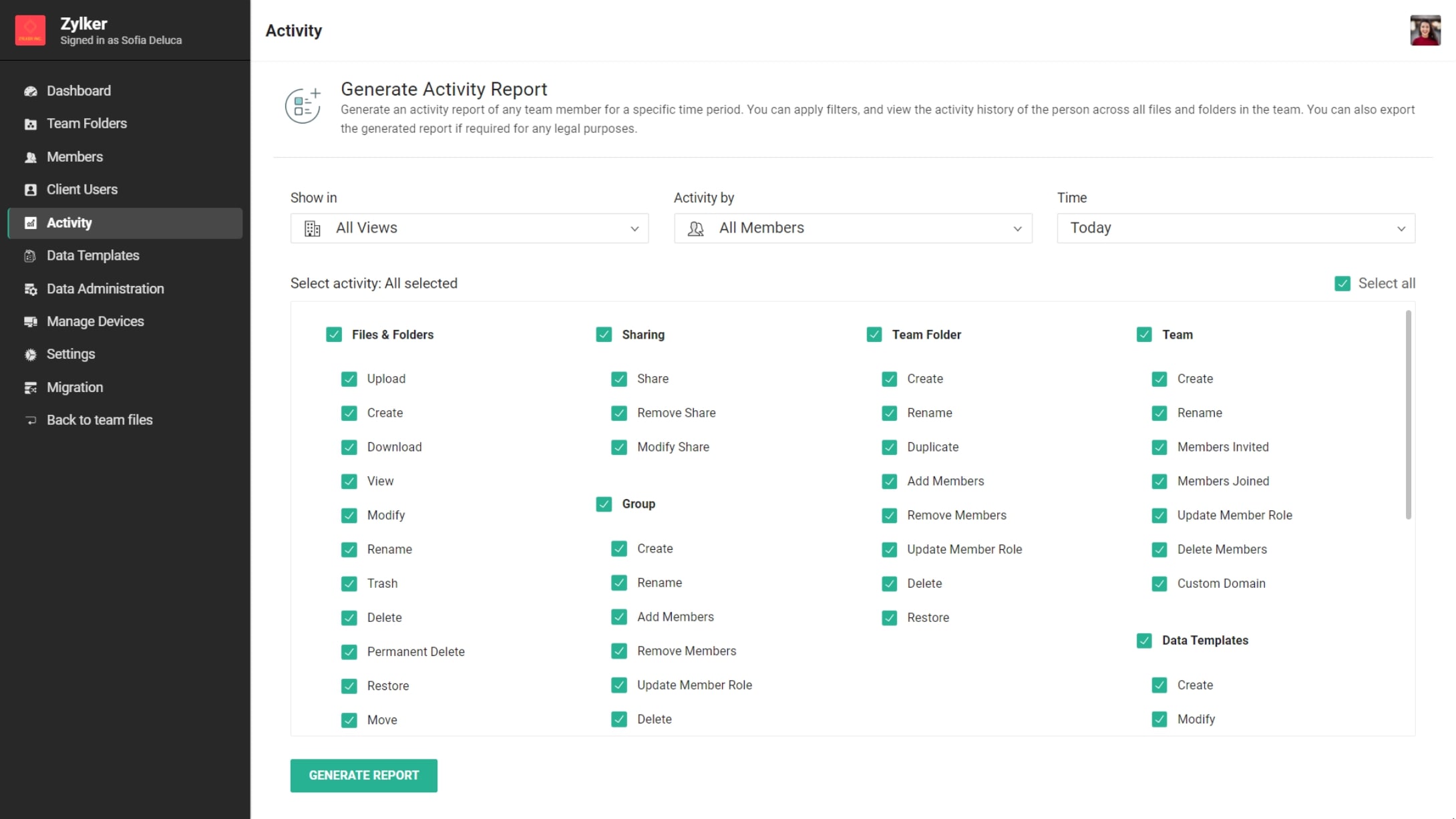 Comprehensive admin console
Administer your data, team, and account from a single place. Manage members, generate detailed audit reports, oversee trash, and more. WorkDrive offers a very intuitive dashboard that lets you monitor storage needs and track user activities.
Security that you can trust
Aside from the industry-specific compliance standards, WorkDrive also offers account level security options including two-factor authentication and restriction to account access from certain IP addresses.
Advanced team management capabilities
With Zoho WorkDrive, team management can be divided at the Team and Team Folder levels, which gives you greater flexibility and control over your team's work. Admins can control settings and keep a close eye on their team's file activities with detailed activity reports and timelines.
Integrations
Currently, we have enabled the WorkDrive picker for many products including Zoho CRM, Zoho Projects, Zoho Sign, and more. We're also working on other features including True Sync and Labels that will improve your document management experience.
Zoho Connect

Zoho Mail

Zoho Flow

Zoho workdrive

MS Office

Gmail

Zoho Crm
WorkDrive add-on for Zoho Mail
With the WorkDrive add-on for Zoho Mail, sharing large files is no longer a challenge. Attach any WorkDrive file to your email in Zoho Mail and save your incoming email attachments to WorkDrive directly.
WorkDrive add-on for Gmail
Don't worry about downloading attachments and uploading them to your WorkDrive: save your Gmail attachments directly to your WorkDrive account using our Gmail add-on. You can also share your WorkDrive files in emails using share links.
WorkDrive add-on for Microsoft Office
With the WorkDrive Add-on for Microsoft Office, you can now create and edit files with Microsoft Office Suite, have them immediately available on WorkDrive, and even share them with your colleagues without having to convert your Microsoft Office files or save multiple copies everywhere.
Zoho Flow and Zapier
WorkDrive is integrated with Zoho Flow, an app that helps you automate tasks and save time by connecting the different web applications you use every day. WorkDrive is also integrated with Zapier, a third-party service that serves the same purpose as Zoho Flow.
WorkDrive App Platform
Our goal is to make WorkDrive the common file storage platform across all Zoho Apps. This means any files created within individual apps, like a contract within CRM or a document for your task list in Projects, will be stored in WorkDrive and accessible from a single place.
WorkDrive's role in Zoho's ecosystem
WorkDrive will be integrated with every Zoho product and will become the underlying storage for all the Zoho applications. If you are a Zoho One user, then eventually WorkDrive will become your central data repository. Any file that you attach in any app will be saved in WorkDrive.
Migrate all your files to
WorkDrive now!
Currently, we are enabling the migration tool only for the business accounts and not for the personal account users.
Learn more