Insert Media to Presentation
Insert Image
Zoho Show allows you to insert as many images as you can. Click Insert on the menu bar and then the image button to insert images into the slide.
You can select images from following sources:
Image library: Lists all images used by you
From Picasa
From Flickr
From a URL
Insert Video
To embed a video file, click on the Insert button on main menu tab and then select Video.
You can search for videos from YouTube and Dailymotion. Just type in your search keyword and see the videos getting listed.
To insert videos from other sites, Copy the video embed code and paste it in the box given.
Now, the video gets embedded in the presentation and automatically opens in slide show.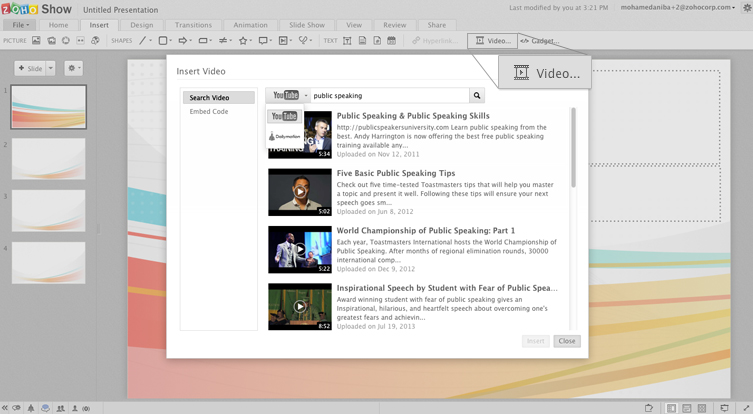 Embedding video in Zoho Show: Quick Facts
Zoho Show allows you to embed video from a selected list of external websites. Click here to view the list of websites
If you do not find your site in the list, you can mail us so that the site will be approved.
Zoho Show does not host videos and hence there are no file/screen size constraints.
Currently, we do not support import of PowerPoint slides with video.