Change Document Owner
You can transfer the ownership of a document from the person who created it, to another person in the organization. This will make it easier manage documents in the absence of the actual owner or when the document owner leaves the organization.
Note*
This feature is available only with the Zoho Docs Premium Plan. To upgrade your plan click here.
To change a document owner: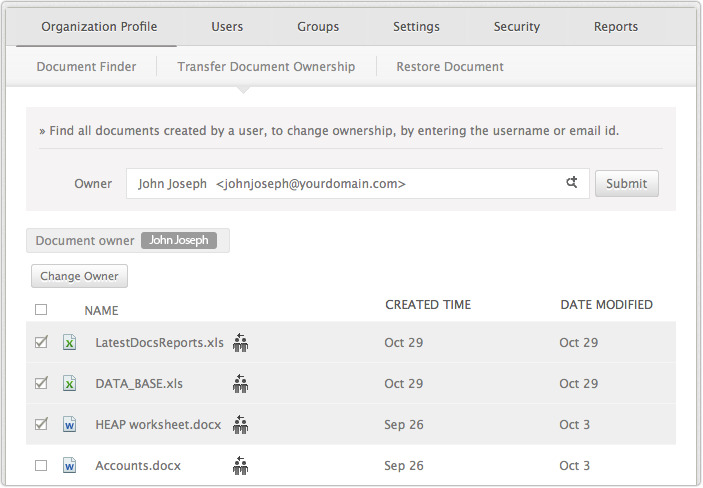 Click on the Settings icon on the top right hand side, next to your username.
From the drop-down menu select the Admin Panel option.
A new set up page will open in a new tab.
At the top of the page you will see an Admin Governance tab. Click on it.
Enter the username or email id of the user in the Document Owner space and click Submit
A list of all the documents created by the user, for which he is the owner will be listed.
Select the check box next to the document or documents for which you want to change ownership
Click on the Change Owner button at the top of the document list.
A Change Owner pop-up will appear. Enter the name of the user to whom you want to transfer ownership of the document to in the Change to User space.
Click on the Change Owner button.
The ownership of documents will be transferred to the specified user. The user will be shown as the Author, i.e the owner of the document, in the document list.