Group Management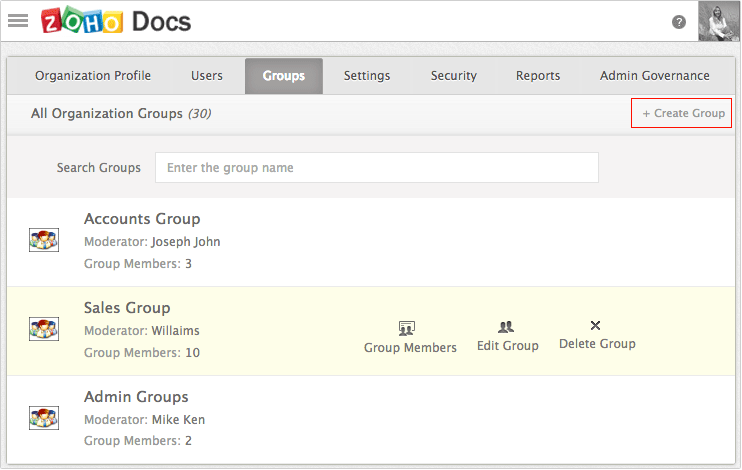 Zoho Docs is also an Online Collaboration tool, where you can create groups and invite friends, colleagues, team members, etc. Share unlimited files with groups and collaborate in real-time. All group members can access, edit files online. Group collaboration is one of the main feature in Zoho Docs which promotes teamwork, no matter where the team members are situated. Zoho Docs has built-in Chat feature, which is useful to discuss with group members and share plans instantly. Restrict or permit specific rights to group members in the organization from anywhere. Manage your group members from a single point.
Zoho Docs lets you create two kinds of groups:
Personal Group - In Zoho Docs you can form Personal Groups and add friends, family members, etc. The advantage of forming personal groups is that, you can share files, have a group chat and also send email to group members easily and quickly from Zoho Docs.
Organization Group - You can create Organization Groups for members in the organization. To be a member of the Organization Groups, he/she should have a Zoho Account, and must be a part of the Organization. Inside Zoho Docs, you can share files instantly, conduct chat session to exchange ideas and send email to the group members. Its now simple and easy to collaborate in real-time.
Affordable document management solution for businessesEnterprise level plans starting at just $3 /month