Getting Started
This guide will help you to get started with Zoho Developer, right from signing up as a developer to creating and publishing your first vertical CRM application.
Signing up for Zoho Developer
The first step is to sign up for Zoho Developer. You can do so at the Zoho Developer  page.
In the fields provided, enter your email address and company name, then click Request Access. You will receive an email confirming your account request.
Within 24 hours, you will receive a second email, letting you know that your account has been activated. Open that email and click on Join Now. You will be directed to a new page, which will prompt you to provide your name and create a password for your developer account. Once you've provided these details, you will be taken to the Zoho Developer home page, where you can start building your vertical CRM application.
Building your first Vertical CRM
Now that you're signed up as a developer, Zoho Developer makes it easy to build customized, industry-specific CRM applications. This process is divided into four stages: setup, verticalization, testing and publishing.
Setting up an application 
The first step in building your vertical CRM is to configure certain basic settings and choose the application modules you'd like to include.
Provide a name for your application.
Provide a URL for your application (which can be later mapped to your custom domain, if you want to).
Specify the industry for which you are going to build this CRM
Select the modules from the list of available standard modules provided by Zoho.
You can deselect all the modules and create a completely new set of modules, if none of the standard modules are required for your application.
Give a short description for your application and click Create.

Verticalize your application
Once you've completed the basic setup, you can then customize and modify your application, ensuring you deliver a robust CRM product that addresses the specific needs of your target industry.
Customize your application.

Tailor your system by customizing your application in a variety of ways: add/modify modules, fields, links and buttons; set up automation rules; profile permissions; create mail templates; and more., You can also enhance your CRM system by including other Zoho services such as Projects, Campaigns and SalesIQ as either integrations or extensions to your application.

Brand your application.

Reflect your brand identity in the look and feel of your application. Upload your company's logo, customize your design theme and map the application to your own domain to differentiate your product from other systems built on Zoho CRM

Determine a pricing plan for your application.

Pricing has a huge impact on how many users will purchase your application, so coming up with the right pricing strategy is the key. Hence, setting the right price is very crucial for the sales of your application. Zoho Developer allows you to create up to three plans, each with a different set of features and price. You can choose to charge a one time setup fee and offer users a discount if they pay their subscription annually.
Testing your application
After customizing your interface and setting your automated actions, you can test your application in a sandbox environment, which allows you to view your CRM system as though you were the end user. In this mode,you can verify all your customizations have been implemented properly implemented and troubleshoot any issues that arise. Your Sandbox environment will look like the image shown below: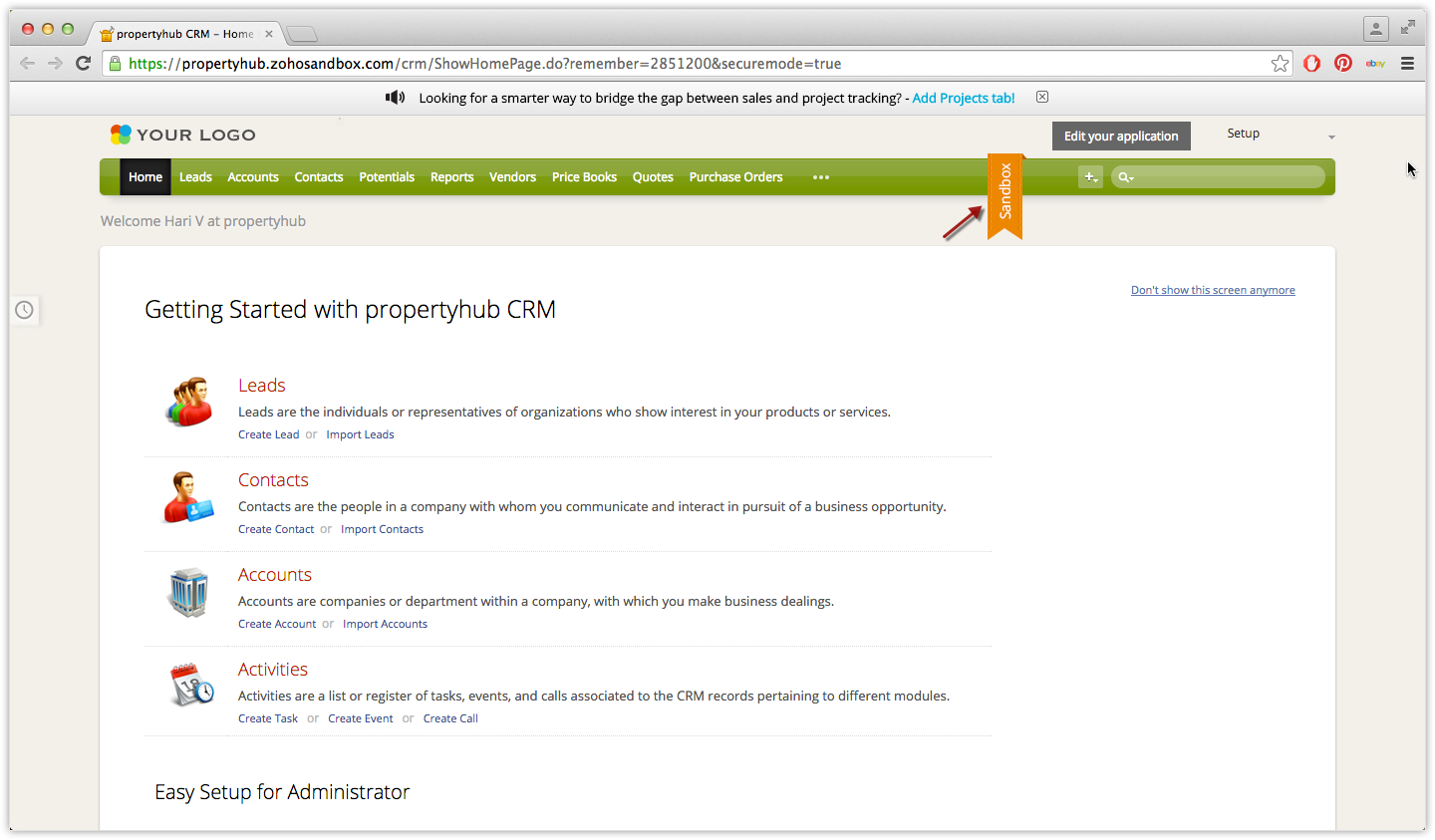 Publishing your Vertical CRM application
Make your newly built CRM application available to your customer base by simply publishing it and sharing the link. Zoho Developer gives you the option of two publication modes—public or private–allowing you to manage how customers gain access to your system: public applications are immediately accessible by anyone, but private applications require users to request access before they are able to create an account.