Introduction
Like any other business function, customer support too has a number of processes. Training your agents on those processes is a great first step, but it's just that — the first step. The learning they receive must be followed by adherence, and an easy way to ensure that is to use software.
Zoho Desk provides you with just what you need to achieve this. Here's how you can make good use of its capabilities to ensure that your support-related processes are streamlined and effective.
Organize, prepare
The more products or services you offer, the more varied requests and complaints you will receive from your customers. Some customers might need a refund while some others might prefer a product exchange; some might like to switch to a different service plan while some others might want to subscribe to a particular service. Consequently, each customer request needs to be put through a different process.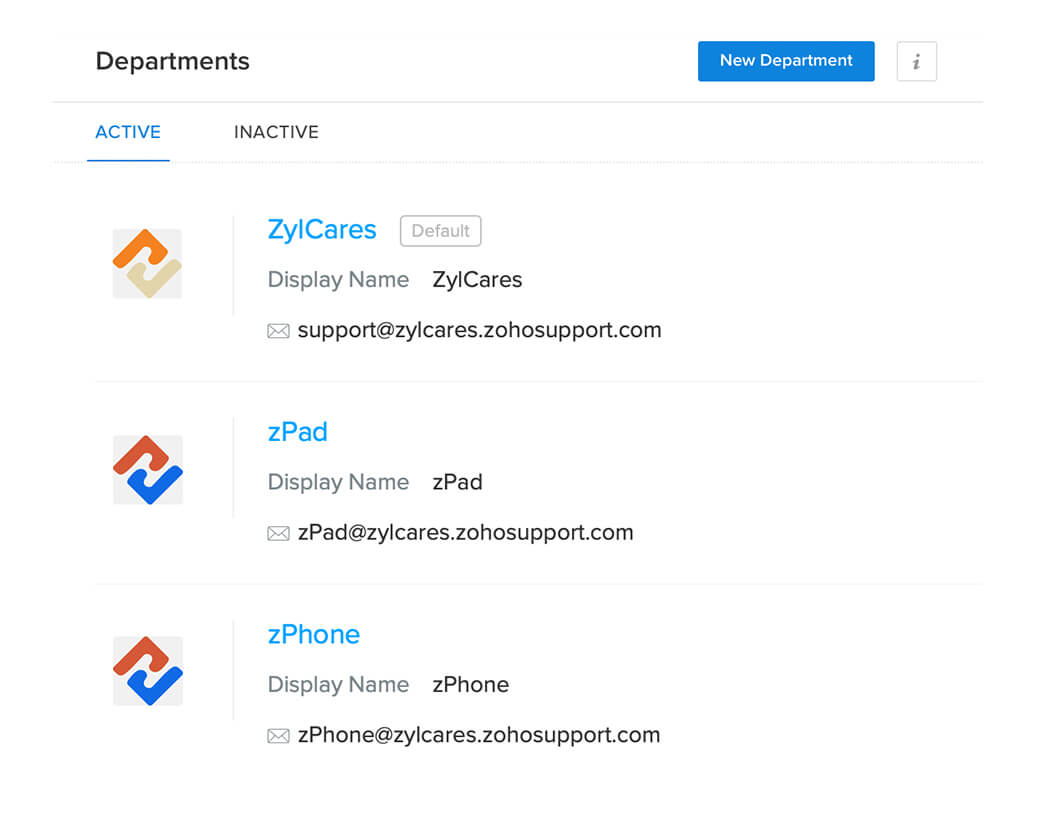 Now, what can you do to make this easier and more streamlined?
The first thing you must do is to organize your customer service effort into Departments. You can create departments based on the most common support areas your team deals with. 
For product-based businesses, this could mean departments, such as returns, exchange, billing & payables, and technical support. For service-based businesses, this could mean departments, such as discovery, implementation, contracts & payables, and maintenance. 
By doing this, you can ensure that customer tickets are routed to focused groups of agents who specialize in addressing a particular kind of issue. On one hand, you would have ensured that each ticket reaches the right agent at the right time. On the other hand, your agents are not bombarded with multiple types of customer requests, and are better placed to do exactly what's needed when a ticket reaches them.
Field the difference
As your agents go about executing different processes to resolve tickets, they collect various details, such as order numbers and subscription IDs. Some of these might be common in the industry you operate in and some might be unique to your organization. Zoho Desk makes it easy for you to elegantly organize all your details through custom fields. 
Apart from the standard fields that come with Zoho Desk, you can create custom fields that serve your support needs. The best part? A single custom field can have different values in different departments.
For example, consider an e-commerce company whose help desk has departments configured according to product categories. There will be a Sub-category field in each department, but it will have one set of values in the Books department and an entirely different set of values in the Electronics department. 
Further, using Field Layouts, you can avoid duplicating the same field across all departments. Essentially, based on the department, Zoho Desk automatically knows which values apply to a particular field. That's context awareness delivered swiftly to your agents.
All that you need to do is simply create all the custom fields required and then choose which ones apply to each department.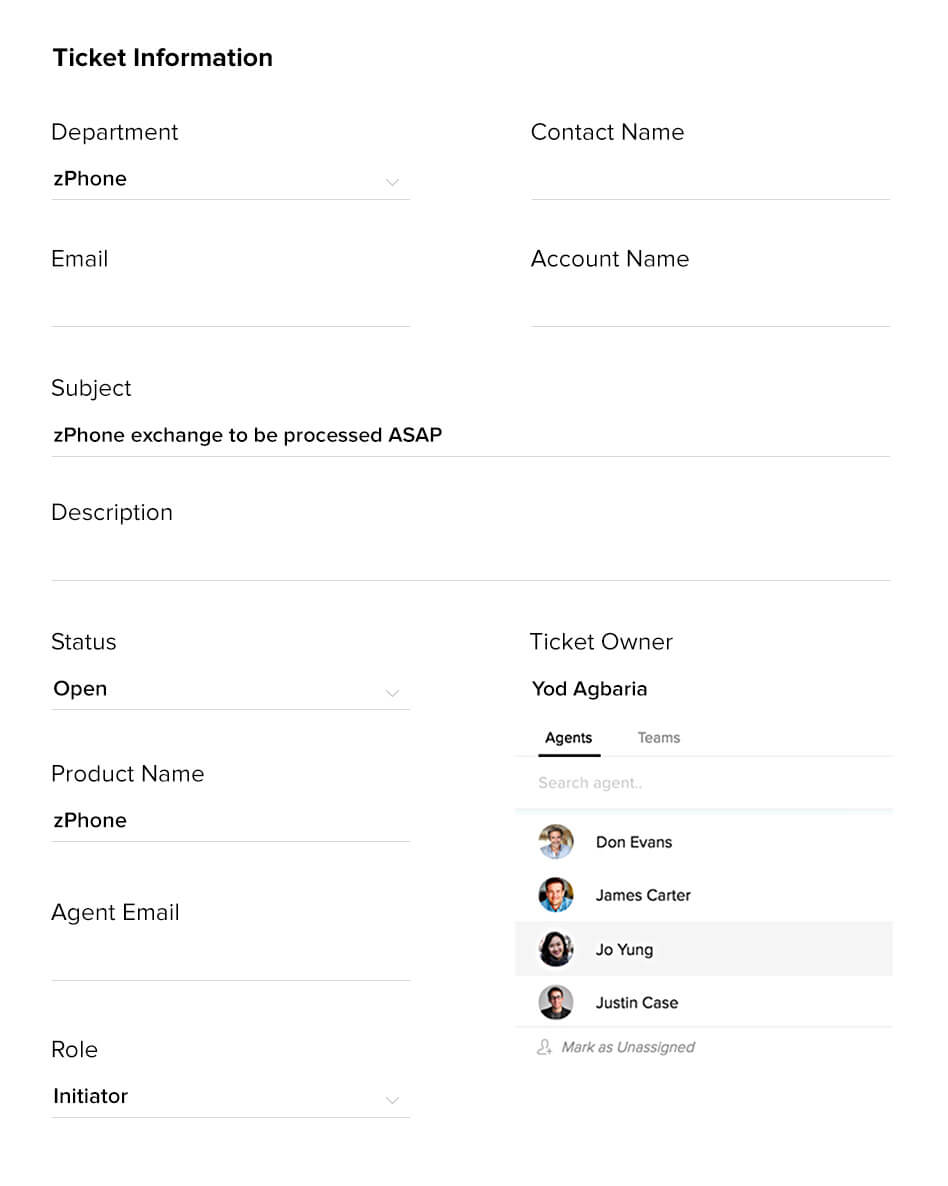 Don't DIY. Automate!
A typical day in the life of your agents would involve their performing certain activities that are essential for resolving tickets. This could be something as simple as moving a ticket from one department to another, or sending notifications to customers or other teammates, or changing the priority of a ticket. Doing something like this a few times a day is fine, but doing them a number of times every hour can affect your agents' productivity. You can save them the trouble by configuring automation rules for single-step processes like these.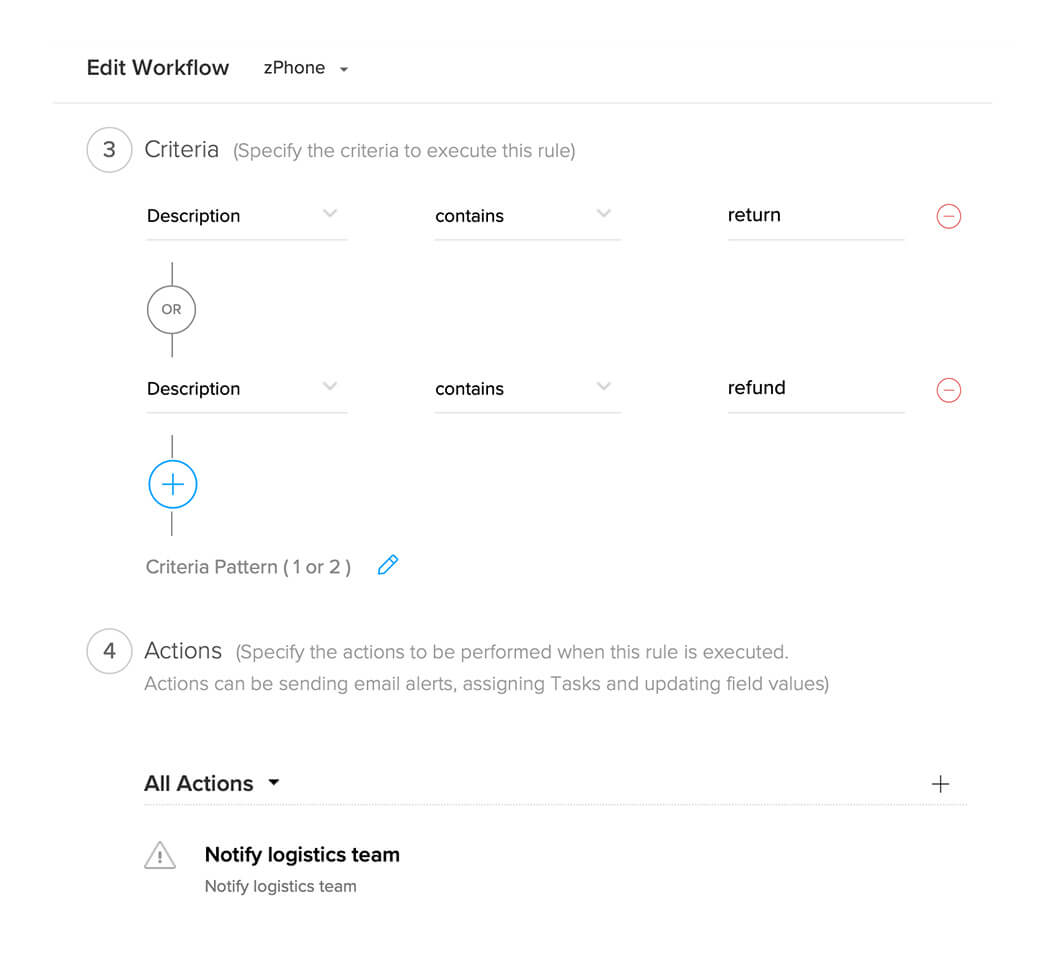 The automation rules in Zoho Desk work based on a simple logic: If a ticket fulfills a particular criteria, a particular action/actions must be performed automatically. 
The body of a ticket contains "phone heating up" and the concern must be addressed urgently? Create a workflow rule that automatically changes the ticket priority to High and assigns the ticket to the Replacements team. 
A ticket has more than 10 exchanges with the customer and is past its resolution due time? Create a workflow rule that alerts your support manager or supervisor. 
And what about those cases when a bunch of actions must be performed, but cannot be triggered automatically? Create macros, which your agents can then manually apply on specific tickets or a list of tickets.
All right. You now know that Workflow Automation is a great way to manage common and simple single-step processes. But how do you manage more complicated processes that span multiple teams? That's up next. 
One step at a time
Your customer service team might be your company's front-line staff, but they often need the help of many internal teams to address customer issues. However, assigning tasks to each of them and ensuring accountability can quickly become tricky and complicated. This is where Zoho Desk's Blueprint capability comes in handy. 
Using a simple DIY drag-and-drop interface, you can chalk out detailed processes, broken down to each vital step involved. You can create each individual step in the process and build out the entire sequence to be followed. Blueprint automatically ensures that an eligible ticket is put through the appropriate process. This takes the manual effort out of managing complex processes.
Each step in the process is called a state and the action to perform to move from one state to another is called a transition. Blueprint states are mapped to the ticket status field, and when users complete the transition they're responsible for, the ticket moves from one state to the next automatically.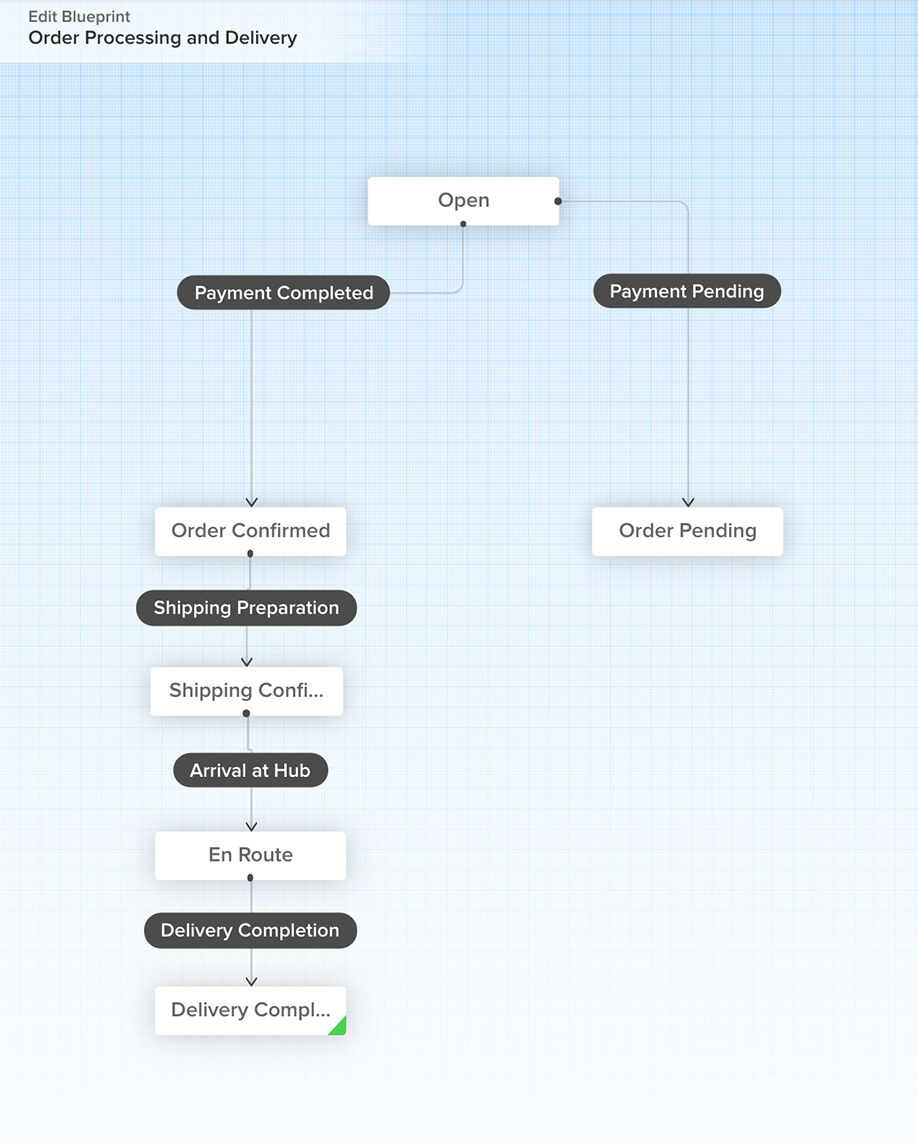 Complete, comply,
repeat
They say too many cooks spoil the broth. But oftentimes, the right number of cooks can also spoil the broth, if they don't work in harmony and don't do their own part correctly. Cooking aside, this logic applies directly to your customer service processes too. 
When multiple stakeholders are involved in resolving a complex ticket, it becomes difficult to ensure accountability and also track the progress made. This is one of the challenges that Zoho Desk's Blueprint can help overcome. 
With Blueprint, in each stage of a process, you can: 
Specify which agent, team, or colleague from another department must perform each transition, thereby ensuring accountability.

Clearly define the actions (transition) that must be performed to move a ticket from one state to the next, thereby ensuring consistency.

Determine which stakeholder(s) must be notified after each transition is performed, thereby ensuring clear communication.

Limit the duration for which a ticket can be in a particular state, thereby ensuring timely resolution of tickets.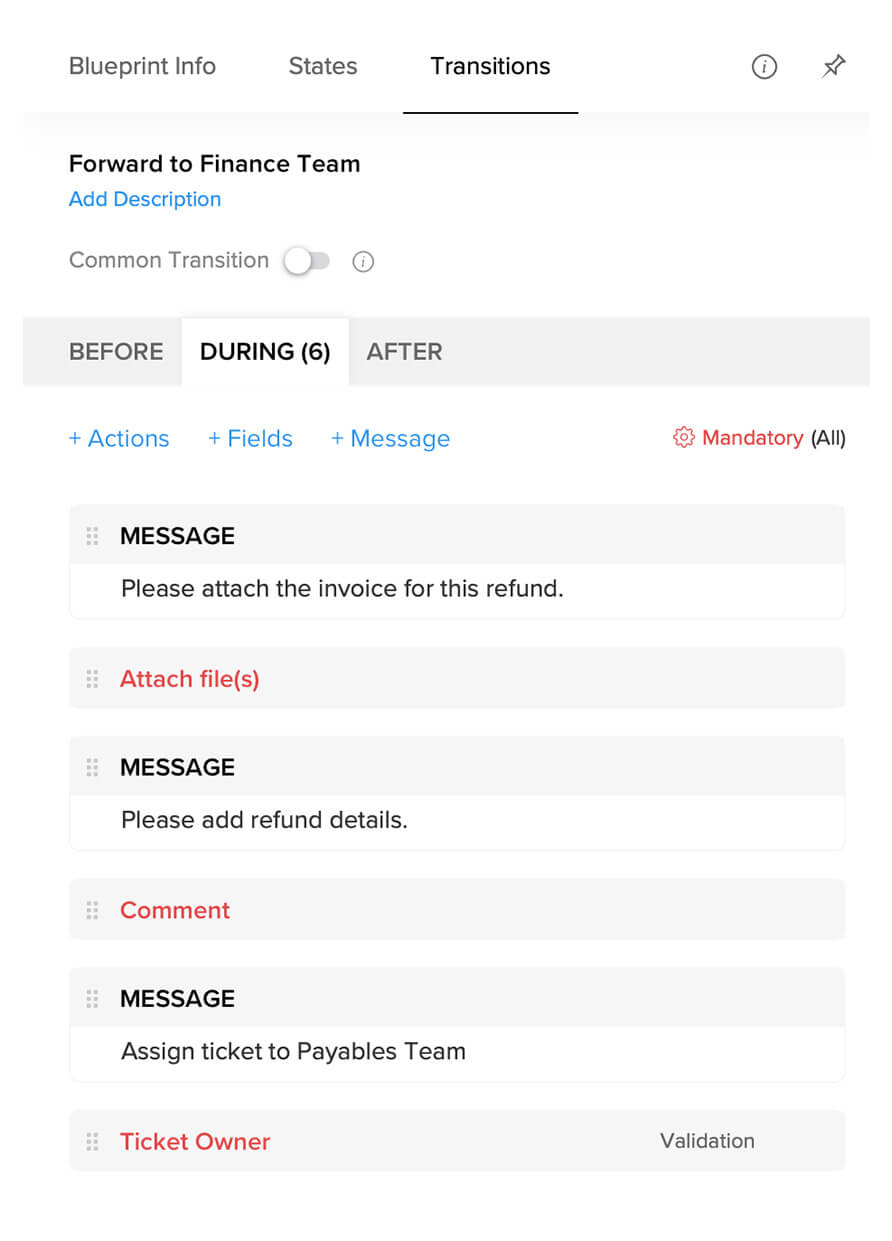 Keep track, improve
when you're back
The best thing about Zoho Desk's Blueprint is that it helps you improve not only your complex processes but also the Blueprint itself! 
Thanks to the Blueprint dashboard, you can see critical metrics related to the Blueprints configured in your help desk. Since Blueprints are department-specific, you can view granular insights, such as: 
the number of active tickets with Blueprints applied 

tickets in a particular state for longer than permitted 

average time taken for fully executing a Blueprint 

average time tickets stay in a particular state

frequently performed transitions, and

number of tickets in which the Blueprint SLA was violated
Using these statistics, you can identify the bottlenecks in your processes and tweak them wherever necessary. As a result, you can achieve continuous improvement—or what business management experts call kaizen—in your processes and your customer support efforts overall. 
Well-defined processes impart discipline and efficiency to your help desk. Be it simple single-step processes or complex processes involving multiple stakeholders, Zoho Desk has your back. Why wait? Explore Zoho Desk's process management capabilities right away and stay ahead of potential challenges.