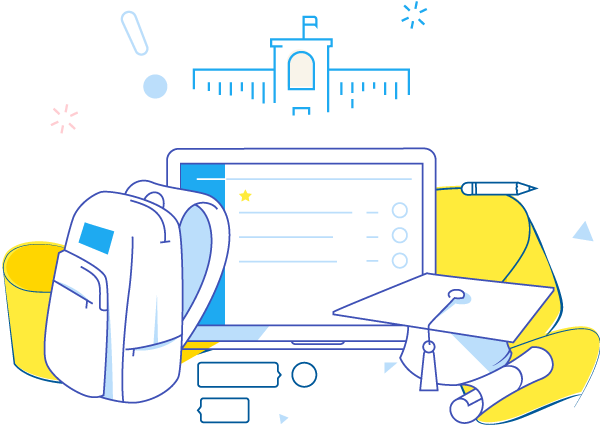 Zoho Desk makes support seamless
for your educational institution.
Whether it's time
for admissions
What's your admission procedure?
Why was my application deferred?
I'm not able to log into your exam portal.
Am I eligible for a Scholarship?
What is the tuition?
...or examinations
When will finals be conducted?
How many credits do I need?
How can parents get involved?
When is this assignment due?
How do I check my attendance?
...Zoho Desk has got you covered.
How?
 

Multiple channels; one interface.

With Zoho Desk, your students can communicate via email, chat, Facebook, Twitter, telephone, or even a web form. Your team will have one interface to handle everything.

 

Isn't that for the other department?

Sometimes, another department might need to pitch in and help out the student. Zoho Desk lets you share these issues with other departments and then track them easily.

 

Answer questions with zero effort.

Maintain an FAQ page for your prospective students, current students, and parents. They find immediate answers and your ticket load reduces significantly.
 

A community that helps itself.

Enable your students, teachers, and parents to engage each other in meaningful conversation through the community forums.

 

Teamwork is easy.

The support team can collaborate with other teams, like facilities and IT, or admissions, in realtime through chat and comments.

 

Save time Save effort.

Use intelligent automation, like workflows and macros, to reduce repetitive tasks and save time.
"Simple. Easy to use. Easy to set up. The product allows me to do what I love and help my customers with fast, effective responses to their needs."
Blair Meyerlowa State University
"Customer reporting is very useful as we can see everything in one place and it helps us keep track of all our customers queries."
Sara StanfieldLearning Curve Group, UK
"The most important thing is to have all channels just with one platform and tracking to my support service."
Camilo LopezUSA Real Estate Academy
Not convinced yet? Start your 15 day trial.
Sign me up