Zoho Desk—The complete enterprise solution for MSPs
You have thousands of support tickets that come in on a daily basis. However, the level of complexity differs on each one, and therefore, the way you treat them needs to be different. Zoho Desk helps you handle each ticket the way it should be handled, with advanced reporting, automations and multichannel capabilities.
Take a free trial
How can Zoho Desk help your company?
Context-aware ticket management

Multi-department: Your teams deal with a large number of tickets with different levels of complexity. However, this doesn't have to be a complicated process. Zoho Desk lets you define multiple departments so you have separate tiers specializing in different levels of support. Moreover, within each department, you have the flexibility to group agents into teams.

Multichannel: Being Managed Service Providers having multiple email addresses and phone numbers can create a fair amount of back-and-forth for agents replying to customer requests. Zoho Desk's multichannel capabilities bring all your customer interactions via email, telephone, social media, live chat, web forms and more, on to a single screen.

However, keeping track of conversations that aren't available in writing requires a more layered approach. Phone conversations need to be logged, monitored, and associated with existing tickets to maintain context. Our telephony integrations make it easy for you to streamline and monitor your on-call services.

Team-based categorization

Zoho Desk provides you the flexibility to group support agents into different teams based on their expertise or the project they're working on, so tickets go to the right teams all the time. If an agent is unavailable, the ticket can be taken up by another individual in the team. This way, your service goes on uninterrupted.

Multi-brand Help Centers

As an MSP, your company deals with a large number of brands. You can now enable self-service portals and communities for all these brands, personalized to suit each of their requirements. Create multiple portals with a different set of FAQs, articles, and live chat widgets for each brand you service. The best part? All chat conversations from different portals get routed to a single interface. Within each portal, you can use the Community to post announcements and host AMAs.
"Our company has been trying a lot of help desk apps for a long time, always feeling that something is missing, Zoho Desk helped us to change that "

Felipe Quiceno

Manager

"Easy to set up, nice design, and easy to navigate. Great value for small projects and can be scaled to larger projects at any time."

Alexander Buhler

Manager

"As a platform, it has a simple user interface and can be customized according to our specific requirements without much effort. The customer service team at Zoho has provided us excellent support as well"

Swaroop Naik

Senior Manager
Prospect and lead data console
Zoho Desk's deep integration with Zoho CRM makes it easy to manage and retain high-value clients, up-sell, or cross-sell without losing any time. Your support team can view the CRM status of every ticket, the customer's previous interactions with the sales team, deal size and more, to gauge the level of attention the prospect requires. Your sales team, on the other hand, gets notified about the ticket activity, and can respond to them from within Zoho CRM.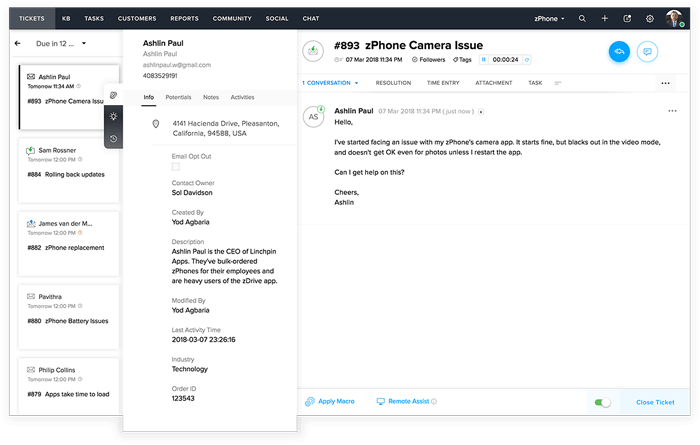 Service Level Agreement
With SLAs, you can specify the response and resolution time for a ticket based on criteria like priority, channel, time due, and customer type. Contracts ensure that you stick to the customer support plans that you've agreed to for the specified time.
Automating and triaging
Ticket Assignment: Using Zoho Desk's automations, there are two ways to reduce the bottlenecks and delayed response times that MSPs are prone to:
Round Robin: Distribute tickets evenly to all your agents based on the limit that you set. With minimal intervention, Round Robin ensures that no ticket goes unassigned.
Criteria-based assignment: You can also ensure that specific kinds of tickets are handled by specific agents on your team. This increases the rate of first-call resolutions.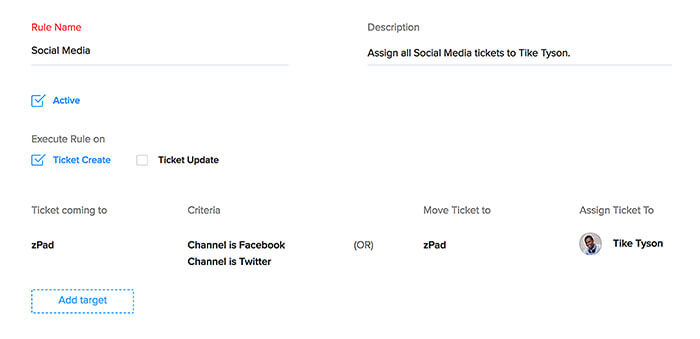 Workflows: Associate rules, tasks, and alerts with multiple conditions to ensure that work goes on smoothly. You can also define rules to automatically escalate a ticket that's past its due time, notify the manager immediately, and also re-assign the ticket to a different agent.
Reporting and Insights
Zoho Desk offers dashboards and custom reports that you can use to improve your customer support. The HQ provides all the vital metrics on a single screen for a quick overview.
Managers can get more comprehensive reports on the time spent on tickets by each agent, average customer happiness levels, ticket volume split by channels and so on. They can schedule reports and create their own dashboards for effective analysis of the company's performance.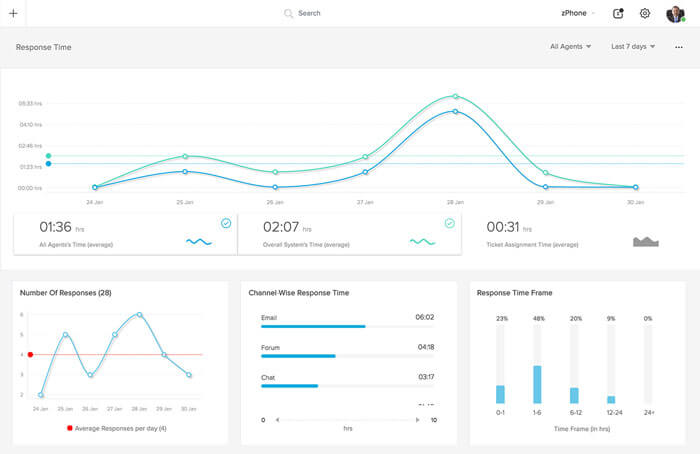 Extensibility

You can now integrate Zoho Desk with your favorite apps from the Marketplace. The add-ons and extensions offered are from both within and outside the Zoho suite of products.

Zoho CRM

Zoho Books

Zoho Analytics

Zoho Assist

Slack

Jira

Salesforce

Google

Apart from the Marketplace integrations, you can also extend Zoho Desk's capabilities with:

SDKs

Use Zoho Desk's powerful SDKs to build custom mobile apps.

APIs

Integrate Zoho Desk's modules with other services.

Custom Functions

Use custom code to update details in other software based on updates in your tickets.

Mobile-first capabilities

You can provide customer service without being tied to the desk with Zoho Desk's contemporary mobile help desk apps. Agents can view, reply, collaborate with other teams, and reassign tickets from the Zoho Desk mobile app.

For managers, the Radar app gives agents and managers a comprehensive view of critical metrics such as ticket resolution time, customer happiness, live traffic, and individual agent stats, on the go. This helps catch exceptions and anomalies well in time.

GDPR readiness

Zoho is certified for its compliance with the ISO 27001 and SOC 2 Type II. Since customer service requires that your customers submit crucial personal information to your team, which is stored in help desk software, Zoho Desk is built to enable your business to stay GDPR ready. This is made possible using fully customizable consent forms, secure data hosting and migration, and data encryption.