Gartner has recognized Zoho Desk in the 2021 edition of the Magic Quadrant report for CRM Customer Engagement Center.
Gartner has recognized Zoho Desk in the 2021 edition of the Magic Quadrant report for CRM Customer Engagement Center.
Secure and
Resilient
Security
Privacy and security are at the forefront of everything we do at Zoho. These aspects are crucial especially with customer service software as it deals with sensitive customer data. With an ad-free model and commitment to exceed the most stringent guidelines, Zoho does not sell or transfer customer data to any third parties for advertising, and treats customer privacy with the highest priority.
Resilience
In a world of uncertainties, business resilience is a key aspect that is often overlooked. Built on sound principles of self-sufficiency and sustainability, Zoho's business model is unique in the SaaS world. That means your customer service systems can keep functioning even in the most turbulent times, so you stay invested in building long-term customer relationships.
UPTIME
99.99%
Security and compliance certifications
Works for you, Works like you.
Zoho's technology stack is one of the most expansive ones in the industry. Utilize this depth and breadth to build a customer service system that vibes with the unique style and culture of your business and your customers.
Works well with
the rest of your CX stack
Works well with the rest of your CX stack
Zoho Desk extends as a platform upon which organizations can write a bespoke layer of functionality to connect with other tools they use, perform specific actions and adapt to the way they work. APIs, along with an expansive marketplace with hundreds of extensions help plug in Zoho Desk to your existing CX stack.
Right support for stable implementations
Right support for stable implementations
Zoho brings decades of experience in building, deploying, maintaining, and supporting on-premise and cloud software. With teams working round the clock with customers on our software, Zoho is the reliable enabler your service teams can lean on for stable, successful implementations.
Best-in-class ROI and
lowest-in-class TCO
Best-in-class ROI and lowest-in-class TCO
Zoho builds software that is affordable and easy to use, therefore requiring little training. We guarantee an implementation time that's at least 50% faster than the competition, which is why most teams implement a Zoho Desk pilot within a week and move to production within a few months.
Service desk consulting
Zoho is committed to supporting its enterprise customers far beyond the point of purchase. Right from requirement gathering to prototyping to deployment and training, we have what it takes to keep your global customer service teams running in full astern. Zoho Desk powers Zoho's global customer service operations to support over 75 million users across the world. That's an example of our scale.
Contact enterprise consulting
Consult
Gather requirements:
Conduct a detailed study to understand your IT landscape and business processes
Identify challenges:
Analyze the information obtained to identify challenges, gaps, and redundancies
Build
Develop a BRD:
Collate insights, appropriate solutions, and implementation strategies into a comprehensive business requirements document
Prototyping:
Use the BRD to develop a prototype of your customized solution
Deploy
Migration:
Deploy the solution through our EBS framework and migrate your data systematically
Onboarding:
Equip your in-house trainers with the skills and expertise required to implement your new CRM system
Assist
Usage reports:
Improve your business processes by analyzing quarterly product usage reports and discussing best practices with your technical account manager
Technical support:
Resolve any of your technical issues with our team of expert support engineers on standby
Global presence
With offices and data centers in multiple countries, a global workforce, and an international network of renowned SI partners, we are here to help you get set up—wherever your business is based.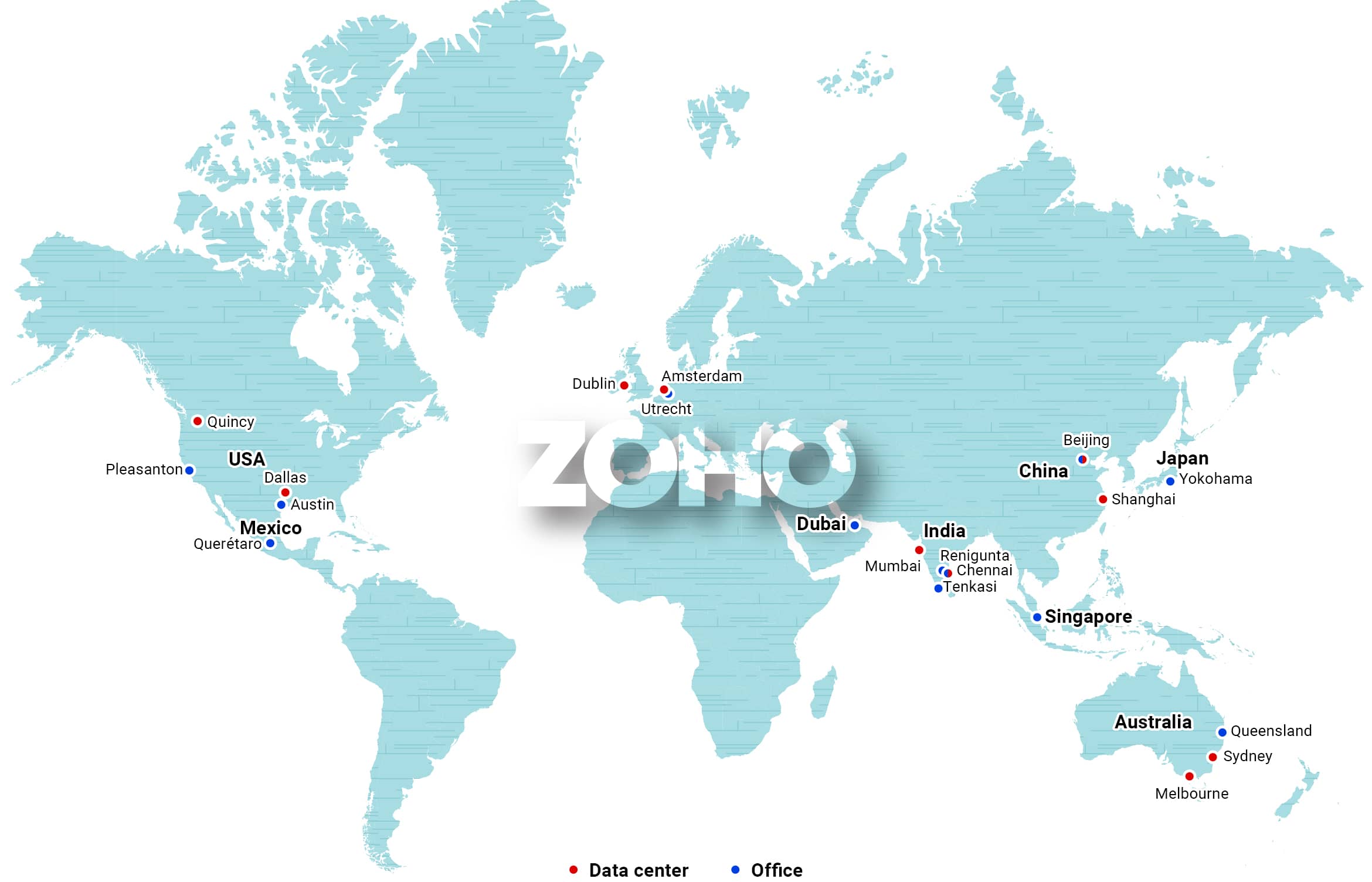 I believe that what we've achieved in collaboration with the Zoho Desk team has made a huge impact on how efficiently we can resolve complex requests for our clients, and it has been a major improvement for our customer experience. Our relationship with the Zoho Desk team is as strong today as it was the day we started working with them nearly seven and a half years ago.
Jason Nichol,
VP of Product for Feedonomics.
We analyzed other products on the market, but Zoho Desk blended into our organization structure better than anything else.
Swaroop Naik,
Senior Manager of Software Development,
Mercedes
With Zoho Desk, we are able to serve hundreds of stakeholders every day, who in turn provide service and medical attention to thousands of people.
Daniel Idikayi,
Systems Manager, NHS
Delight your customers with a powerful & robust
customer service infrastructure
GET STARTED
Successfully Submitted!
X
Request Demo
Thank you for showing interest in enterprise consulting. Leave your details here and our enterprise consulting team will reach out to you shortly.