Easy Invoicing

Create and send beautiful invoices in less than 30 seconds.

Customizable Templates

Choose your favorite theme and personalize invoice templates.

Flexible Tax Handling

Customize tax that you collect from your customers easily.
Sell Better and Get Paid Faster
Faster Payments
Connect to your preferred payment gateway and collect card payments from your customers.
Better Collaboration
Share and discuss estimates, invoices and projects with your customers through the client portal.
CRM Integration
Manage invoices and estimates related to your customers, within your Zoho CRM account.
Automate and Work Smarter
Get Paid on Time
Automatically send a friendly nudge to your customers to remind them about their unpaid invoices.
Save Time on Repeat Billing
Set up recurring billing profile to automatically bill and collect payments from your customers. You can also automate recording of recurring expenses.
Sell Globally
Multiple Currencies
Send invoices in your customer's currency, make base currency adjustments, and analyze the revalued balances easily.
Multiple Languages
Switch to your native language any time. Zoho Invoice supports more than ten languages.
Features at a Glance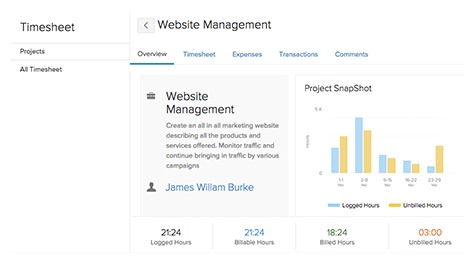 Make your time and work count. Zoho Invoice helps you manage multiple projects, assign tasks, add billable expenses and do more.
Track billable and unbilled hours easily.

Provide role-based access to your staff.

Record all billable expenses for each project.

Convert hours and billable expenses into dollars.
Get an accurate reflection of your spending. Stay organized and keep track of all your business expenses with Zoho Invoice.
Know your top expenses break down.

Upload pictures of your expense receipts.

Run detailed reports on your expenses with a single click.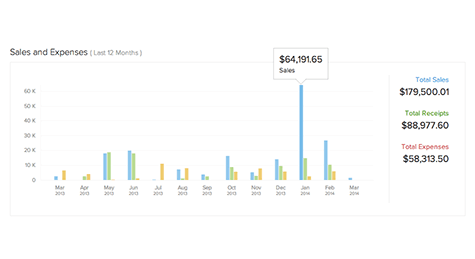 Get a clear picture of how your business is doing. Run reports on customer balances, bad debts, outstanding payments and more.
Generate sales reports and know which of your product sells best.

Know which customer hasn't paid on time with Aging Summary.

Keep track of the tax you've collected and paid with Tax reports.
To be honest, it's very easy to use, great software. I highly recommend Zoho Invoice to anyone.

- Eric
Helene Mathieu Legal Consultants

Finding Zoho invoice was a great break. What was a chore turned into an automated process.

- Ken
Samteq Limited Web development​

What I like the most about Zoho Invoice is that I don't have to worry about my invoicing. I can just sign in and create an invoice in few minutes.

- Jason
Brandography