Why is the G Suite + Zoho CRM integration necessary?
Your sales team probably doesn't only use CRM in their day-to-day operations. Most likely, they are using a host of other applications like Gmail, Docs, Drive, and Calendar. Using this group of apps to handle your business data can come with its own share of troubles — unorganized data, scattered contacts, manual data entry, and disconnected marketing sources. Combining Zoho CRM with your Google apps can help reduce these problems that hamper the productivity of your employees.
How does Zoho CRM help?
When you integrate Zoho CRM with G Suite, all your important information moves between your apps automatically. Here are some more benefits:
Single Sign On

Forget about remembering multiple passwords to log into your system and just use your Google Credentials to log into Zoho CRM. Once you set this up, you also get notifications from your CRM activities from the Google Universal Navigation Bar.

Google Ads

Add leads to your CRM database when visitors fill out web forms on your site. Find out which AdWords campaigns, ad groups, and keywords lead to the most conversions. Track offline conversions with Zoho CRM + Google Ads by capturing the GCLID every time a prospect clicks your ad and fills out the form.

Google Calendar

Stay on top of your events, meetings, and tasks with Zoho CRM + Google Calendar that combines them all into one calendar. You can keep using your preference of Google Calendar or Zoho Calendar, since two-way synchronization keeps both calendars updated at all times.

Google Contacts

All contacts in your Google account, along with any associated notes, will be imported to Zoho CRM. They'll stay synced – if you create a new contact in Google, it will be updated in Zoho CRM, and vice versa, in real time.

Google Drive

Access all the files stored in your Google Drive account using CRM. Attach any Google Drive file to the work you've done in Zoho CRM without the hassle of transferring it.

Gmail

View mail conversations from your customers and reply to them inside your CRM. You don't have to worry about missing out on important emails from your customers while working with Zoho CRM + Gmail.

Tasks

Keep all your tasks in Zoho CRM and Google Tasks updated with two-way synchronization. Plan your time, hit your deadlines, and ensure important work doesn't fall through the cracks.

Google Sites

Create forms in Zoho CRM, and publish them on your Google Sites to generate leads online. Use the published webforms on your website to collect visitor data. Push this data to your CRM and jumpstart your sales.
Chrome extension
The Chrome extension for Zoho CRM gives you the freedom to add leads and contacts as you surf the web. Just click on the contact information and it will be uploaded to Zoho CRM.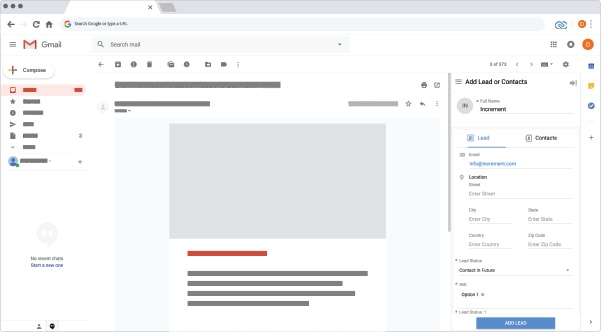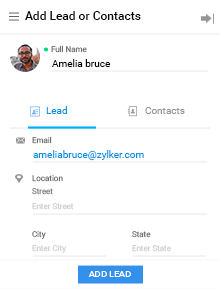 What are the advantages of integrating G Suite?
Efficient collaboration
Keep clients & team members involved via discussions & notifications.
Synchronize data
Two way synchronization of data eliminates duplicate data and allows teams to work smarter and better.
Drill down on ROI
Gain detailed knowledge of your ad expenditure and return on investment. Get ready to make more informed business decisions.
Never miss your schedules
All your events, meetings and tasks are captured in one master list; this is particularly useful for sales teams.
Still not convinced?
Here's what our users say:
Zoho integrates with Outlook and Google Calendar, making it easy to schedule and send invites to clients and customers outside of your organization.
The most helpful thing about Zoho CRM is that it automates vital sales tasks. Its integration with Google apps makes excellent use of social media, too.
BIG bonus points for the ability to seamlessly integrate Gmail with the platform, letting me see my entire email history with any of the leads or contacts in the platform at the record level.
Ben Sopczyk
Apex Solar Power
The G Suite integration is free and works with every edition of Zoho CRM.