Zia wants you to win.
Salespeople spend so much time working on every record, without any indication if their efforts are paying off. Zia's lead/deal prediction tells you the win probability of each record by analyzing the activities related to each record and comparing these activities to your usual win pattern. Zia identifies the records that are slipping away or seem more likely to close, so you know where to shift your focus.
Learn More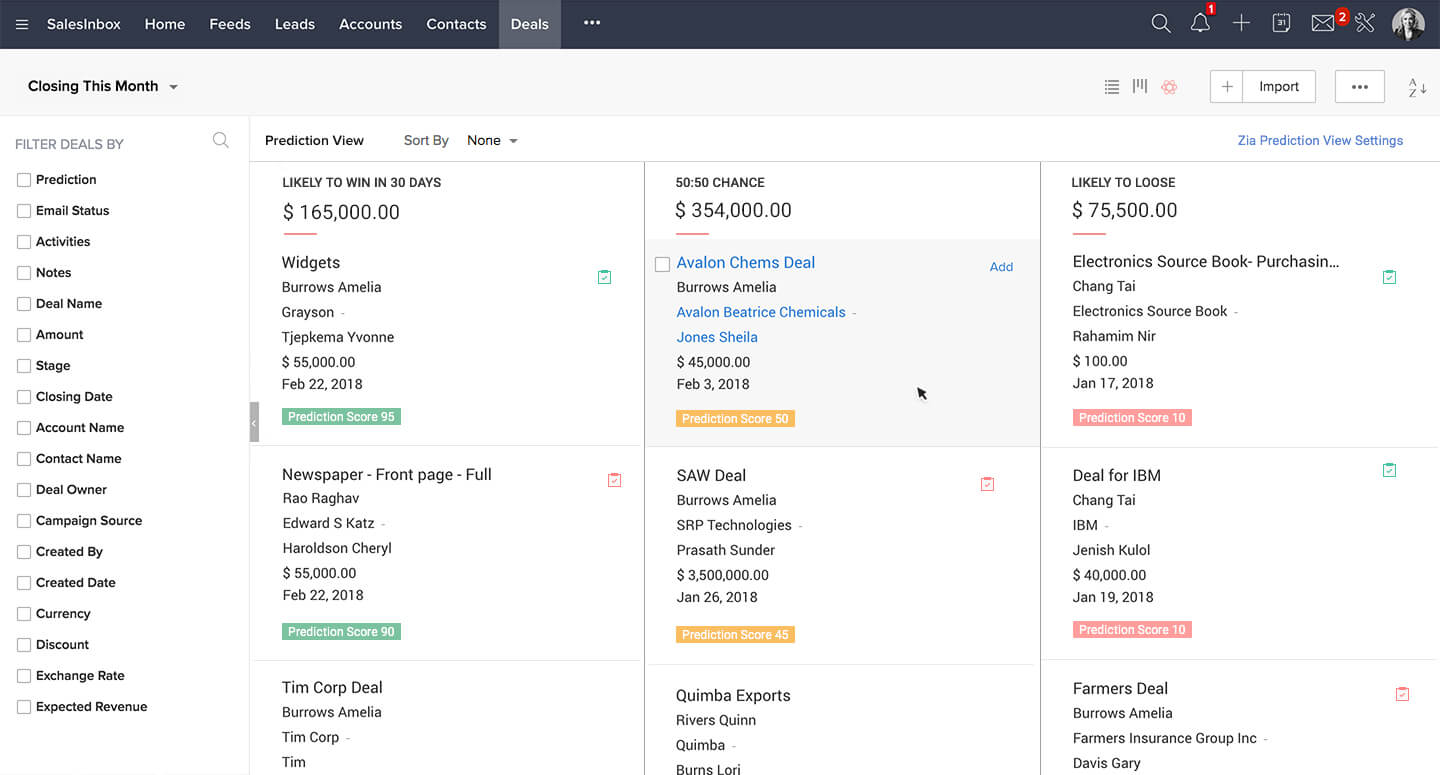 Spot the anomalies that hinder your sales.
Based on your sales activities inside CRM, Zia predicts how your sales will trend and compares that prediction to your actual growth. She lets you know how each activity [usage pattern] in your CRM account will affect your overall sales revenue. Whether your business is under-performing or surpassing expectations, Zia detects anomalies. She pinpoints these irregularities in your sales trends and alerts the right salesperson, so they deal with the issues that hinder their performance.
Learn More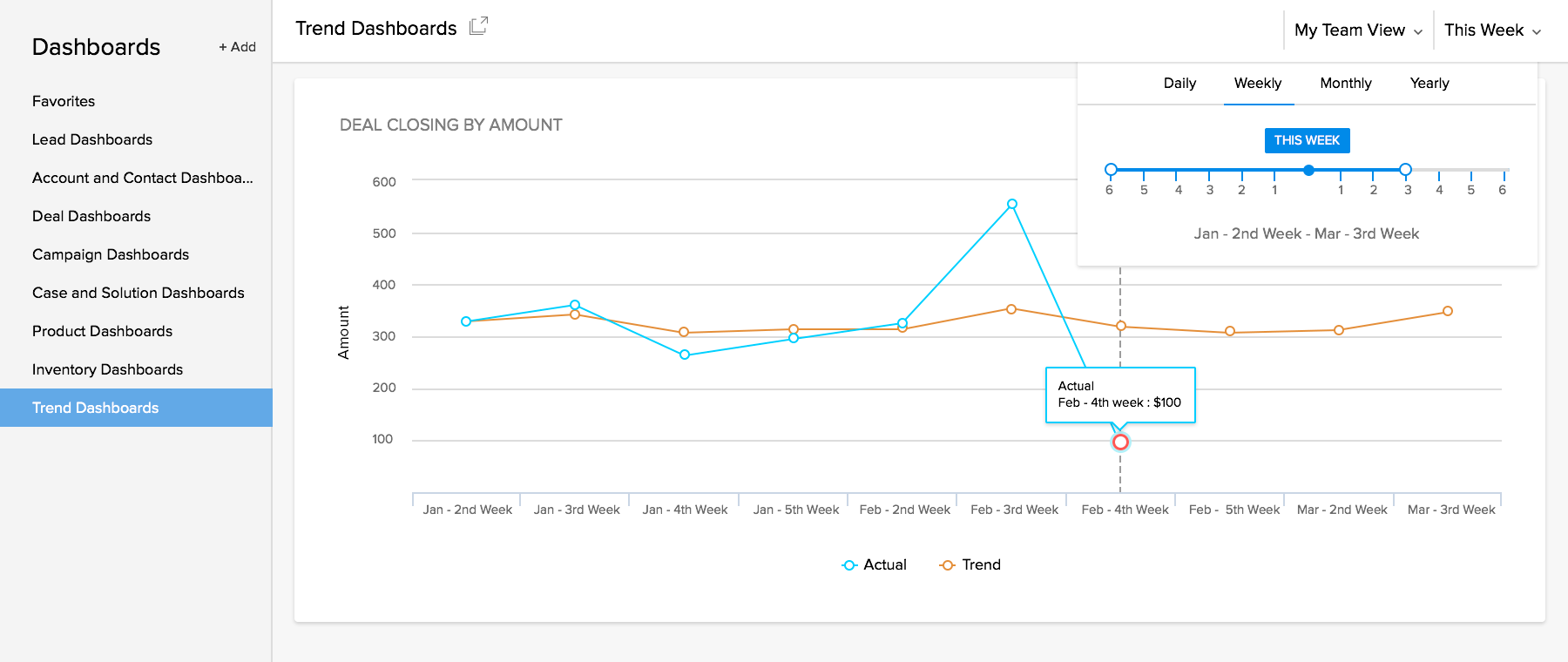 Work faster and smarter with intelligent automation.
Salespeople perform certain tasks a few times a week that can be automated, but some reps don't know how or don't have the time to do it. Zia learns these patterns and makes Macro suggestions to make automations faster and easier. These suggestions are personal to each user and bypass the steps it usually takes to automate tasks. Zia also calculates the efficiency of your workflows and stops you from making mistakes, like sending an email template twice to the same user.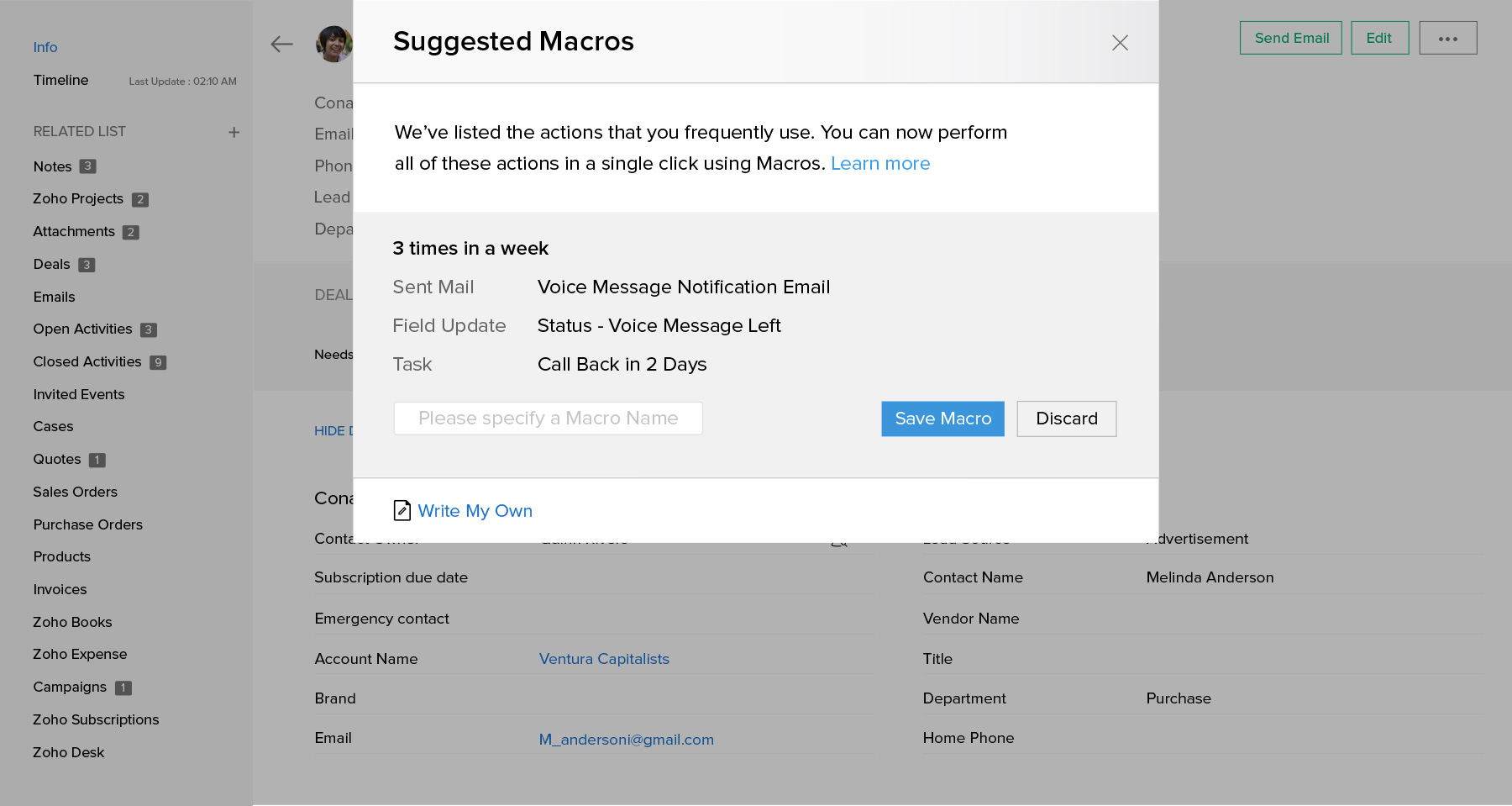 Zia understands how your customers feel.
Every conversation carries a tone - either positive, negative, or neutral. But it can be difficult to identify this tone when so much customer communication happens online. Zia analyzes the content of customer emails to help you understand the tone, so you can alter your next interaction. For example, if a customer's email is angry, your sales rep can try to help the customer before pitching for a sale.
Learn More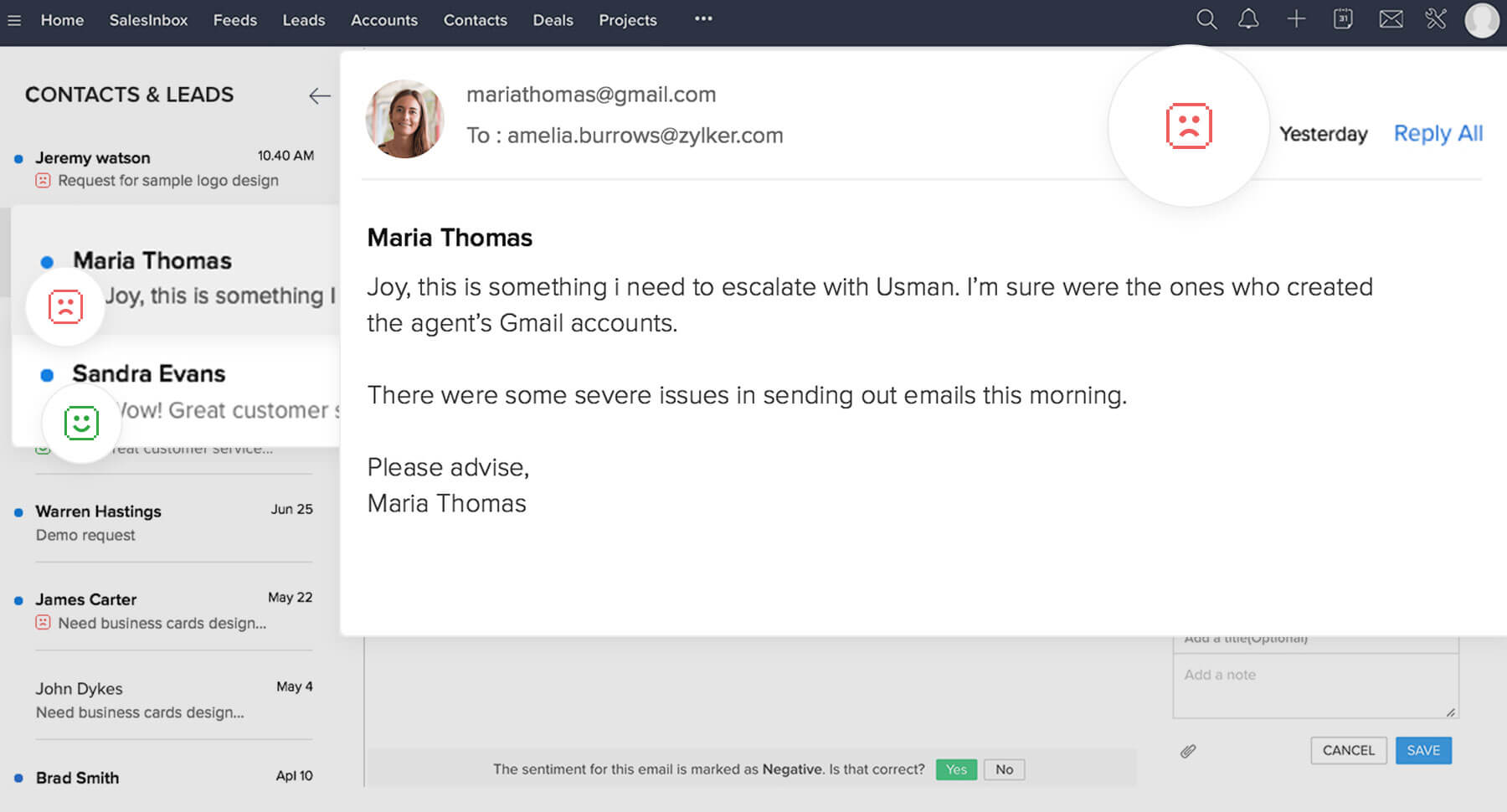 Fewer voicemails and unopened emails.
The last thing Zia wants you to do is waste time sending multiple calls and emails that go unanswered. Zia suggests the right time and day for favorable responses for each contact. This suggestion is calculated from your SalesSignals (when prospects and customers open and reply to your emails, when they interact with your organization on social media, etc.). Set up follow up reminders based on Zia's suggestions, and cut down on the time it takes to get in touch with customers.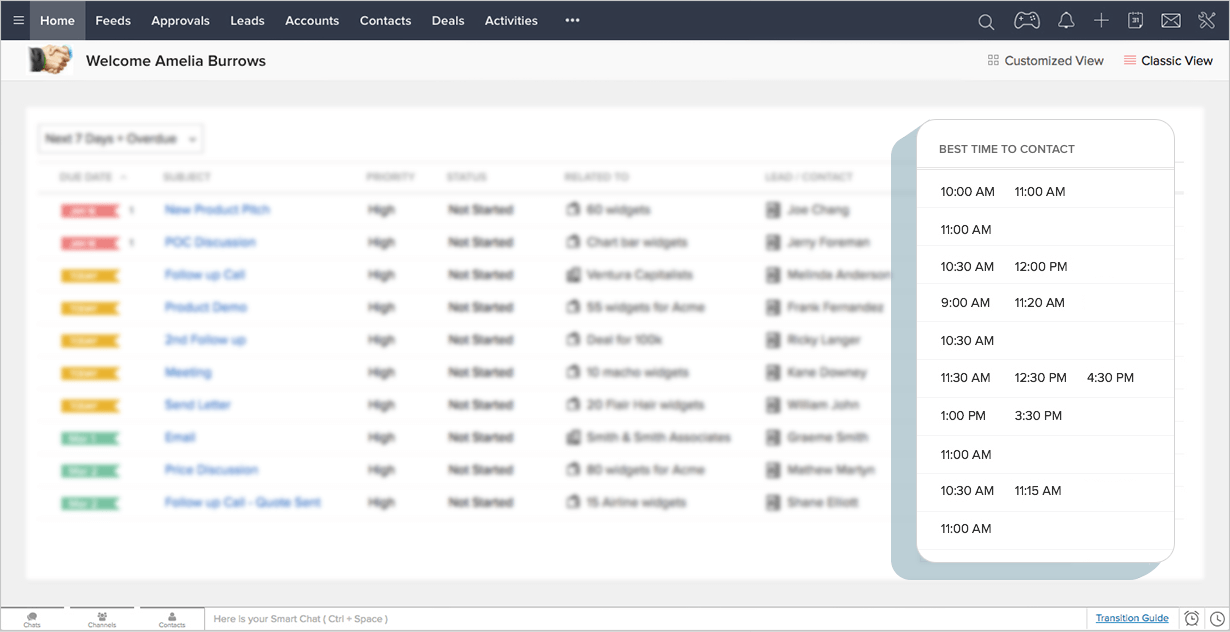 Enrich the data on your leads and accounts.
How often has your data been incorrect, out-of-date, or just incomplete? Zia helps you collect information on old and new leads, and contacts and accounts. Zia fetches data, maps it to the right field, and lets you decide if you want to overwrite your record information. Zia remembers the last time your data was enriched, so you know how recently your data was updated. Perform periodic checks and keep your data up to date with your customer base's demographics, phone numbers, and social media accounts.
Learn More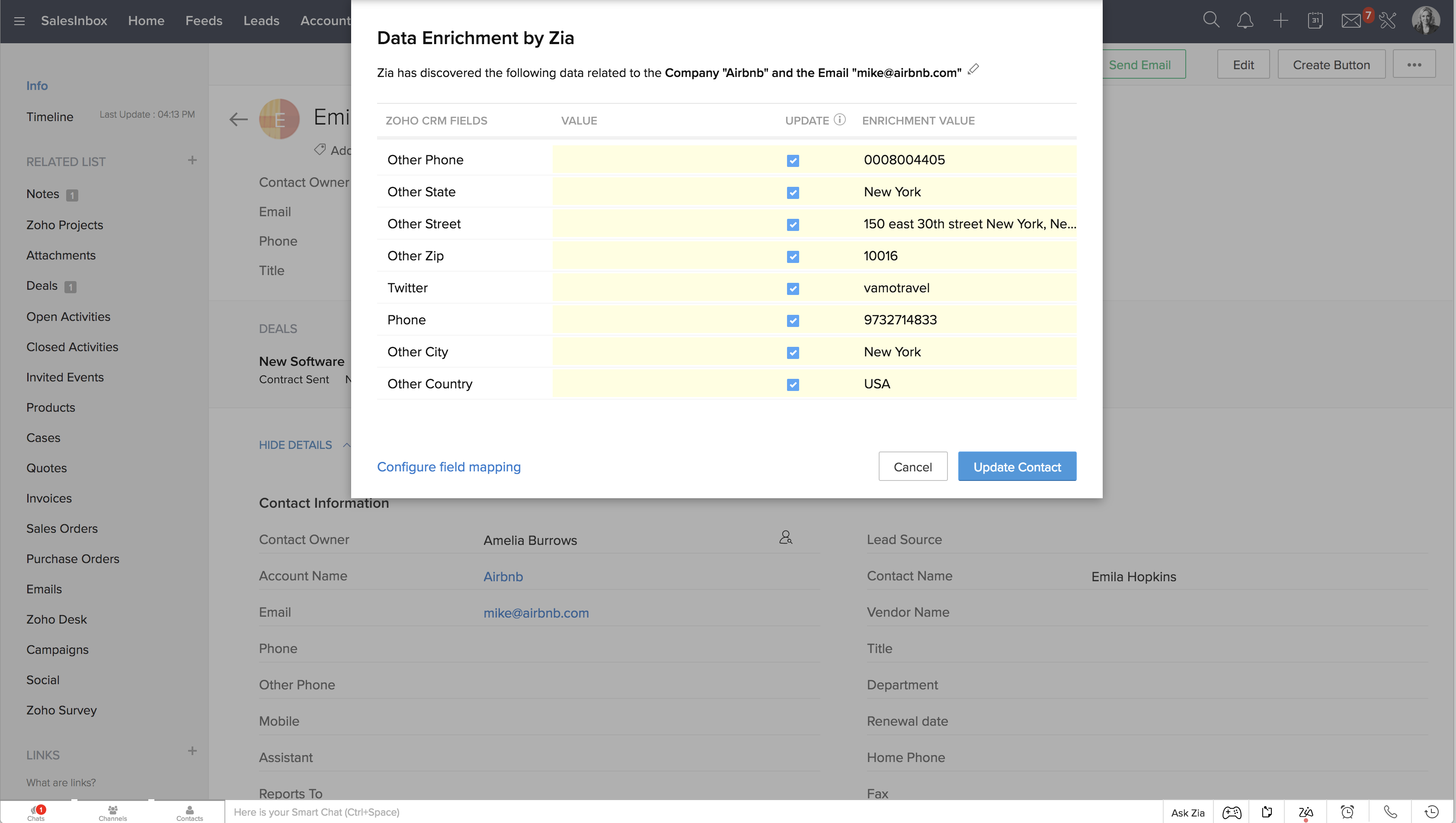 Meet your revenue targets.
Zia has an alert panel, accessible wherever you are in your CRM, in which she communicates her predictions and suggestions. Zia also keeps track of your targets and uses the alert panel to warn you when it seems you're unlikely to meet your expectations. If you see a red notification at the bottom of your screen, that's Zia trying to get your attention.