SalesInbox
SalesInbox is the first email client made exclusively for salespeople. Traditional email puts the most recent messages on top, not the most important ones. SalesInbox automatically prioritizes your emails based on filters you define, such as deal value or closing date. See the entire CRM context before you hit send, all from a single screen.
Learn more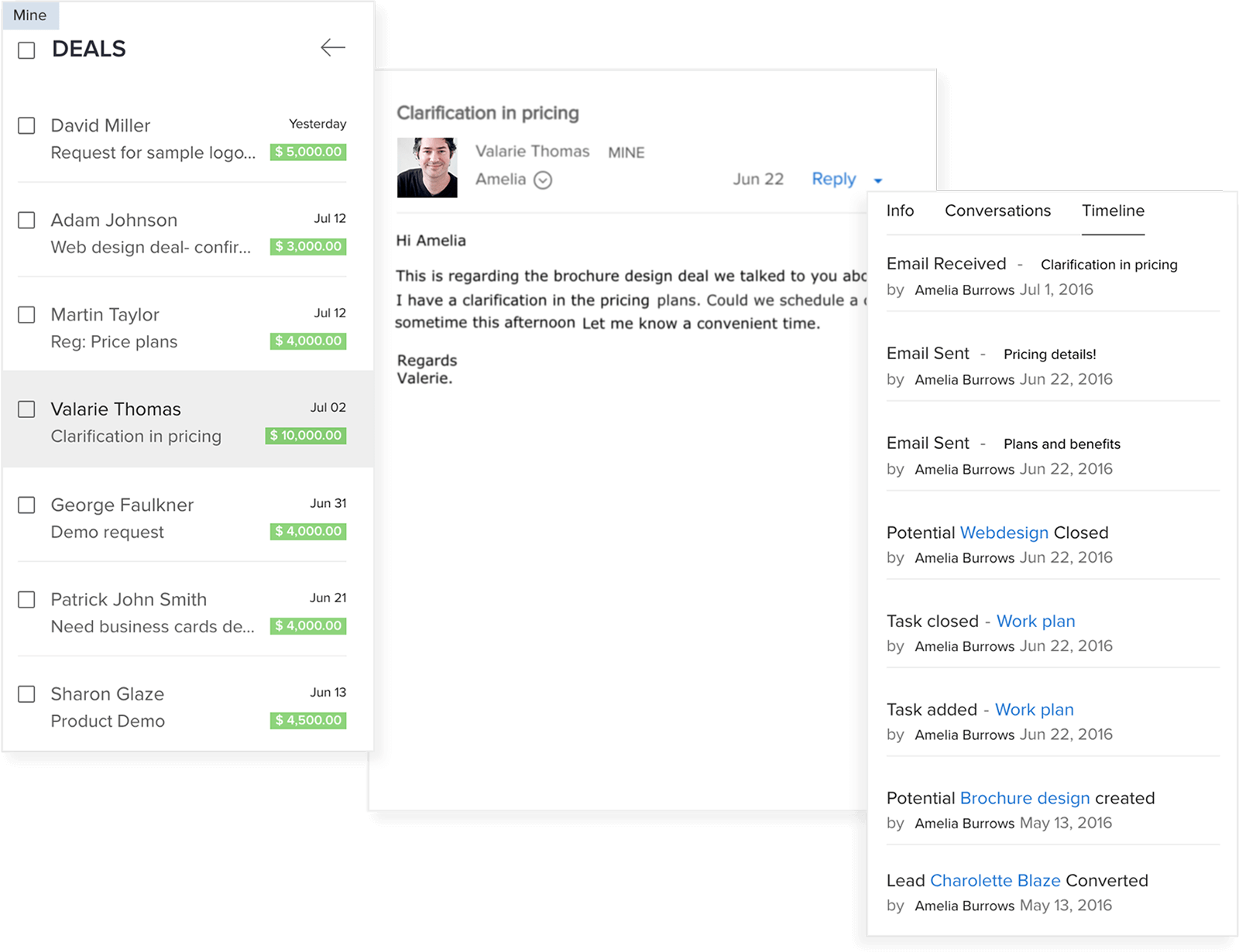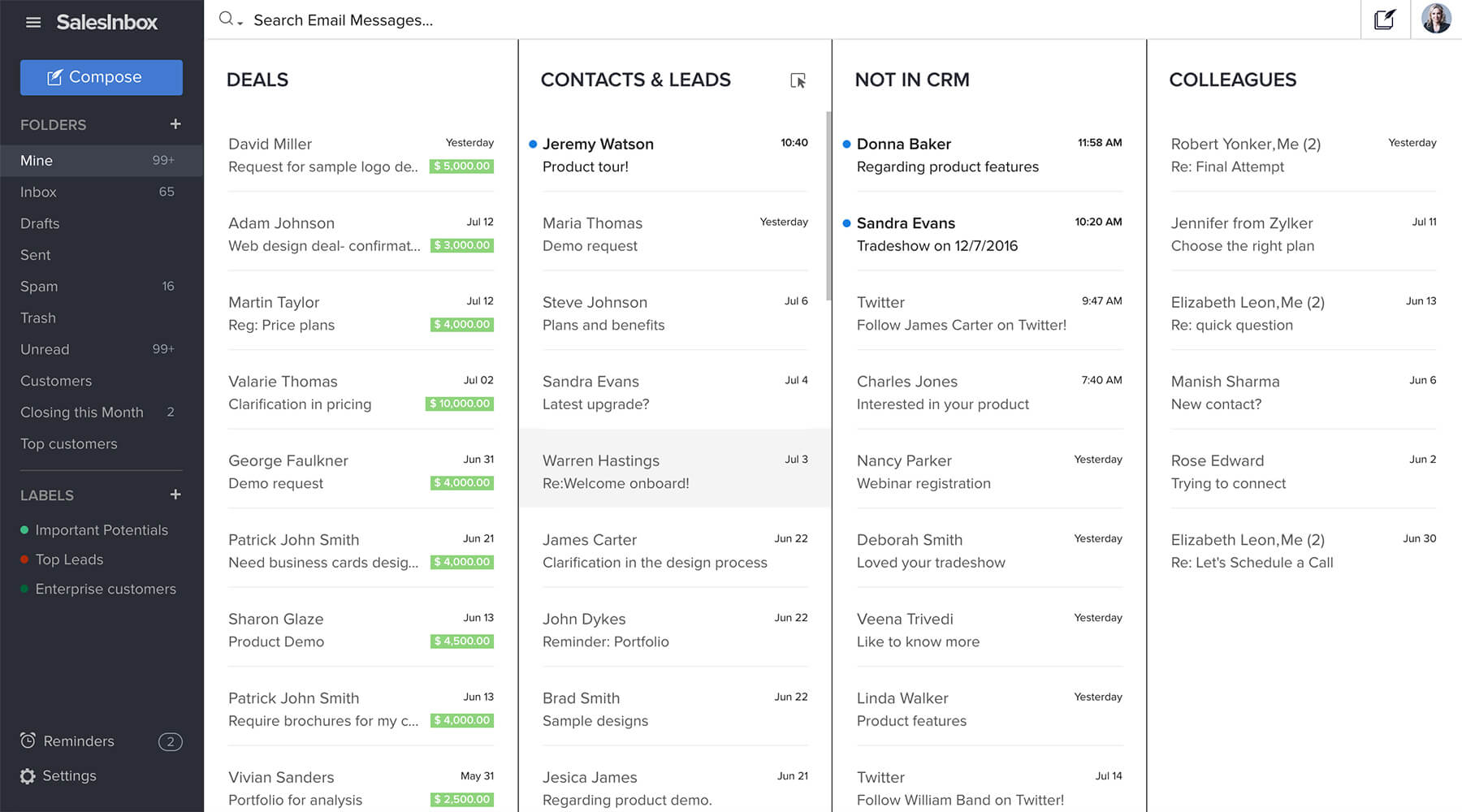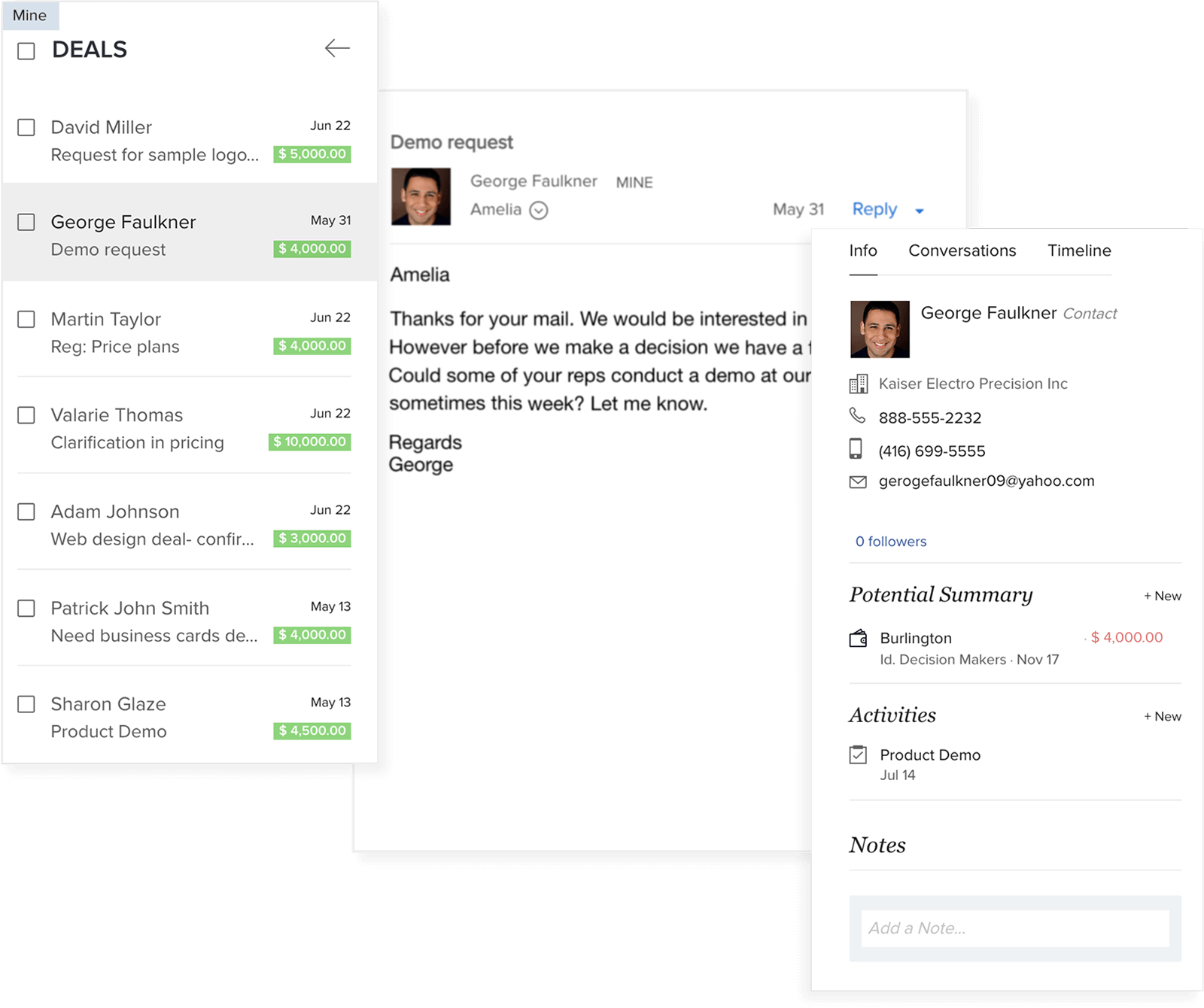 SalesSignals
Use SalesSignals for real-time information about how customers and prospects are engaging with your business. With notifications about when a new visitor looks at your website or a returning customer opens a marketing email, SalesSignals gives you the details you need so you can know when to reach out.
Learn more
Know the moment a prospect has opened a promotional email sent by your marketing team, and know the right moment to pick up the phone and pitch your idea.
Collect survey responses to understand when your pitch should be about upselling, and when it should be about keeping customers happy with their current product.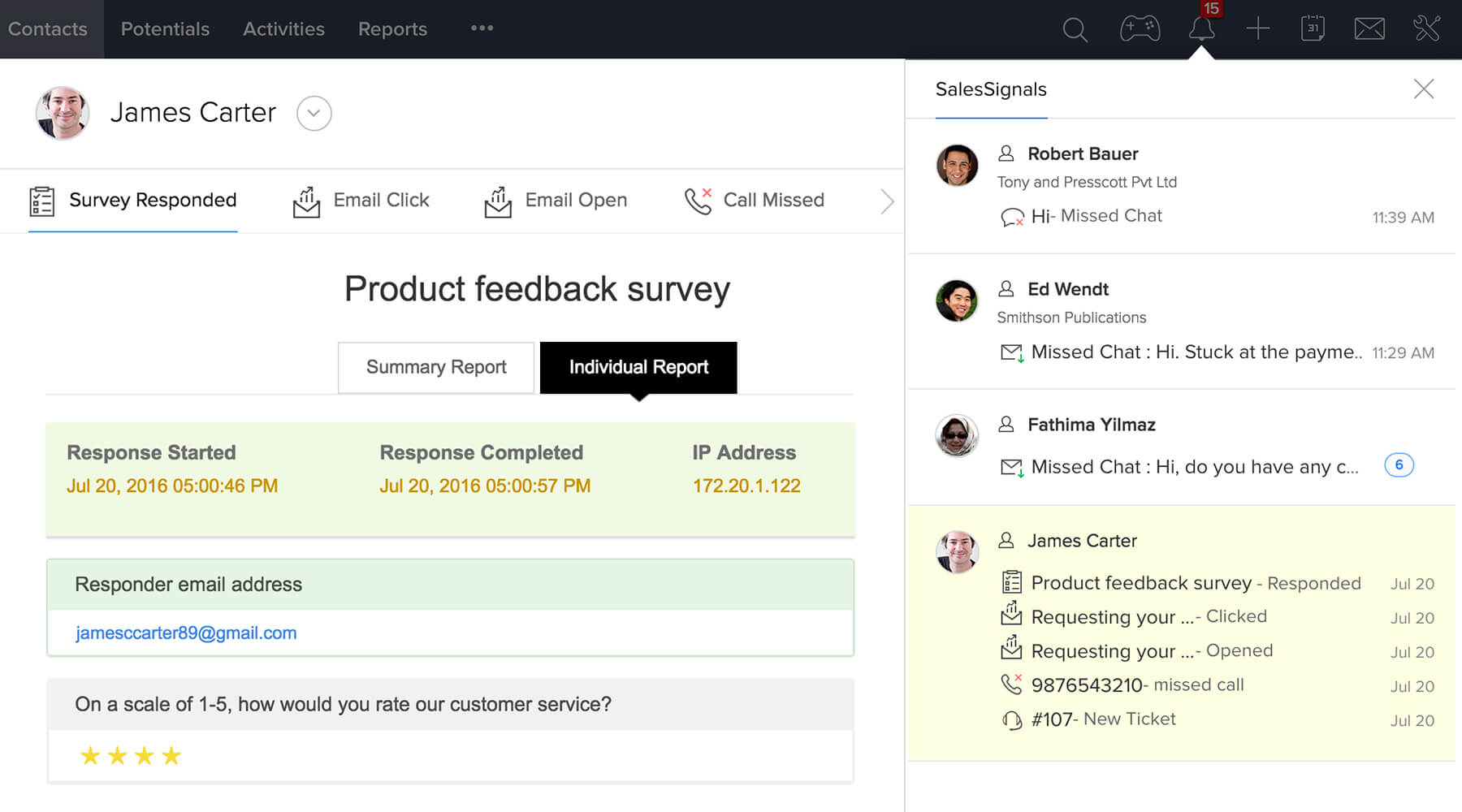 Email Insights
Know what's working, and what's not. By combining email with context and analytics, you'll understand the best ways to engage with your leads, prospects, and contacts. Continually improve your campaigns with reports to see which email templates had the best open rates, and which ones failed to click.
Learn more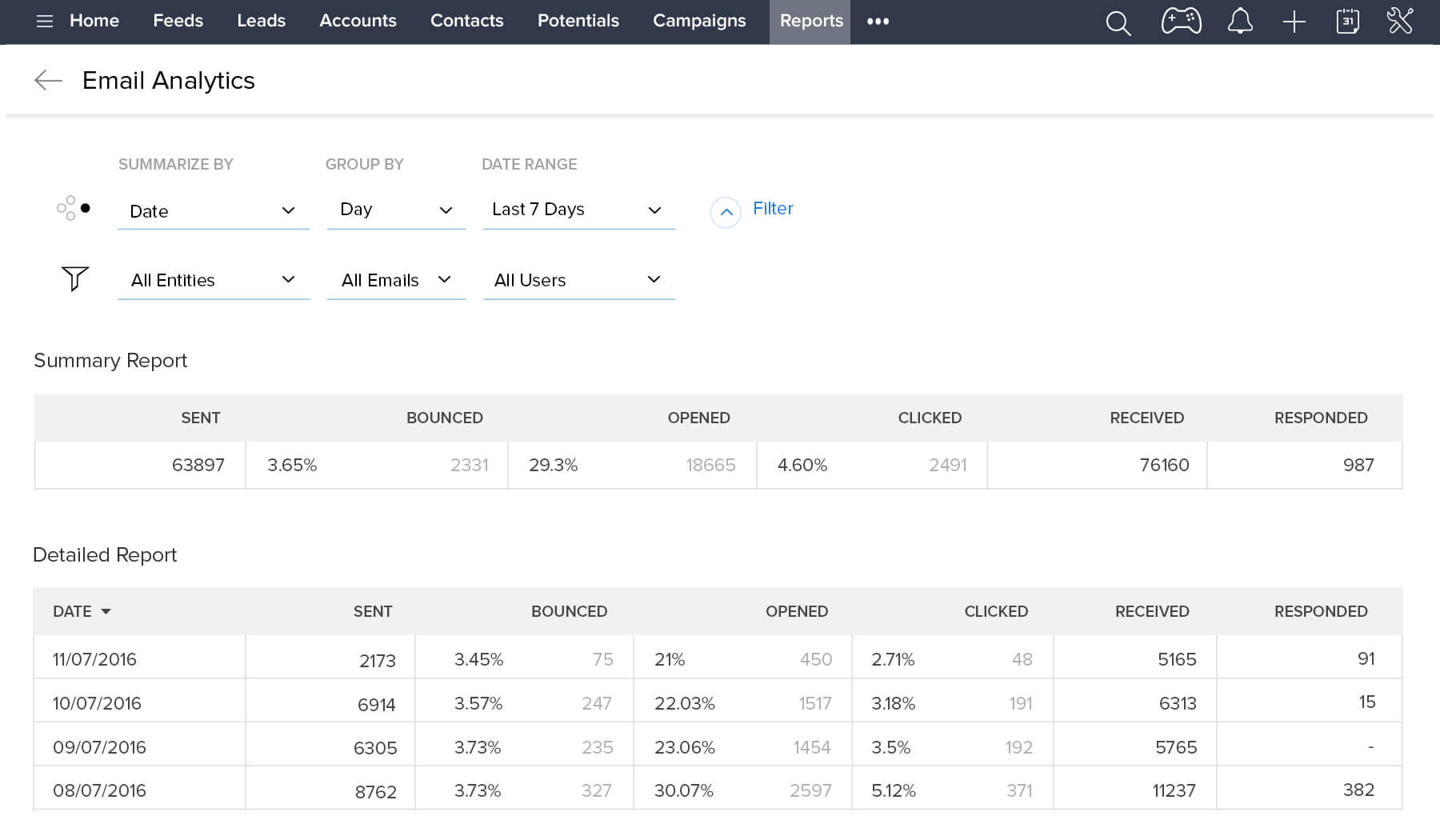 Advanced Filters
Find what you're looking for. Filter data based on criteria, such as tasks, notes, and emails, to target deals and make sales decisions strategically. Extract valuable information from your CRM with intelligent searches.
Learn more
Clutter-free and full of context
Choose the view that's right for you, and see only the information that matters. New features and a streamlined user interface mean you spend less time entering customer data and more time engaging with prospects.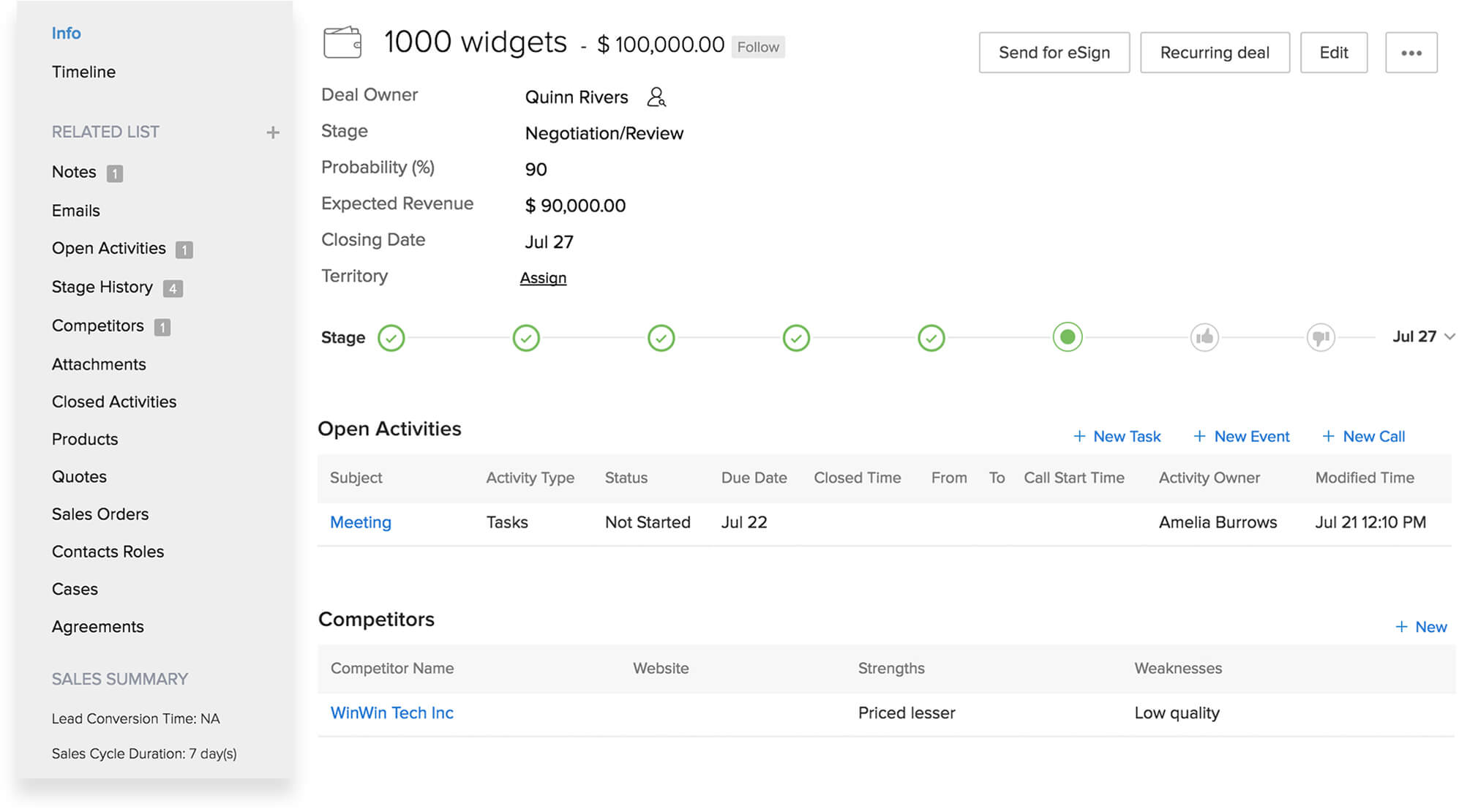 Related List simplifies your view by displaying all your leads, customers, and account activities in a single place.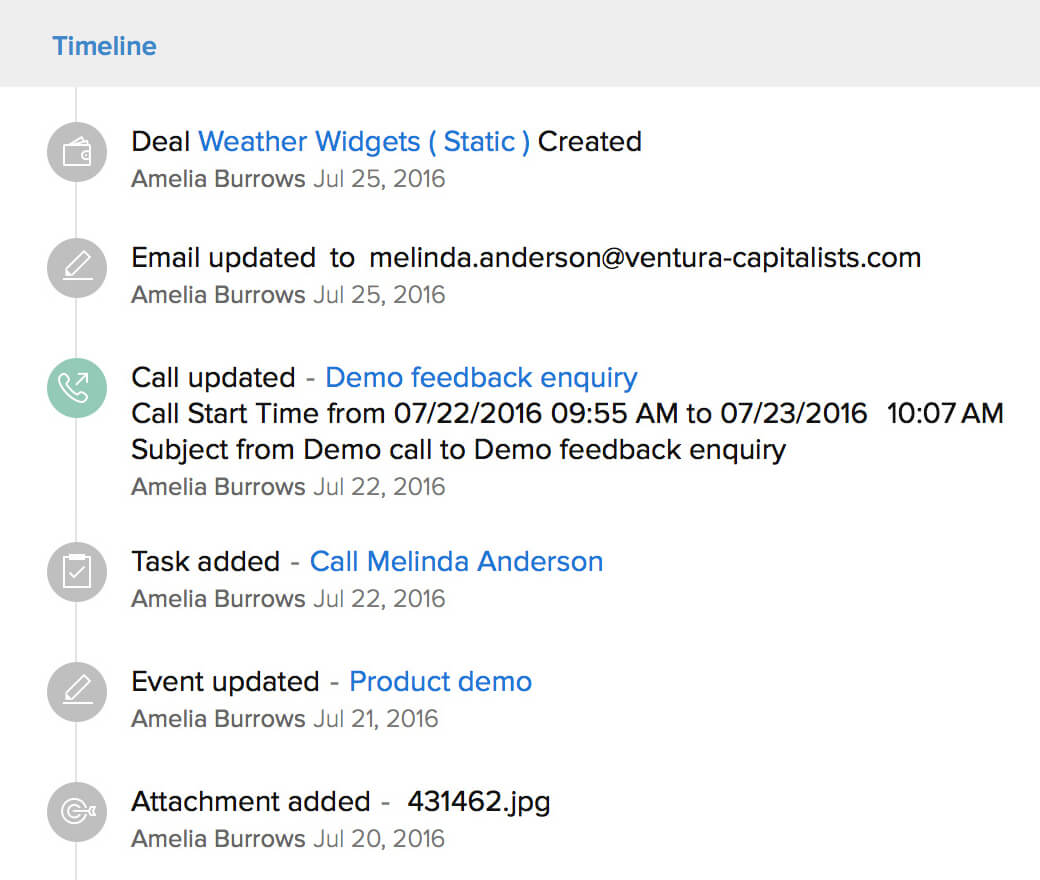 Use the Timeline View to know the history of your customers' purchases and interactions, as well as any upcoming tasks associated with their accounts.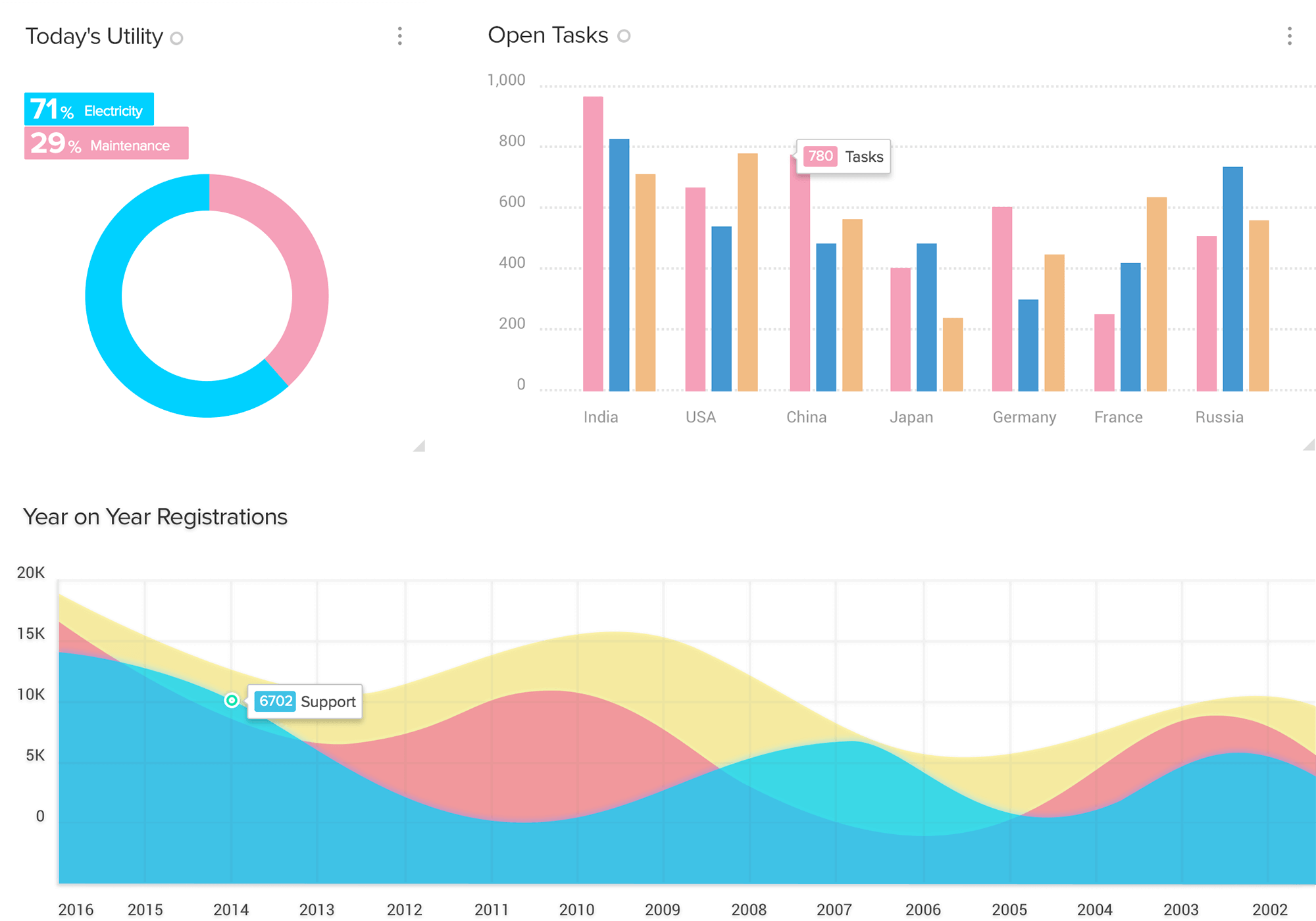 Visualize your growth rate and gain key insights from Reports and Dashboards.
Gamescope
Play more, sell more. Set up peer-to-peer contests for your teams with Gamescope to encourage people to complete daily tasks, and make selling fun. Liven up your sales game with badges and trophies to reward best practices and keep your team motivated.
Learn more
iCal Sync
Your kid's dance recital and a business deal: both are important. Sync CRM with Apple Calendar and see business and personal events in one place. Never miss a step...or a handshake.
Learn more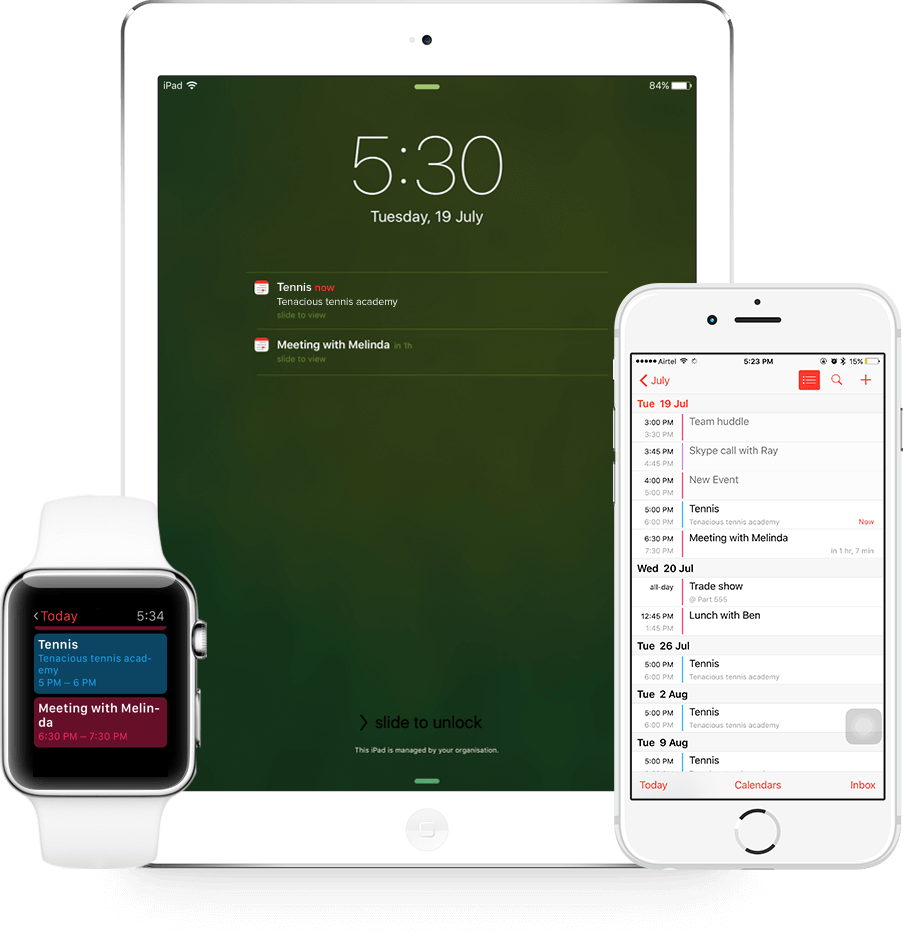 Schedules
Your time is valuable; spend it on the things that matter. Automate processes which you would like to perform periodically, like data cleansing, archiving, mass updating, or pushing records to third-party applications using Schedules.
Choose pre-built functions from the gallery, or write your own and link them to Schedules.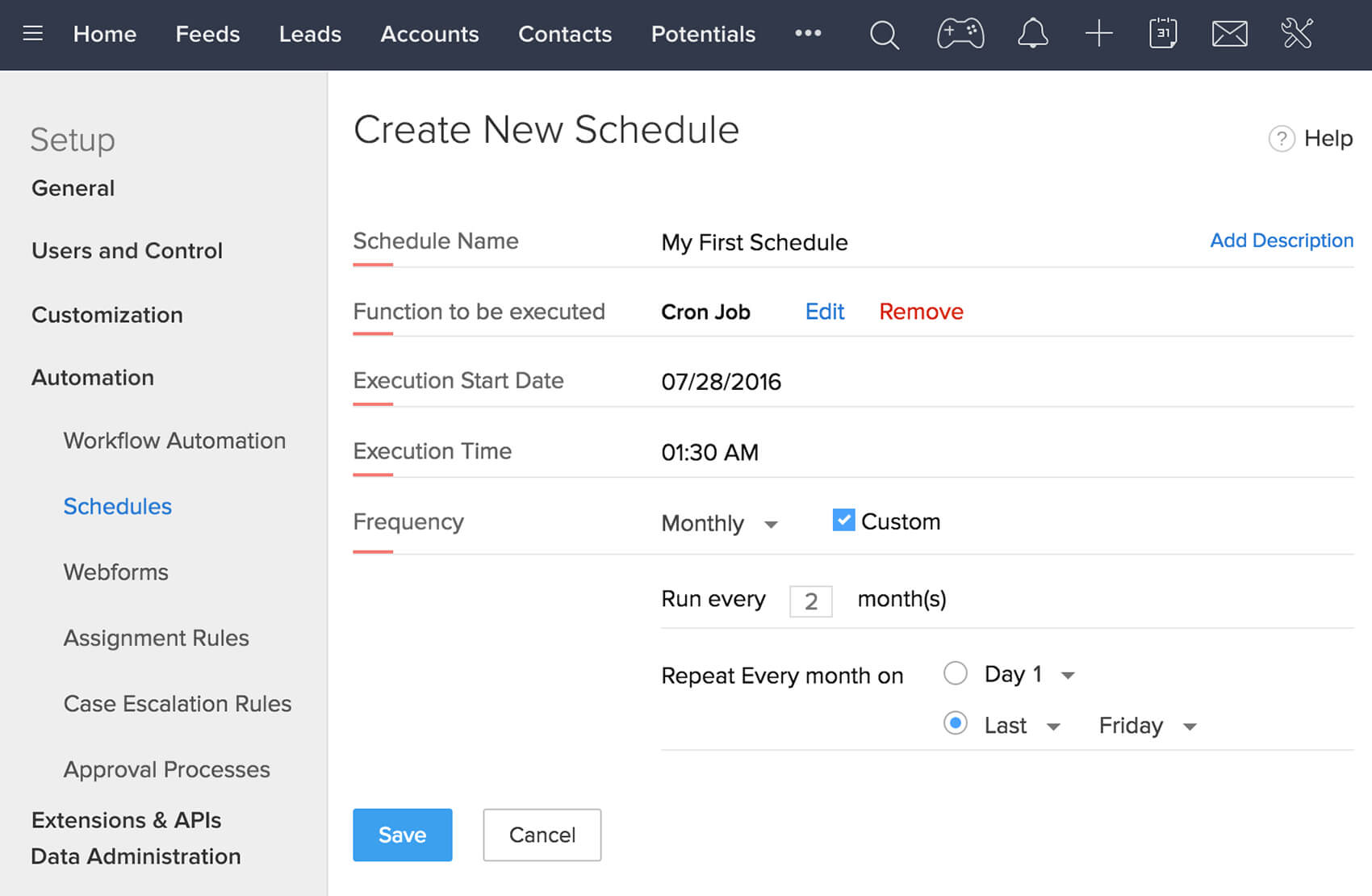 Automate batch processes to be triggered daily, weekly, or monthly. Customize the trigger time, repeat period, and more.
Experience true mobility
An increasingly mobile workforce demands a mobile CRM. Try the all new app to start selling anytime, anywhere.
Watch a video
An increasingly mobile workforce demands a mobile CRM. Try the all new app to start selling anytime, anywhere.
Watch a video
New Mobile App
An increasingly mobile workforce demands a mobile CRM. Try the all new app to start selling anytime, anywhere.
Watch a video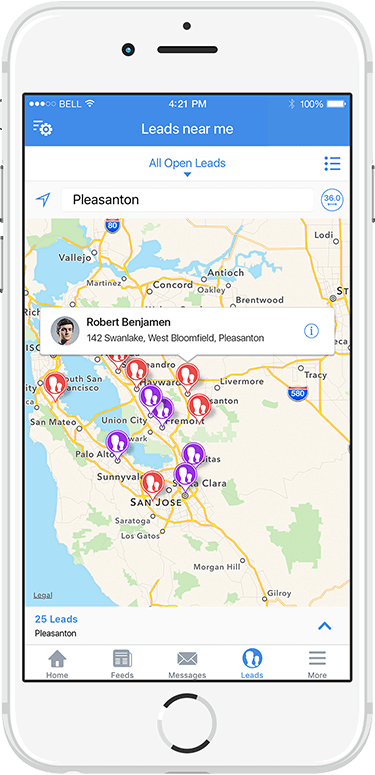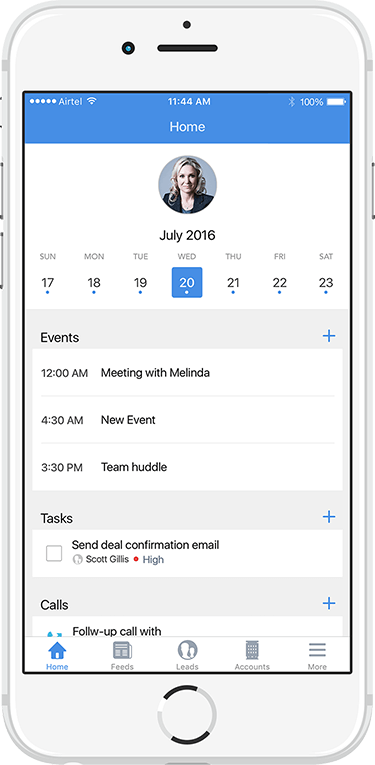 Marketplace
Whether you're syncing marketing data with sales stats or comparing ad spend to lead gen results, having tools that work together make all the difference. Choose from over 50 handpicked extensions for Zoho CRM, and enhance the efficiency of your product with native and third-party integrations.
Learn more
Sandbox
Sandbox is a testbed that lets companies clone their CRM so they can test processes and modify customizations without interrupting the day's sales. Sandbox is available to customers in the Ultimate Plan.
Learn more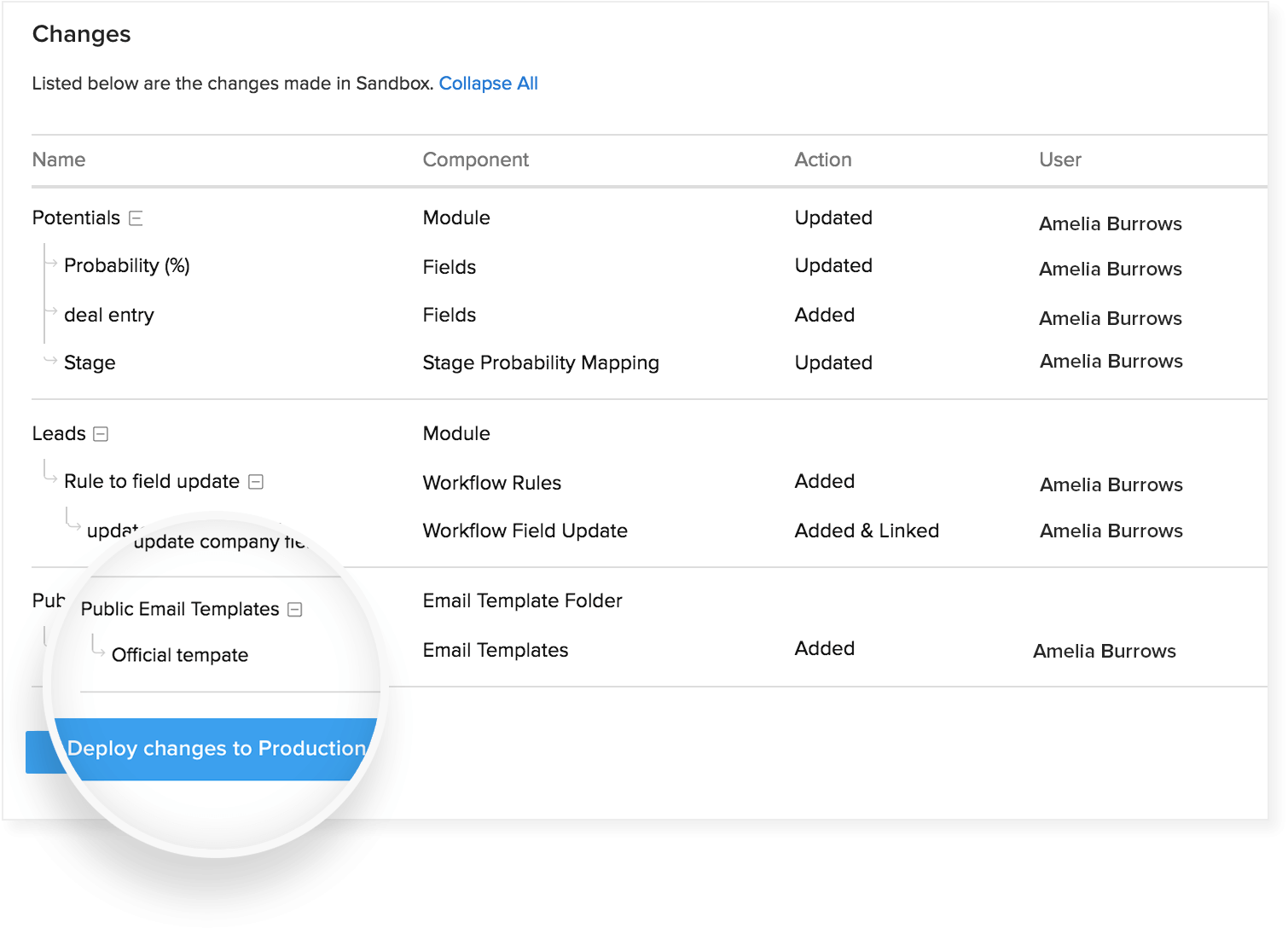 Page Layouts and Custom Buttons
If your business is flexible, why shouldn't your CRM be? With custom fields, links, and buttons, Zoho CRM gives you everything you need to handle the diverse processes of your business. Choose from customization tools like Page Layouts and Custom Buttons, and get a CRM that works the way you do.
Learn more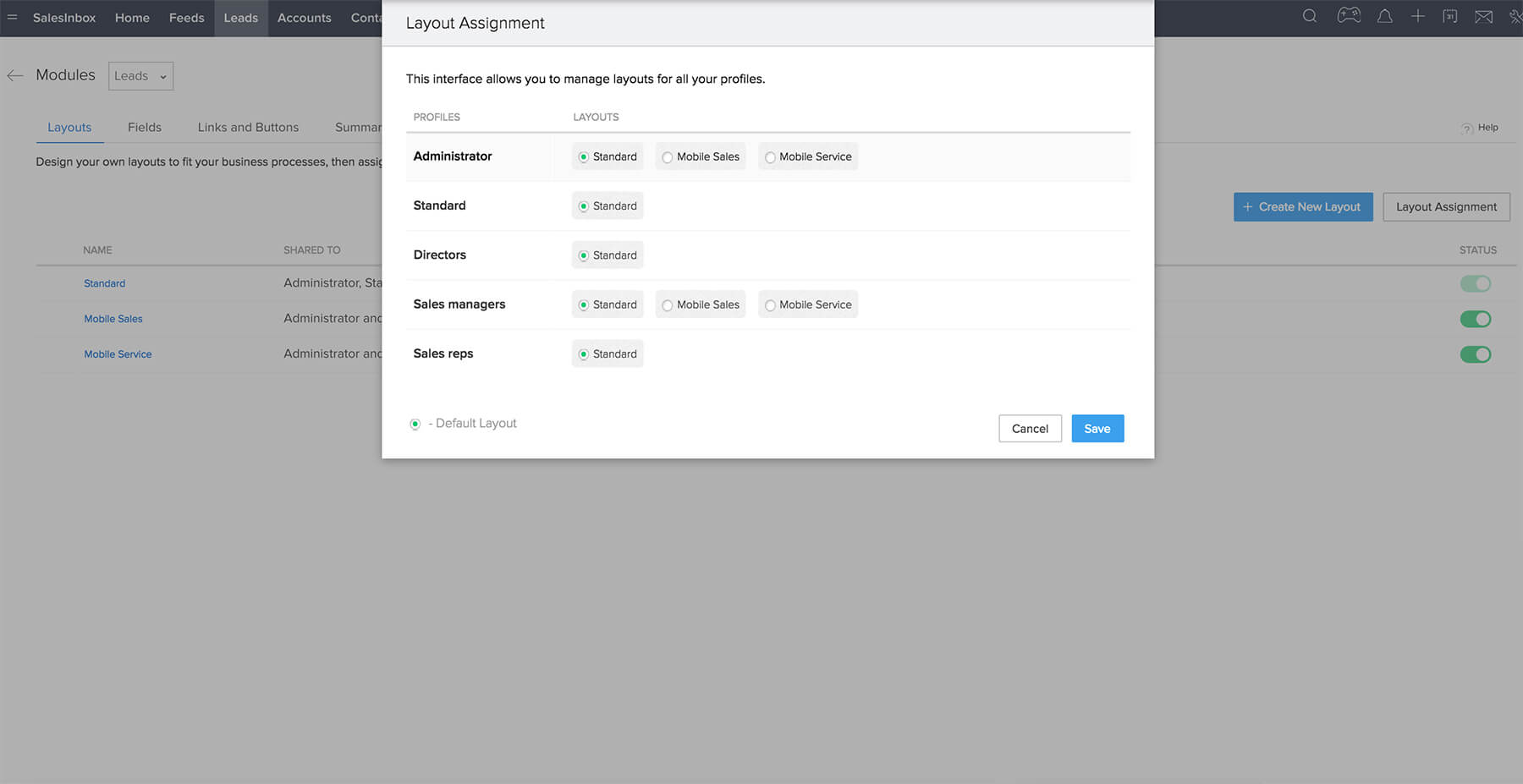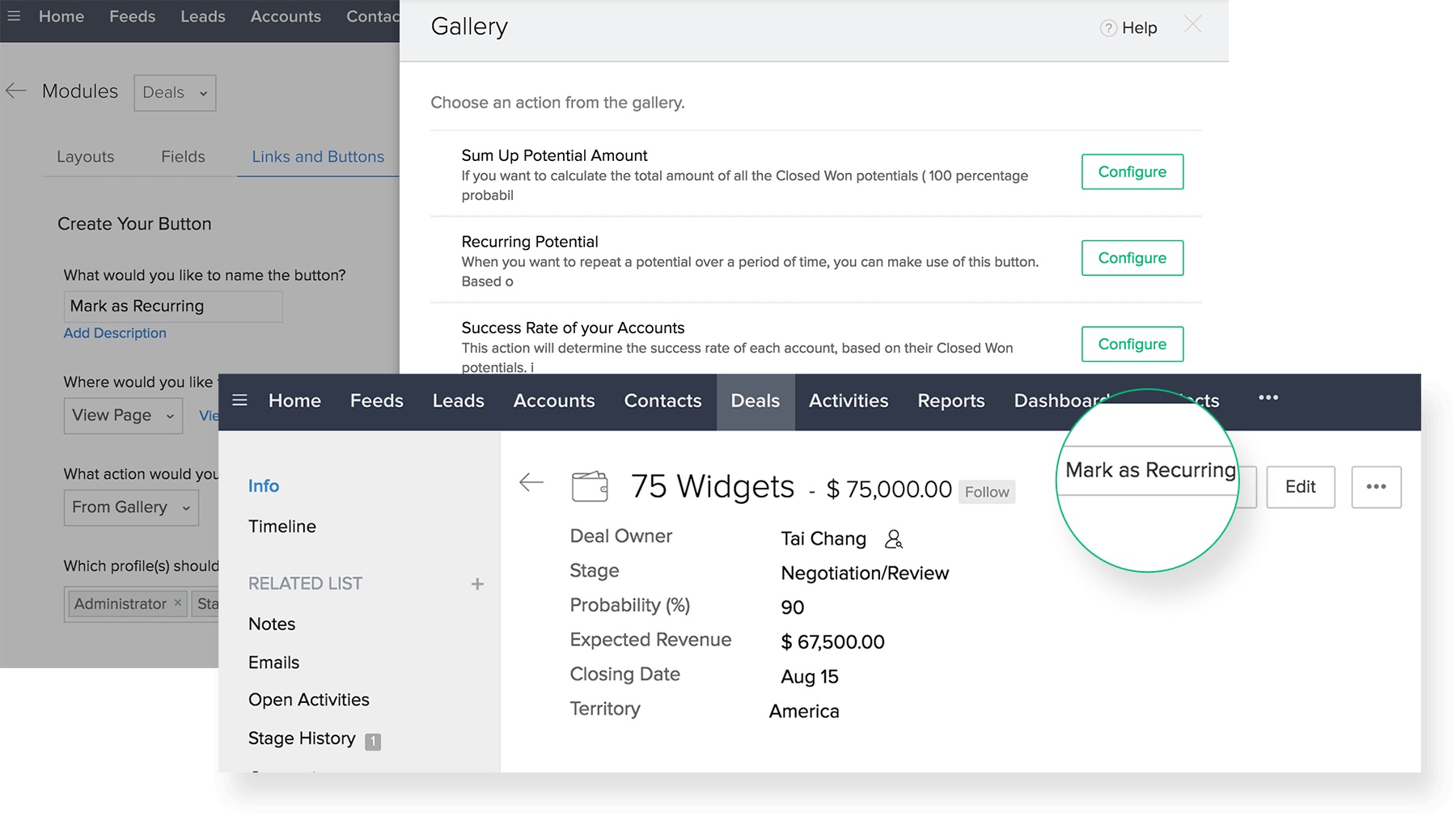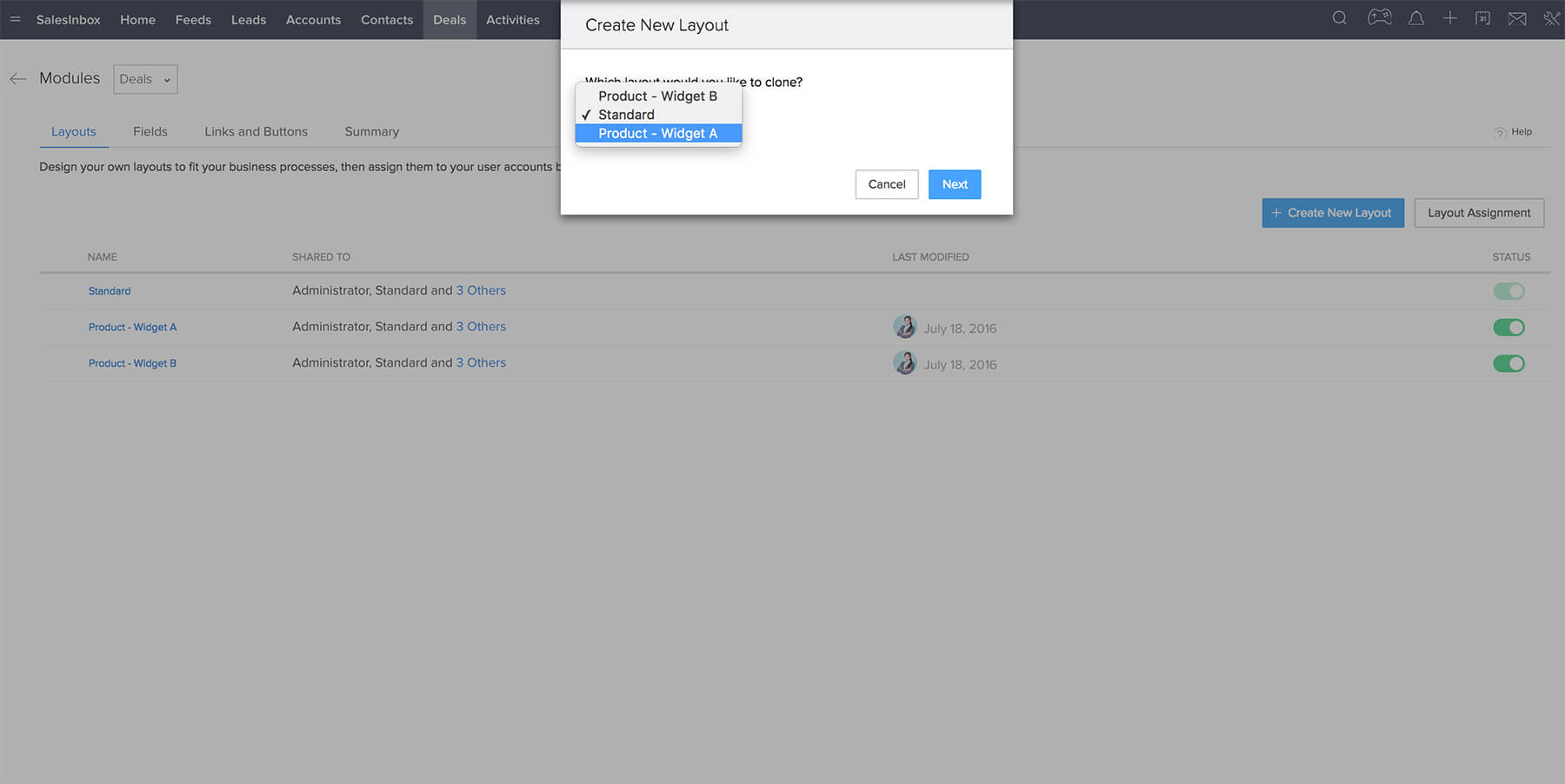 Zoho Finance Suite integration
Get a complete view of the customer without hours of manual entry. With data like billing history, overdue payments, and subscription details included as part of the workflow, salespeople can make better decisions when engaging with customers.
Learn more