Supercharge your growth
with
Zoho CRM
Whether you're in the early days of product growth or you've just received your next round of funding, Zoho CRM is the gold standard for taking startups to the next level. Zoho CRM empowers a global network of over 250,000 businesses in 180 countries to convert more leads, engage with customers, and grow their revenue.
Get Started
Here's how you can take your startup to the next level with a CRM
Track key performance indicators, including current trends and future predictions.
Automate every aspect of your business and cut out time-intensive, repetitive tasks.
Streamline your lead nurturing process and maximize the potential of every incoming lead.
Connect with your customers across multiple platforms, like email, telephone, and social media.
Get advanced lead and deal predictions so that you can identify the leads that are likely to convert and ultimately close more deals.
Why trust Zoho with your startup?
With more than 15 years of experience in the CRM industry, we know what it's like to be at every stage of a growing business, from a startup to a full-fledged enterprise. Today, we empower 250,000 customers across 150 countries, but we've never lost touch with our roots. We're still privately owned today as we were 15 years ago. This keeps us independent and means we only answer to our customers, not shareholders, so we take a long-term view of success and growth.
Zoho CRM was not built through mergers and acquisitions, it was built from scratch, keeping our customers front and center. When you choose Zoho CRM, you get more than just a CRM. You get our commitment to continuous improvement or our software and your experience.
Zoho CRM

has everything
a startup needs
Easy to use
We know that you don't have time to master a complex, bloated business application. Zoho CRM which comes with a streamlined, easy-to-use interface that can help you start selling in no time.
Easy migration
Zoho CRM offers a streamlined migration process which lets you migrate all your sales data from your existing spreadsheets and contact managers quickly without any additional costs.
Easy customization
Zoho CRM offers a huge range of customization options that can be leveraged to fit your business processes without coding knowledge or the help of a technical team.
Zoho CRM

grows with you

Your sales team might only have a few members today, but it could expand to an army as your business grows. Zoho CRM works great in teams of all sizes.
Security
With features such as encryption, audit logs, IP restrictions, and two-factor authentication, Zoho CRM conveniently protects your data, only allowing access to users you authorize.
Extended marketplace
With more than 1,000 apps in our marketplace, you can easily connect CRM with the tools you already use.
Why is
Zoho CRM

the best CRM
for startups?
Manage your rapidly increasing leads and deals
Bring in quality leads, nurture them, and turn them into happy, paying customers. Get a complete view of all your customer data-personal details, all the communication you've had with them, and more-in one central place.
Web forms
Lead assignment
Lead scoring
Lead enrichment
Smart web forms for lead generation
Never miss out on high-intent leads visiting your website. Zoho CRM helps you capture leads from your landing pages hosted on WordPress, Unbounce, Joomla, and other content management systems, without ever typing a single line of code.

Assign leads automatically
Your leads come from various sources: trade shows, Adwords, websites, seminars, marketing campaigns, and more. Zoho CRM automatically filters your leads based on criteria like lead score, location, and source, and assigns them to the right sales reps so they don't fall through the cracks.

Score leads to focus your productivity
Dealing with large numbers of leads makes it difficult to determine which ones to focus on. Scoring rules in Zoho CRM's lead management tool let you use positive and negative scoring to prioritize your sales leads and ensure faster conversions.

Enrich leads with Zia
The more information you have about your leads, the more likely you are to convert them. Zia's data enrichment functionality looks for more information about each lead based on the primary information you have added about it, making your future lead nurturing process more effective.

Multiple channels, one platform for communication
Today, customers have more ways to interact with businesses than ever before, and you need to be ready to serve them where they are. Zoho CRM allows you to have contextual, meaningful conversations with your prospects through a range of channels.
Social media
Live chat
SalesInbox
Telephony
Make your presence felt on social media
Connect your social media profiles-like Facebook and Twitter-so you can monitor conversations about your brand. Zoho CRM lets you search for keywords relevant to your business, and shows if accounts using those keywords are your customers, prospects, or someone new to your business.

Talk to leads as soon as they land on your website
Embed live chat on your websites or connect your collaborative chat tools with Zoho CRM to you turn you visitors into customers. When you integrate, you'll know if you're chatting with a prospect or a returning customer, and you'll be able to save chat transcripts to your CRM for future reference. It's easy to convert your live chats into leads, add deals, and create follow-up tasks all from your chat window.

Bring customer emails from into Zoho CRM
Connect your email client and send emails from Zoho CRM, with the full history of your correspondence with each contact stored in their record details. SalesInbox automatically prioritizes and organizes your emails according to the deals that matter most to you.

Integrate your calls and sales
Our PhoneBridge integration lets you connect Zoho CRM with any of our 50-plus telephony partners so you can make calls, log calls, and view customer information all in the same place. Update the call results to track the status of your calls, like if a customer doesn't pick up.

Automate repetitive sales tasks
Have you ever lost a deal because you forgot to follow up? Have you wasted hours of productivity on CRM data entry? Zoho CRM automates mundane sales processes and empowers your sales reps to concentrate on what they do best, building relationships.
Macros
Workflows
CommandCenter
Blueprint
Macros to make your sales run like clockwork
Sending a customer email, updating a lead's status, and creating a follow-up task are actions you have to do for every lead you contact. You can combine multiple actions into a single macro use to apply them to a whole batch of records at the same time.

Automate routine tasks with workflows
From sending emails to customers to following up with leads to updating fields, there's a lot you need to do every day. Workflow rules help you get that work out of the way by automatically triggering actions when specified conditions are met.

Lead each customer on a personal journey with CommandCenter
CommandCenter allows you to automate a customer's entire journey from lead to deal, reducing manual interventions at every step. Once the actions are clearly defined, the subsequent steps will occur automatically. For example, if the prospect has items in their cart, an email can be sent automatically after three days reminding them to purchase the items.

Build scalable and repeatable sales processes with Blueprint
How does your sales team keep up with all your leads, prospects, and customers? How do they know what to do at each stage in the pipeline? We've created Blueprint, a technology inside Zoho CRM, to gently guide users through what actions should be taken at what time, and prompt them for the right information in the right sequence. Make your process easy to follow for everyone from new hires to your longest serving salespeople.

Make data-driven decisions with
in-depth reports
From lead analytics to deal insights, activity stats, and email analytics, Zoho CRM's advanced analytics help you monitor every aspect of your sales cycle. Create customized dashboards with analytical widgets for sales, such as charts, target meters, KPIs, and sales funnels. Make data-driven decisions with customizable reports and boost your sales success with actionable data intelligence.

Work remotely
Conduct sales presentations and meetings, right from your CRM software. Run your sales from your chat window. Create channels in Cliq to brainstorm, discuss sales strategies, and share information from Zoho CRM. Zoho CRM ensures that remote work won't cause a dip in your numbers, and that your sales team stays productive wherever they are.

How do
Zoho CRM's

pricing plans
stack up against other CRMs?

Automated lead generation from Facebook and Twitter

Live Chat and visitor tracking
Zoho CRM (Std)
Automated lead generation from Facebook and Twitter
Live Chat and visitor tracking
Automated lead generation from Facebook and Twitter
Live Chat and visitor tracking
Automated lead generation from Facebook and Twitter
Live Chat and visitor tracking
Automated lead generation from Facebook and Twitter
Live Chat and visitor tracking
Integrates with the apps you use
every day
Zoho CRM makes it easy for you to create a connected working environment by integrating with more than 100 popular business apps that you use every day.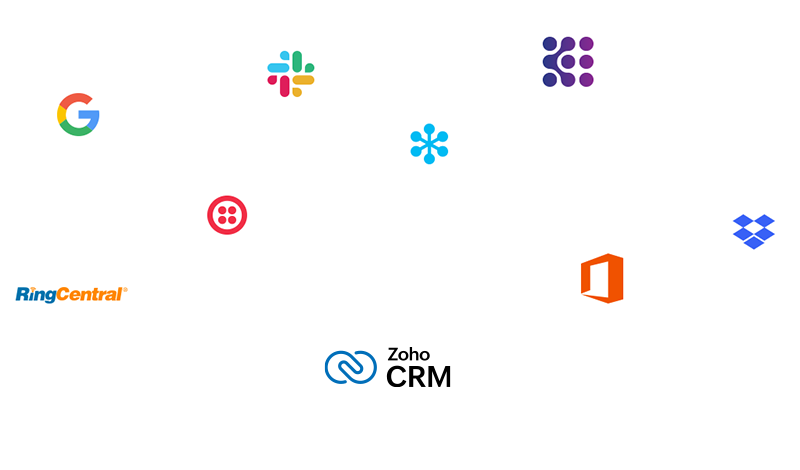 1.86L Wallet Credits
Eligible startups can get up to 1.86 lakhs INR worth of Zoho Wallet credits to explore Zoho.
Free Consultation
Register for a free consultation from our Concierge team to narrow down the applications best suited for your business.
50+ Integrated Applications
Choose from 50+ integrated applications from our catalog to purchase using the startup credits, valid for 360 days.
* Startups with current or previous paid subscriptions to Zoho's applications are not eligible.** Startups that have previously received the benefits of the Zoho for Startups program are not eligible to apply.
Salesforce does a nice job of making people think all other CRMs lack functionality. We checked out Zoho and found that not only did it have all of the functionality Salesforce has, but the interface was much more thoughtful and well-designed. Bernard Health's bottom line has improved significantly since switching to Zoho.
Alex Tolbert
CEO, Bernard Health
HI Tours have worked on two CRMs, initial few years on Microsoft Dynamics and subsequent years on Salesforce. And we were suffering from implementation delays and subsequently loss of productivity and efficiency. We found Zoho a customizable and rapidly scalable solution.
Prem Syal
Founder, Hi Tours
Oracle on Demand is a very complicated CRM, and required the help of an expert in setting up workflows and reports, as they are too difficult for a standard admin to do. The mobile applications for were limited and didn't the functionality required by Pickles. At less than half the cost, Pickles was getting much more productivity out of
Zoho CRM,

and many business needs were now being met. Pickles saved more than 50% costs switching from Oracle on Demand, leaving revenue to be allocated elsewhere.

Pickles Auctions

Australia's No. 1 Auction and Valuation specialist
Kickstart your journey with
Zoho CRM
Zoho CRM is easy to use, easy to onboard and takes zero implementation time. Try Zoho CRM for free today and get your startup up and running in no time.