With a robust set of functionalities and a flexible system that allows deep customization, Zoho CRM allows people in different roles and businesses of different sizes and industries to manage their sales effectively and build meaningful customer relationships.
Deliver excellent customer

experiences across industries

Every industry is unique, with different customer expectations, unique business processes, distinct pieces of customer information to work with, and varying security and compliance requirements. By blending powerful features with in-depth customization, Zoho CRM helps businesses across all industries engage their customers meaningfully and optimize their sales operations, resulting in positive customer experiences and better revenue growth opportunities for every business.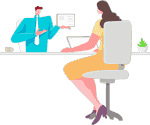 The perfect tool for

your sales teams

Are you a sales rep who loves interacting with new prospects and navigating the challenges of a tough deal? Or are you a leader who likes to ensure your team is running like a well-oiled machine with the right forecasts, targets, and a healthy pipeline? Zoho CRM offers all the necessary tools for you to excel at building relationships, closing deals, and growing revenue for your business.
A cornerstone for

businesses of all sizes

Whether you're an SMB looking to optimize your sales processes by moving away from legacy tools and spreadsheets or a global enterprise looking to scale your sales operations across the globe, Zoho CRM is the right fit for you. Zoho CRM offers the right combination of functional feature sets, intuitive user experience, scalability, and ease of use to help every business connect with customers at scale to build everlasting relationships.