Social CRM - Integration with Twitter.
Connect even better with your customers and grow your businesses. You can now associate Twitter profiles and engage your customers from within your CRM account. By looking at their tweets, you can know the best time to contact your customers and also get the substance to start an effective conversation with them!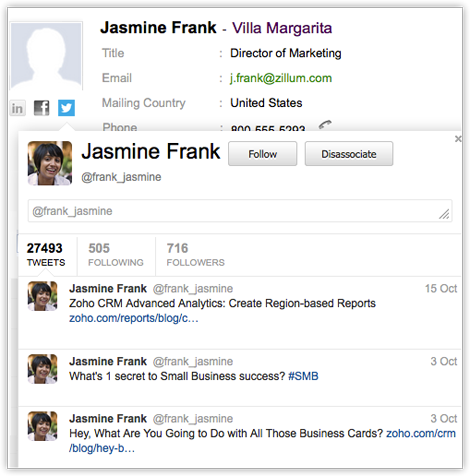 Key features.
Search for Twitter profiles of contacts and leads, and associate the right handle from the search results.
View the customer's tweets, reply to tweets, retweet or favorite recent tweets of your prospects.
View the most up-to-date background information and tweets and gain customer intelligence.
View the customer's Twitter followers and the people whom they are following. This gives you an insight into their interests, their likes and dislikes.
Upload photos of contacts and leads to CRM and establish a personal rapport.