How is the services industry different?  
For service businesses, the speed of service and customer happiness are paramount to building a positive customer relationship. It differs from traditional businesses in the way that your services are recurring in nature rather than a one time purchase. Your customers want personalized service, contact-on-demand, quick solutions, and direct communication with their field agents.
What are the key functionalities service industries should look for in a CRM?
Integrated document management
Single system omnichannel communication
Vendor and contractor management
Sales order and purchasing order generation
Billing and payments
Marketing automation to generate leads
Campaign management 
Why is Zoho CRM good for service industries? 
360-degree view
A complete up-to-date knowledge base of your customers including leads, contacts and accounts, all in one place.
Fully compliant
Zoho CRM comes with built-in features to help businesses based in the EU or doing business with customers in the EU stay compliant with the EU privacy regulations.
Be on the move
The Zoho CRM mobile app enables your agents to provide services and their managers to keep track of their numbers on the go.
Fully Customizable
Customize Zoho CRM to collect a variety of information, execute any custom business processes you might be running, and seamlessly integrate with any other applications you may be using
The preferred choice of leading service based businesses
Top-rated features for service based industries
With over 12 years of expertise in the CRM software domain, over 250,000 happy businesses place their trust in Zoho CRM to streamline complex business processes, drive growth, and build strong customer relationships.
Schedule and dispatch jobs with ease
Assign and track jobs

Schedule appointments on time

Maintain service catalogs
Assign and track jobs
Jobs can be assigned to one or more team members. Notifications are automatically sent to them, alerting them of their newly assigned job. Customized job sheets can guide your teams to record necessary information before they mark their service as completed.  
Schedule appointments on time
Book appointments for your customers that can be rescheduled or cancelled when needed. Define the availability of your services, assign the right people when an appointment is made, and provide the job sheets needed to mark the job as complete.

Maintain service catalogs
Build a catalog of your services inside Zoho CRM. Define each service, set dates and times for the availability of each one, and assign staff to handle and deliver them.

Maintain customer and client records in one place
Document management

All your finances in one place
Document management
All customer-related files such as photos, requirements, and PDFs are conveniently stored in the customer profile for quick referencing.

All your finances in one place
Never lose track of customer interactions and payments by viewing all jobs, estimates, and invoices in one place.

Unify customer interactions
Get quick access to contact information across multiple channels—telephone, email, live chat, and social media. Track individual customers and entire organization accounts.




Simplify billing and payments with

Zoho Invoice
Create invoices on the go and easily send them directly to your customers with the Zoho Invoice integration. Replace your pen and paper with digital invoices. Create invoices directly from your CRM and mark payment status to stay on top of your bills.
Provide contextual subscription offers with Zoho Subscriptions
Make the right offer at the right time to the right people. Once you integrate Zoho CRM with Zoho Subscriptions, you can get complete information on each customer's journey so you can craft subscription plans that your customers can't pass up.
Personalize every way of your engagement
Segment customers

ROI from AdWords campaigns

Personalize prospect engagement
Segment customers
Gauge your customer's lifetime value and identify any up-sell or cross-sell opportunities. Categorize them as big spenders, frequent purchasers or actively engaged with your brand and form unique strategies to strengthen your relationship with your customers.

ROI from AdWords campaigns
Combine your Google Ad spending with your sales data to determine which campaigns, ads, or keywords are helping you convert leads into customers.

Personalize prospect engagement
Keep leads engaged from your first contact, using emails. For example, you can save email templates and send them out to invite prospects to visit your tradeshow booth. You can schedule reminder emails before the event and follow-up emails for after.

Bring telephony to your CRM
50+ telephony providers

Greet customers by name

Log calls automatically
50+ telephony providers
Connect Zoho CRM with any of our 50+ telephony partners so you can make and log calls, and view customer information all in the same place.

Greet customers by name
Start your calls off right by greeting your customers by name with their lead information displayed on your screen. Your sales conversations will go much smoother when you've impressed the customer from the start.

Log calls automatically
Every call you make or receive is automatically logged inside CRM, along with call duration, call notes, follow-up activities, and call recordings (if applicable).

Connect with customers on the move with Zoho CRM Mobile
Get the most out of your day

Check the most efficient sales route to navigate to your customer's location. Check in at the client's location to record your visits and maximize selling time on the road.

Stay on top of your day's activities

Plan your work day to stay on top of your day's activities. Whether it's talking to a customer, negotiating a deal, or sending out an email, get an overview of all your upcoming activities..

Collaborate on the move

Post the status of your tasks and keep your sales managers informed of your progress. Keeping them informed of their team's progress can let them guide their team with valuable insights at crucial deal stages.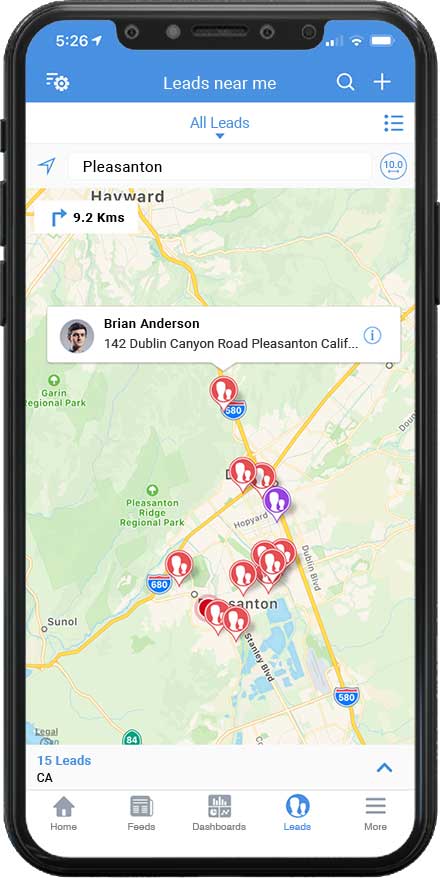 Integrate with the apps you use everyday
Seamlessly integrate with more than 300 popular business apps and let your CRM talk the same business language as yours.
Zoho has played an important role in standardizing our program. We now have more than 15,000 sellers using our services.
The Zoho CRM mobile app helped me analyse my sales rep's occupancy data, with options like Check-in, which is a very advantageous tool for any organization.
Our bottom line has increased by over $100K per year from the cost savings alone after using Zoho.
Anand Goyal,
Director, Amazon India
Divya Sundaraju
Asst.Manager - Learning & Development, FundsIndia
Alex Tolbert,
CEO, Bernard Health
Disclaimer: Zoho CRM is not an out-of-the-box vertical CRM solution. It is an industry-agnostic CRM platform that can be customized to suit various industries. The capabilities and solutions showcased above are a result of such customization.