Online CRM account management.
While a sales team works to close deals with small to large businesses (Business to Business - B2B scenario), it is necessary to maintain individual accounts and keep track of contacts under them. Effective organization in interacting with your contacts, who may represent or account for a particular company or such other bigger concern is of high priority.

The relationship with the concern as a whole would become inharmonious and cause potential deals to slip if interaction with contacts is disorganized. Account management helps maintain harmony and makes the process of sales to businesses with multiple contacts easy and efficient.
What are accounts?
An account represents a company, organization, business or a similar concern that has many employees and personnel working in it. They could all serve as contacts at various levels. In a B2C (Business to Consumer) scenario where the end customer is an individual, an account is redundant since he or she is a single contact.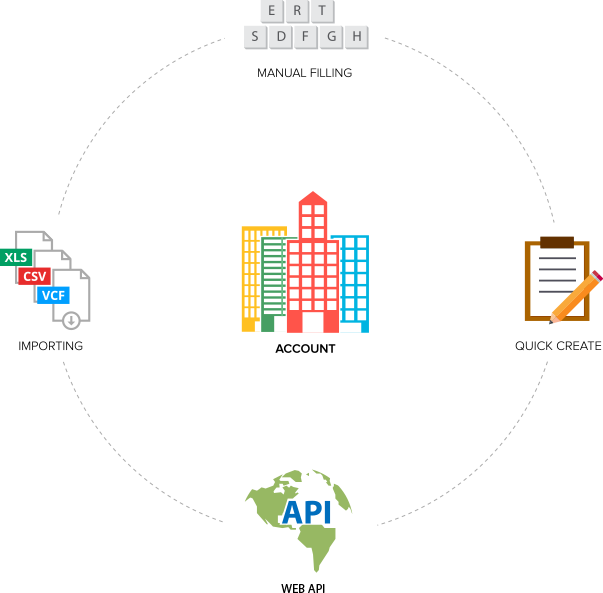 Whereas in B2B scenario, the end client (customer) is a business body involving many individuals or contacts, common to the business that can be aptly represented by an account. A large concern may have other sub-divisions and personnel working in each of them. These sub-divisions can be represented by accounts that are children to the parent account , representing the larger concern.
This way management of relationships with contacts is in synchronization with their specific roles in the sub-divisions of the concerned business organization.
What is account management?
In simple words, account management is the process of managing the communications and transactions with businesses having many contacts and divisions. This makes it possible to cater to the needs of specific divisions inside a business. By categorizing contacts to accounts by their sub-divisions and functions, communication is directed to the proper personnel in charge. This saves time that may be lost in approaching the wrong contacts and wasting effort in improper directions.The success of a B2B sales operation relies heavily on account management.
What do I gain from Zoho CRM account management?
The Zoho CRM account module presents a simple and straight forward interface to manage accounts. Apart from basic information fields, the history section at the bottom helps in monitoring potentials, contacts, notes, activities and products categorized by account.
This aids in visualizing prospects and opportunities for deals that may otherwise be hard to identify. With the parent-child assignment to denote accounts and their subsidiaries, it is easy to focus on businesses specifically and assess their position with regards to closing deals. So, it would suffice to say that with Zoho CRM you are certain to raise your revenue.