Role-based Security Administration
Zoho CRM offers you an Enterprise-grade Role-based security to control the access rights of users while working with CRM data and modules, such as leads, accounts, contacts, potentials etc. The Role-based security includes Profiles, Roles, Data Sharing Rules, Field-level security, and Groups.

Using profiles, you can define fine-grained access rights to the CRM modules, data administration tools, CRM records, and fields within each module.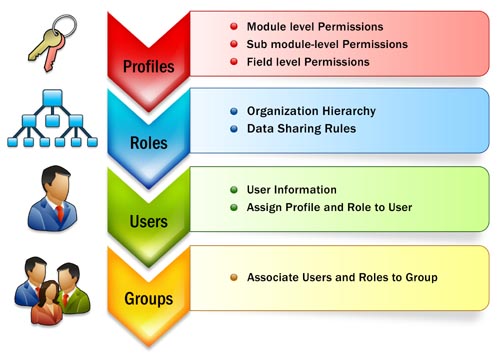 With the Roles and Data Sharing Rules, you can set up multi-level organizational hierarchy and control the data-level access rights as per user's role within organization.
Groups (also called as Teams) allow you to extend the data-level access to other users with similar job profile, working in the same department or project, or sharing the data among common geographical location.
Key Features
Profiles
Manage module-level permissions for Sales, Marketing, Support, Inventory and other job profiles
Manage permissions to access the data administration and other CRM utilities
Control the access rights to fields using field-level security so that users can access fields that are relevant to job profile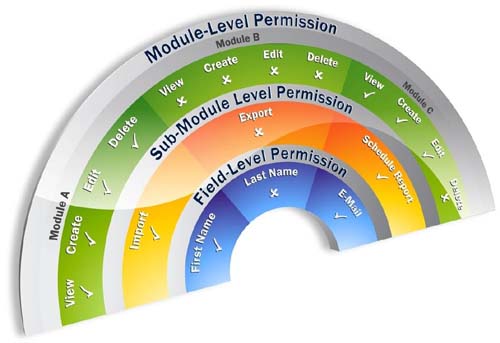 Roles
Share CRM data with users as per their job role (CEO, Vice President, Manager etc.,) in an organizational hierarchy
Define common access rights, such as private, public read and public read/write permission for accessing the CRM data across the organization
Set up data sharing rules to extend access rights to the other roles, roles & subordinates, and groups in an organization
Enable sharing of the data among peers so that user with a same role can access other user's data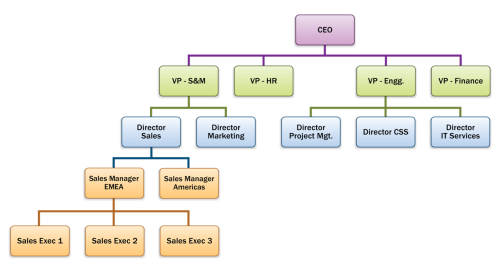 Groups
Manage groups (teams) based on job profiles, departments, or location of the users
Assign users, roles, roles & subordinates, and sub-groups to the groups
Setup data sharing rules for groups so that users associated with the groups can have access rights on common data