What is a real estate
CRM software?
Real estate CRM software is a system that helps manage relationships between buyers, sellers, agents, brokers, developers, and financial institutions and caters to the multiple requirements of real estate agents and real estate firms. From managing incoming requests to preparing price quotes, from selling commercial real-estate to property management, the real estate CRM system takes care of the end-to-end process management for real estate agencies.
How is CRM important for realtors? 
Real estate is all about building trust, and it's no surprise that 82% of new property sales are referrals from either existing contacts, previous clients, family, friends, or relatives. Moreover, when it comes to real estate businesses, selling or buying is a long process, with many follow-ups and re-negotiations. In such scenarios, implementing a real estate CRM software gives realtors an efficient way to manage contacts, schedule tasks, monitor their pipelines, and stay organized to build successful relationships and close deals.
Why choose Zoho CRM for your real estate business?
Omnichannel communication
to capture inquiries from multiple channels
Built-in campaigns
for sending out drip email campaigns
Project management
tools to keep tabs on all your ongoing projects
Third-party integrations
and APIs to improve productivity
Complete customization
to accommodate the unique processes of real estate agents
Self-service portals
to connect both sellers and buyers directly with your business
Some of the leading real estate businesses that trust Zoho CRM
Key features of real estate CRM software
Manage leads and track their history
Generate leads from multiple sources like social media, offline campaigns, business cards, online campaigns and track their stages until they become an opportunity. Zoho CRM's lead scoring lets you see which prospects your team needs to focus on. Once an inquiry enters your pipeline, you can set up automated email responses to nurture them and drive engagement.

Boost productivity with
powerful automation
Automatically assign leads to sales reps using predefined workflow rules based on territory, industry, potential deal size, or even in round robin fashion. Every time a lead enters your CRM pipeline, you can notify the assigned sales rep and assign tasks and reminders to followup. Automate your follow up emails, Zoho CRM field updates, and notifications to give your sales reps time to close more deals.

Artificial Intelligence to improve
your bottom line
Zia gives smart suggestions for the best time and day of the week to contact each customer, so that you can connect with them immediately. Zia learns the usage patterns of your team members and makes personalized automation suggestions so they can complete their routine tasks faster. Zia also calculates the efficiency of your workflows and stops you from making mistakes, like sending an email template twice to the same user.

Keep your team in the loop,
wherever you are.
Collaborate with your team through Feeds, a real-time timeline where you can discuss deals, collaborate on ideas, and broadcast announcements. Zoho gives you the power to integrate your chat tools with your CRM. Create helpful Commands and Bots within your chat tools to pull up CRM records, reports, and analytics for easy sharing with your teammates. Send CRM lead approvals and reminders for events or calls on your chat tool and set up SalesSignals in CRM for new chat notifications.

Centralized Document Management
Zoho CRM gives you centralized access to important documents such as property details, service reports and transaction documents. There is no need to dig through all your documents when you just want to send the latest property document to your leads. The document library intelligently connects relevant collaterals with the appropriate lead or deal. You can even have multiple versions of your sales collateral in the Documents Tab and access the latest draft of the document whenever you log in.

Easy invoices and bills
Zoho CRM helps you complete your sales cycle by enabling your team to create and store quotes, invoices, price books, and bills in their accounts. Manage all your post-sales processes using powerful inventory management features, and share your quotes and invoices to prospects through custom email and invoice templates.

Make data-driven decisions
with powerful in-built analytics
With over 40+ prebuilt reports, you can measure every aspect of your sales pipeline - from campaign spending to deal closure. Zoho CRM's Analytics can help you track progress toward your targets, agent activity reports, compensation adjustment and neglected deals in your pipeline. You can setup revenue forecasts based on your territories, measure KPIs using target meters and track lease expirations.

Seamless and powerful integrations
Manage your complete sales cycle from a unified Zoho CRM interface. The free Zillow integration gives you a consolidated view of any property's availability, address, home value, comparable homes, and Zestimates®, directly within Zoho CRM. Also, Zoho Phonebridge lets you choose from over 50 telephony providers like RingCentral, Vonage, and Amazon Connect, and add integrated click-to-call, automated call recording, call logging, and analytics to your Zoho CRM account.



Close deals on the move
The Zoho CRM Mobile app lets you keep in touch with your buyers and sellers and manage their property sales on your Mobile Phone. Scan QR codes or business cards in 17 different languages to automatically add them as a Zoho CRM lead or contact. The card scanner app lets you schedule followups and use prebuilt email templates so you don't have to wait to get back to prospects. Zoho CRM's mobile app also gives you real-time sales performance reports and insights, while also letting you schedule and log meetings, add follow-up tasks, and find prospects near you while you're on the move.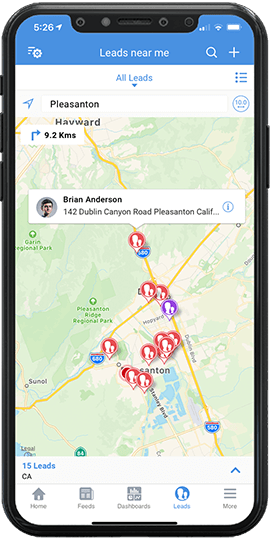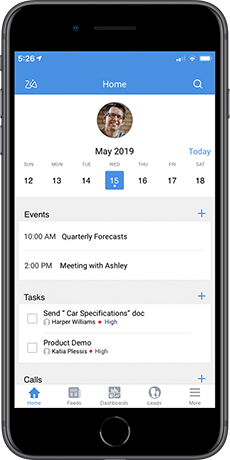 Benefits of a CRM software
300%
Improvement in lead conversion rates
41%
Revenue increase per sales person.
26%
Improvement in customer retention rates
47%
Increase in customer satisfaction rates
Third party Integrations
Zoho CRM works with products you use every day. Seamlessly integrate with more than 100 popular business apps and let CRM talk the same business language as yours.
Magic Bricks
Generate leads from Magic Bricks directly into Zoho CRM
IDX Broker
Sync agent brokers and leads from IDX Broker and vice versa
99 acres
View 99acres customer inquiries in the Zoho CRM Leads module. Categorize leads generated from 99 acres based on projects and lead source
Commission Management
Calculate the commission amount based on your personalized commission settings whenever a deal is won in Zoho CRM.
ConstructionBOS Fusion
ConstructionBOS Fusion integrates with construction project lead providers, including Barbour ABI, allowing your team to access all their data in one place.
Calendly
Import users and appointments from Calendly to Zoho CRM and to book and manage your Calendly appointments from Zoho CRM. Book appointments with customers directly from Zoho CRM.
See what our customers have to say
How Strike created a bespoke estate-agency CRM and boosted process efficiency
Mumbai-Based real estate company replaces Salesforce with Zoho CRM Plus
Airport Property gets a 360-Degree view of the activities after implementing Zoho CRM
Melbourne Based Buyer's Advocates automates their invoicing with Zoho CRM
Global home booking company doubles in size with the help of Zoho CRM
Italian auction house Aste33 leverages Zoho CRM to increase revenue by 20%
Strike is the UK's 2nd largest estate agency brand, listing over 2,000 properties for sale per month. They knew that customizable technology was the only way to help the business scale to the size it wants to be. The customization available in Zoho CRM has been one of the main enablers that has allowed Strike to grow so dramatically.
Part of Marathon Group, Marathon Realty has been in the real estate business for more than 50 years. Before using Zoho CRM Plus, Marathon Realty had a well-established business process with Salesforce for quite some time. The lack of customization as well as a rigid payment structure made them switch to Zoho CRM.
Airport Property is a niche commercial and industrial property brokerage firm situated in Cape Town, South Africa. The business wanted to implement a CRM system that is tailored for Real Estate Agencies and can be further modified to suit their unique needs. After exploring quite a few CRM applications, they zeroed in on the Real Estate Agency CRM, built by GoldenLion on top of Zoho CRM.
Property Home Base are buyers' advocates that support buyers to locate, negotiate and purchase property in Melbourne and rural Victoria. Squirrel Business Solutions implemented Zoho One and a two-way Zoho CRM-Xero integration for Property Home Base, enabling them to streamline and automate invoicing and manage their operations from their CRM.
Spotahome is a real estate platform. They offer online properties for rent. They aimed to build a strong sales team and for that they needed a tool that gave them flexibility. Zoho CRM met their requirements with its customization capabilities and easy-to-use nature.
Aste33 is an Italian auction house which deals with the sale and divestment of movable and immovable assets. The management team at Aste33 was planning to step into the world of digitization when they realized they would need to replace some of their legacy systems to enhance their business process. It believes Zoho CRM has a pivotal role to play in this expansion by serving as a fulcrum of all the marketing and sales activities.
Frequently Asked Questions
Why Zoho CRM is a popular online real estate crm?
Zoho CRM is used to great success by more than 250,000 businesses of all sizes and types around the world. With more than two decades of delivering world-class software technology to the global business community, Zoho has been the winner of major awards in the CRM tech space and is consistently rated highly by both critics and users. Sign up for a free trial and start your CRM journey today with the world's favorite real-estate CRM solution. sales@zohocorp.com.
Is Zoho CRM suite for small real estate business?
Zoho CRM comes with a streamlined, easy-to-use interface that can help small real-estate businesses start selling in no time. Zoho CRM includes functionalities such as marketing automation, email marketing, customer support and team collaboration which lets your team get up and running as fast as possible without purchasing additional software. sales@zohocorp.com.
How to choose best real estate crm software by comparison?
While most CRM solutions in the market might be robust and secure, the amount of complexity leads to the user experience suffering, which often requires you to change the way you work to suit the software. Zoho CRM—with its broad coverage, deep features, and intuitive UI—can go head to head against any other big brand name when it comes to technology and functionality.
What are the benefits of real estate lead management software?
By implementing a real-estate lead management software, you can organize your leads and contacts, nurture prospects and convert them, manage your property lists, maintain a clean history of leads and their stages before they become a deal, handle transactions and collect payments.
How the best real estate CRMs handle every stage of the customer lifecycle?
With Zoho CRM you can engage customers across multiple channels at each stage of the customer lifecycle. Generate leads from real-estate sites such as Zillow and Trulia, follow up your prospects with automated lead nurturing, convert them to leads and contacts, generate and send invoices, see your conversion rates, identify where the potentials churn the most, and measure the overall efficiency of your sales process.
How to evaluate best contact management software for realtors and real estate agents?
Ensure that the real estate CRM software you are going for enables you to manage leads, client inquiries, customer contacts, marketing campaigns, and after-sales services. The software needs to give you a single, centralized platform where you get a complete picture of your sales activities, sales pipeline, and inventory.sales@zohocorp.com.