Thank you for your interest. Our team will get in touch with you shortly.
X
What is a non-profit
CRM software?
A non-profit CRM is a stakeholder relationship management system for service and impact-oriented organizations of all types and sizes. Acquire more donors, retain volunteers, engage interns and reach all stakeholders with our comprehensive tools. Support your mission with a searchable database, keep track of spending with our finance suite, and increase your visibility across every platform with our web, desktop and mobile app.
How is CRM important
for non-profits?
Non-profit projects are as complex, if not more so, than those of any for-profit business. To turn your non-profit's big ideas into big change, you need to migrate from spreadsheets, automate your processes, and create a fund management system as powerful as that of a for-profit business. Zoho CRM supports non-profits with reasonably priced plans and transparent, flexible contracts.
Why choose Zoho CRM for
non-profits?
Omnichannel Presence
Social media, website, email, Whatsapp and SMS integrations increase brand visibility and reach with potential donors and volunteers.
Targetted Campaigns
Engage stakeholders every step of the way with customized email templates and behavior and trigger-based autoresponders.
Smart Emails & Webforms
Auto-scan emails for direct record creation or data updates within CRM. Record key information from stakeholders with guided webforms.
360-degree Data Overview
Manage donor, volunteer and beneficiary actions by mapping separate modules. You can also create separate portals where stakeholders can enter data.
Seamless Transactions
Consolidate different payment gateways and experience quick and secure transactions with the Zoho checkout integration. Available on desktop and mobile.
Integrations & Extensions
Access the Zoho Suite of 40+ apps and 300+ third-party extensions with popular apps. Record data even when you're offline through the CRM mobile app.
The preferred choice of Non-Profits
across the Globe
Make your presence felt with an
omnichannel CRM
Being present and active on social media, chat, telephone, email and SMS platforms is a basic step towards the needed visibility to convert a spectator into a believer, and then a stakeholder. Share your progress, conduct polls, respond to questions and learn what resonates most with potential donors, volunteers and other stakeholders.




Reflect your mission with customized email templates
Stand out from the inbox clutter with personalized email subject lines, customizable templates and a drag-and-drop template builder through an integration with Zoho Campaigns. Create email lists and replicate campaigns instead of wasting time on manually sending them out. From fundraisers to events, donation requests to newsletters, automated emails and autoresponders can keep everyone in the loop without much effort.

Gather data with guided webforms
and email parser
Invest more time on engaging with stakeholders versus entering data with customizable webforms. Allow stakeholders to provide information at their own pace, and minimize errors that arise during manual data transfer. Map the CRM modules of your choice with Zoho CRM's email parser that scans incoming mails for important information and automatically pushes that data into CRM.

Empower stakeholders with
portal access to CRM
Create portals with fine-grained access controls to let your users enter their own details. Bypass multiple follow-ups and corrections involved with obtaining names, contact details or addresses over emails and phone calls with clear custom fields that are easy to fill in. Support volunteers with fields to mark attendance, record absence, and register their location for any fundraising events. Donors can also revise the value of their contributions periodically, and modify their reasons or intentions related to the utilization of funds.
Donor Portal

Volunteer Portal


Track impact with customizable dashboards
Donors can view the direct impact of their contributions through easy-to-build customized dashboards. Similarly, volunteers can mark their attendance and record information related to their activities through CRM's multi-page layouts. Activity timelines, real-time notifications and forums help stakeholders interact and stay informed.


Provide a seamless and secure payment experience
Don't mar the joy of giving by making it hard to give. Zoho CRM's simple integration with Zoho Creator and Zoho Subscriptions ensures smooth and glitch-free transactions. Customize fields and labels, and turn a one-time payment into a recurring transaction with just the check of a box. Every transaction take places via SSL encryption which guarantees the security of every payment. Zoho CRM can integrate with crowd-funding sites and helps donors make payments via web, desktop or mobile app.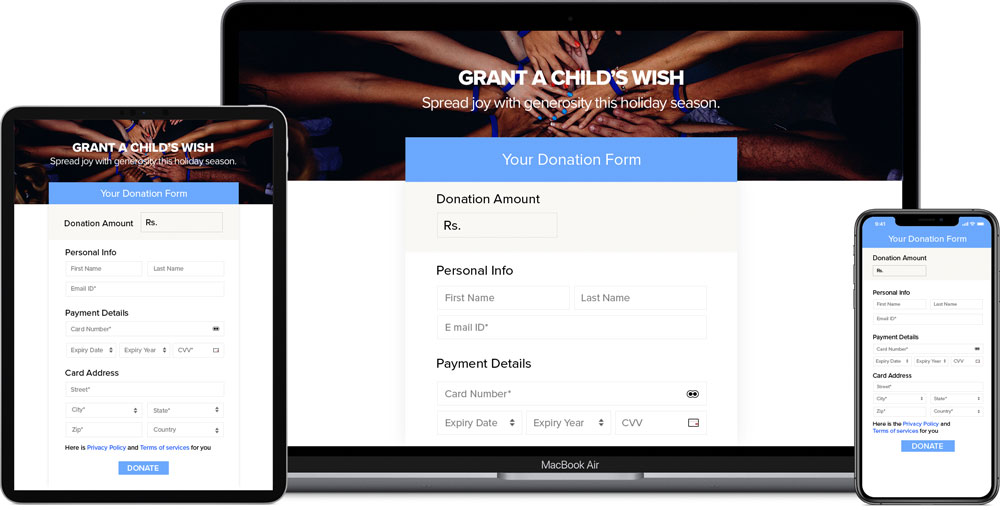 Manage funds within your CRM
Non-profit organizations need a flexible way to procure funds. Create different funds, such as payments received in full, or as an installment or account for it as a reimbursement using Zoho CRM's custom fields. Structure and segregate services into categories for an organized and informative database that reflects giving patterns and offers advice on next steps.

Champion your mission on-the-go
Work for the greater good often demands us to be mobile. That shouldn't stop you from staying productive. Post images of the impact from your sites on social media accompanied by real-time and location-based updates within your CRM community. Connect with volunteers, reach out to donors and collect field data even when you're offline with Zoho CRM's mobile app. All the information entered gets synced with your CRM once you connect to the internet.

The most trusted
CRM software
Integrate with your popular apps
Zoho CRM has over 300 app-extensions and integrations that you can choose from. Skip the hassle of shuffling between multiple applications and use Zoho CRM as a centralized system for donor management, communication and fund allocation.
We now have the capacity to do what we're supposed to do. We've been able to run great campaigns, just like the big charities, through the CRM at very little cost. The first time we shared a blog post on Facebook, we received twelve new enquiries! The CRM has become the extra person we couldn't afford to hire and taken away our anxiety.
Joanne Baker
Managing Director, Righteous Pups Australia.
Disclaimer: Zoho CRM is not an out-of-the-box vertical CRM solution. It is an industry-agnostic CRM platform that can be customized to suit various industries. The capabilities and solutions showcased above are a result of such customization.