Constellation Research's Best Enterprise Software Vendor
Zoho has been recognized for its innovation, relentless focus on re-invention, and an ever-expanding portfolio of enterprise-class business applications.
Winner of PCMag's Business Choice Awards for CRM
According to the PCMag survey, Zoho is the most recommended CRM and the only one with a positive NPS score among other leading CRM vendors.
Unified CRM platform to manage your
end-to-end customer life cycle
Close more deals and stay in control of your sales cycle
Learn more
Make the most of every incoming lead, score them automatically, and assign it to the right sales rep
Map your complete sales process inside CRM and ensure everyone in your team follows the right process every time.
Get advanced lead and deal predictions from Zia so that you can identify the leads that are likely to convert and ultimately close more deals.
Learn more

Attract more prospects through a powerful marketing automation platform
Learn more
Connect with your prospects and customers, and execute effective marketing strategies through targeted email campaigns.
Choose from a wide variety of pre-built email and newsletter templates to make every campaign more special.
Measure the success of your campaigns through real-time analytics and make your next campaign the best one.
Learn more



Delight customers and create brand advocates through a context-aware help desk solution
Learn more
Offer top-notch support to your customers whenever they need you, and impress them with a higher standard of service.
Help customers find answers instantly through self-service portals, knowledge base and user community.
Improve agent productivity and collaboration through automation that lets your agents do more, in less time.
Learn more



Create beautiful, industry-ready designs without any code
Learn more
Use Canvas, the industry's first design studio, to redesign the look and feel of your CRM.
Create industry-specific designs and assign views relevant to each role or team in your organization.
Build your interface with the powerful no-code builder or select professional templates from the gallery.
Learn more
Connect with your customers wherever they are
Learn more
Reach customers across every channel: telephone, email, live chat, and social media
Get real-time notifications when customers interact with your business
Measure the effectiveness of your customer communication and find the best time and channel to reach out to your customers
Learn more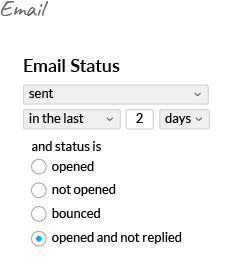 Make smarter business decisions with powerful, real-time analytics
Measure and manage your organization's territory-wide sales performance
Track key performance indicators, including current trends and future predictions
More about analytics






Why choose Zoho?
Informed by a privacy-first business culture, governed by strong ethical standards, and empowered by 24 years of experience serving the global business community, Zoho stands at the forefront of business software. We offer carefully-crafted tools that allow you to accelerate your digital transformation and deliver more value to your customers every single day.
Whether we're optimizing sales with our award-winning CRM system or building brand new custom apps for specific activities, Zoho runs internally on all our own products. We promise to offer you the same comprehensive tools and deep technological knowledge used in running a successful enterprise so you can create consistently engaging experiences for your customers.
How a leading global franchise development company scaled faster with the help of Zoho CRM
Brent Dowling,
CEO, RainTree

Testimonials from the

#ZohoCRMFamily

More Customers

Reduced lead to real prospect time by 60%

$1 million to $20 million in just two years

An increase of repeat sales from 20% up to 40%

With Zoho CRM, we experienced a 65% increase in our sales pipeline. We also managed to reduce our lead to real prospect time by 60%, which is huge. I would definitely recommend Zoho CRM to companies that are experiencing complexity with sales and marketing and witnessing rapid growth.

K.C WatsonCEO & Founder, Sherpa Digital Media

Since switching to Zoho CRM, JusCollege has effectively managed the large volume of contacts flowing through the sales pipeline and has already increased its sales from $1 million to $20 million in just two years. We attribute this to Zoho – being organized, getting more visibility, seeing where the problem points are, and restructuring our business.

Allan TeruelCo-Founder/CTO - JusCollege

Zoho had all of the functionality that we could ever need, at a fraction of the cost of Salesforce. It felt much more intuitive, and I was sure we would be very happy moving forward with Zoho. In less than a year, The NetMen Corp has witnessed an increase of repeat customer sales from 20 percent up to 40 percent, as well as an overall increase in net income.

Ignacio GalarragaCEO - NetMen Corp
More Customers
Recognized by the experts, backed
by the customers
Bring your customer facing teams together and deliver unified experiences
Visitor Tracking

Artificial Intelligence

Customer Service

Sales

Marketing Automation

Business Intelligence

Social Marketing
There's no better time than now to be a
customer-centric business
Get ready for a new CRM experience. Whether you're switching from an expensive third-party vendor or you're just looking for new ways to build better customer relationships, Zoho's suite of apps will transform how you engage with your customers. Start your free trial of our CRM today.