Motivator for Zoho CRM—inspire healthy, competitive sales.
Motivator captures the data from your CRM account to create a competitive environment for your sales team using sales activities. Set goals, make them fun, and watch your sales progress together with a refreshing change from the mundane. Everyone wins.

Here's how we can help you
Motivate your team's sales performance via competition and gamification

Use KPIs to track performance of sales activities

Set different Targets different KPIs and sales reps

Create games between teams or individual reps

Broadcast dashboards and games on the sales floor
The lone wolf or the unbeatable team?
Motivator can be used to drive individual salespeople or sales reps can form teams based on regions, specialization, or even just the people they want on their team. They can participate in games and targets together to make them easier and more fun to achieve. This also builds team spirit and healthy competition. Each team can have a team leader.
Strategize with KPIs
You can set up KPIs or Key Performance Indicators for different sales activities like revenue earned or calls made for the month and keep track of the overall KPI or each rep's or team's contribution towards it. You can dig deeper into KPIs and analyze how much each rep contributed towards the KPI or what activity in your CRM is achieving results.

A dashboard to summarize performance
Your dashboard is a collection of all your Motivator activities. You can add KPIs, games, or targets and break them down by rep or by team. It gives you an overall view of your sales activities and acts as a shortcut to the game or target you're focusing on. Dashboards update in real time to provide actionable insights to help you understand and boost sales performance.

Level up with targets
Drive personal and team accountability for your team by turning goals into actionable targets.Targets can be set for a sales rep, a team, or for a particular sales activity such as deals closed or emails sent. Targets come with a progress bar so you have visualization of your performance.

The name of the game is sales
Games can be created for reps or teams to make work fun. The game's criteria is based on existing or custom KPIs. You can select more than one KPI for the game. Each game has a chart so you can easily keep track of the game and the KPI's progress. Trophies and badges are awarded to the winners of each game.

Let no achievement go unnoticed
Motivator performance is summed up in the achievements panel. This panel shows all the trophies and points won, which can be broken up by team or by sales rep so you know who your star performers are.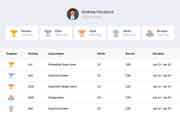 Boost morale using TV channels
TV channels are a way to broadcast different elements of Motivator. You can create a channel to showcase the most fun or interesting metrics to your team to motivate them. Display a competitive game or a KPI like deals closed or even your daily targets. You can switch between channels and the TV channels are updated in real time.