An insight into what's in store for you.
Smart planner.
Never let a business opportunity pass you by. With the smart planner right in your pocket, you can schedule and track your day-to-day sales activities with ease.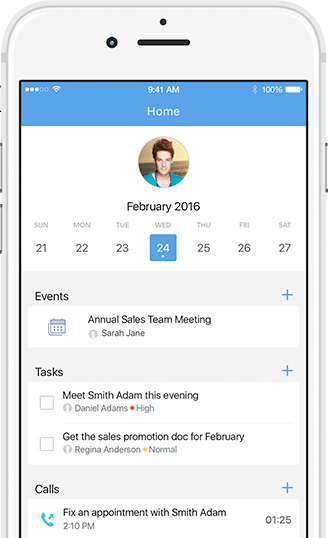 Find prospects nearby.
Say one of your appointments gets cancelled and you have some time to kill before your flight. Do a "near me" search and locate customers around you.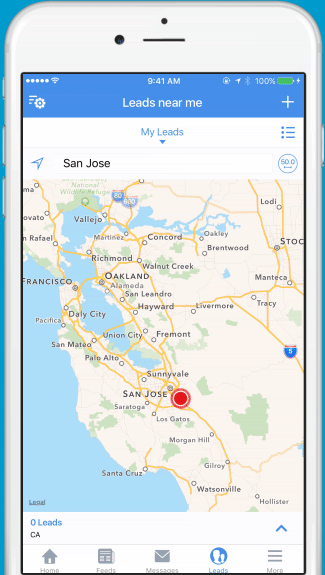 Check-in.
Done with a meeting? Check-in and geotag your visits right away. Make a record of who you meet and keep your colleagues informed about what's happening.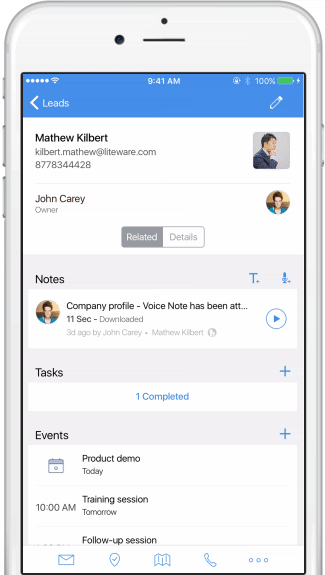 More engaged sales teams.
Want to make a team decision? In sales, you can't expect everyone to be around all the time. Use feeds to keep your team on the same page and improve collaboration.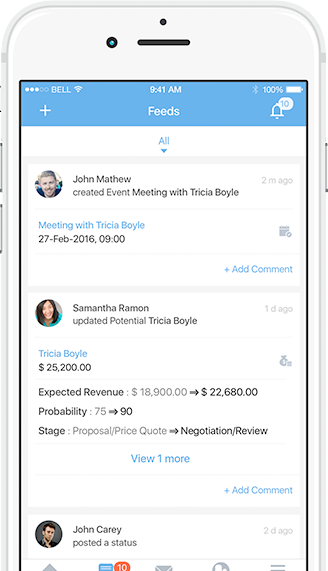 No network? Work offline.
Not having internet doesn't mean work has to stop. You can still work offline. And when you get back online, you can sync your data across all platforms.
Get instant email notifications.
Get notified instantly when you receive customer emails and reply to them from the app. Need to create a follow-up task? Just go ahead and set them right there.
Locate contacts from anywhere.
Planning a business trip? Locate customers in the area using a custom location search. Set appointments, meet them in person, and close more deals.
Personalize your CRM.
Never underestimate the power of visually appealing colors and themes. The app has an array of personalization options to give you a rich and satisfying user experience.
"Zoho CRM mobile app helps us to be light and flexible but still effective and efficient."

"Been using the app for years. Love the new UI, very user friendly, intuitive, with some practice it becomes very easy to manage a business from your phone. Highly recommended."

"Modern, well organised & Productive. Easy access to key business data on the go. If you are a Zoho CRM user grab this now. If you are not, this is a reason to consider switching."

"Time management. As a one person remodeling contractor I am now able to better keep up with the back office sales."
Your favorite CRM. Available on mobile.