Every sale needs Zoho CRM.
CRM systems help you manage your sales revenue, sales teams, and most importantly, increase customer relationships. That's where Zoho CRM comes in, loaded with features to help you start, equip, and grow your business for free, for up to 3 users.
Get Started
Access Zoho CRM
Using a CRM can improve your lead conversation rate by over 300%!
A smart start for your business
Manage users, profiles, and roles.
Easily import data for free with import history.
Manage your Leads, Accounts, Contacts and Deals.
Find and merge duplicate records.
Export any module data.
Import leads directly with the business card scanner.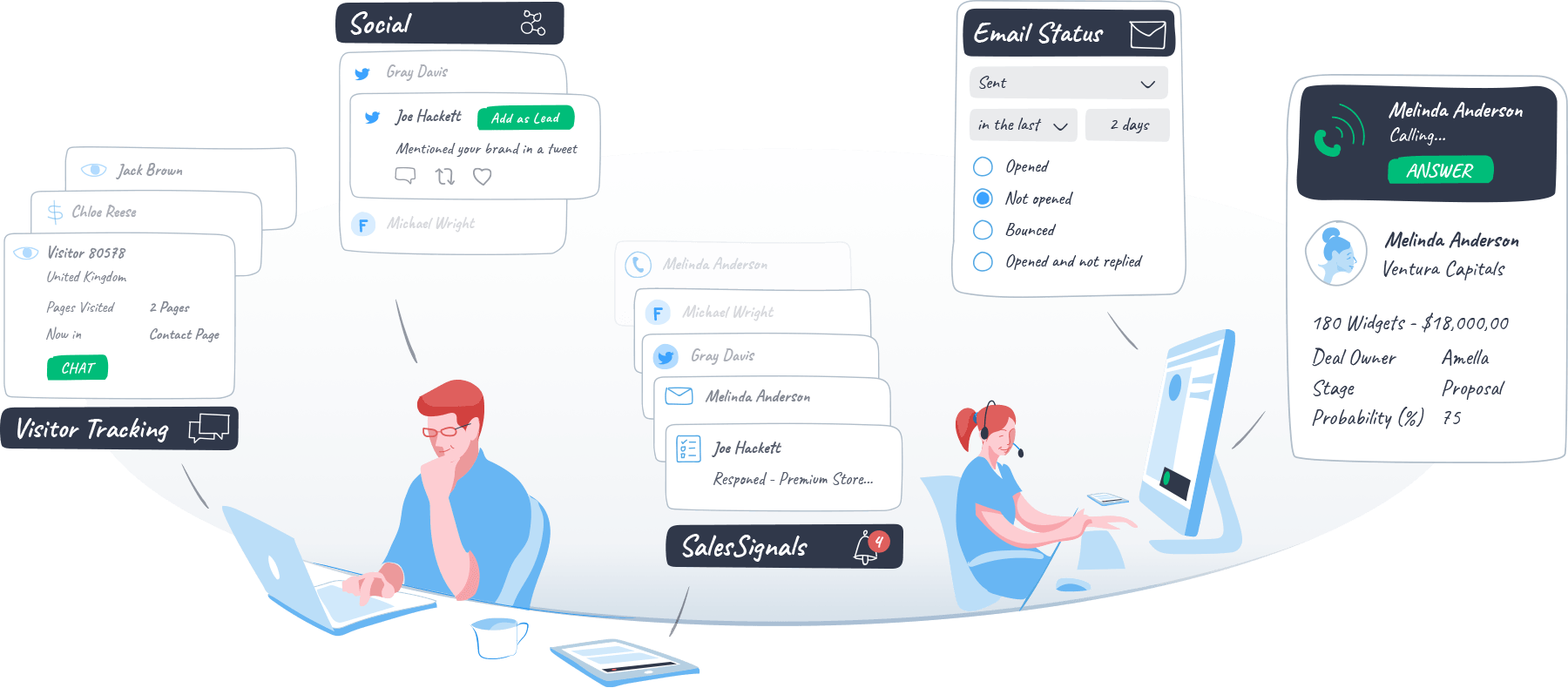 Turn data into sales
Sell through telephony, email, live chat, and social media.
Get real-time notifications when customers interact with your brand.
Add tasks, calls, and events, and sync them with your calendar.
Collaborate with your team through Feeds.
Access multiple CRM views.
Improve performance with standard reports.
Set up approval rules for records.
Create auto-response rules.
Send emails with Zoho CRM's default unsubscribe form.
Organize and rename tabs to suit your organization.
Replicate any business process with page layout customization.
Manage your marketing campaigns.
Use email templates and email opt-out.
Plan and expand
Get 1GB file storage & 25K record storage.
Set up recurring activities for your team.
House a document library, accessible to any sales rep.
Use Web-to-Lead and Web-to-Contact forms.
Export activities to Google Calendar and Google Tasks.
One suite for all your customer facing teams.
Zoho CRM includes all the enterprise apps your sales, marketing and support teams need, along with mobile apps and extensions.
Twitter

Zoho SalesIQ

G Suite

Zoho Desk

Zoho CRM

Zoho Campaigns

Zoho Reports

Zoho Projects

Zoho Survey

Jen Wood
Sales Manager, ProShred
"Great for a small business who doesn't have a budget for CRM yet and needs somewhere to store information and search it later. I have used Zoho CRM with inside and outside sales teams together. It was simple enough for the inside team to look up an account that calls in to see if they've had contact with an outside rep, and vice versa."
Sell while you're on the move.