Manage projects within Zoho CRM.
Get your project management system inside Zoho CRM. Manage project tasks and issues, milestones, Gantt charts, timesheets, analytics and reports right from your CRM account. So now you can plan, execute and track the progress of your clients' projects without leaving your CRM.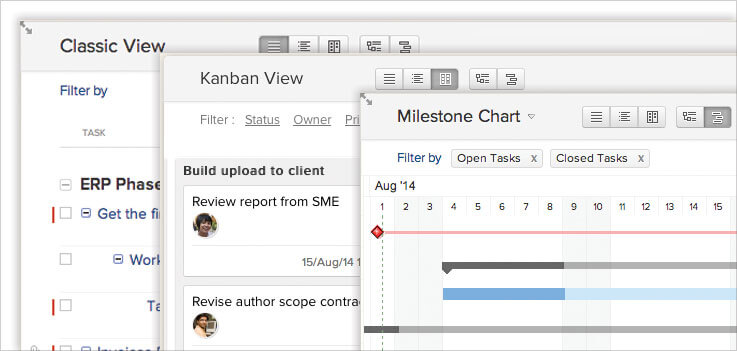 Projects information, exactly where you need them.
Your projects information is exactly where you need them - contextually placed in accounts, contacts and potentials module. What's more, you can edit or remove projects, and even create new ones from here.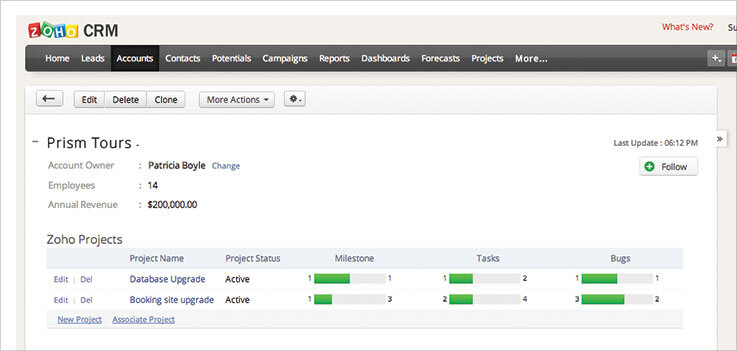 Take quick action on your calls.
Your sales reps can directly log information from their calls. They would be adding these details from CRM but they would get shown with the project in Zoho Projects. This helps those executing them to take quick action.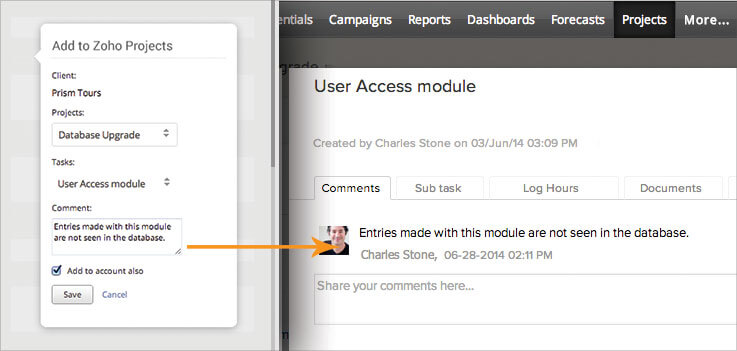 A business scenario: construction project.
Here is an example of how project information can come in handy to your sales team.
Frank's house is getting built by a construction firm. Cindy, a sales rep in the firm, needs to collect payments as parts of the construction work such as painting, plumbing and laying electrical wires get done. She has all the information about Frank within Zoho CRM. However Neil, the site engineer in charge of construction, updates progress in Zoho Projects.
The Project portal and CRM org of the firm have been linked. Therefore, as Cindy looks at Frank's details in Zoho CRM, she also sees the updates made by Neil. Thus, as Neil completes each portion of work, Cindy can easily call Frank and collect payments.
Availability
Integration with Zoho Projects is available in the Standard, Professional, and Enterprise Editions of Zoho CRM, at no extra cost. However, a Zoho Projects subscription is required.