Skyvia can help you to integrate and back up your Zoho CRM data. With Skyvia you will be able to integrate Zoho CRM with other cloud data sources and relational databases, quickly migrate data from other cloud CRMs to Zoho CRM, import and export CSV files to Zoho CRM, get automatic daily Zoho CRM backup with data preview and search and one-click restore.Skyvia is a completely online solution, which can be accessed whenever you need and from anywhere, and it requires nothing except a web browser.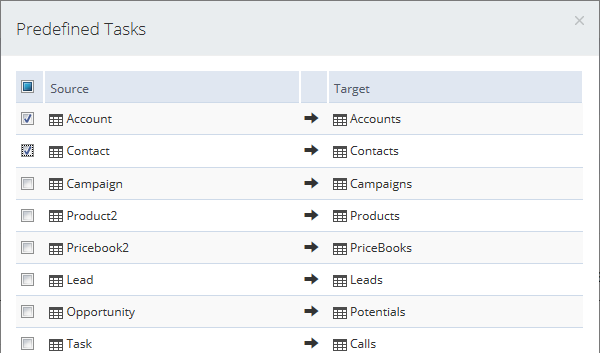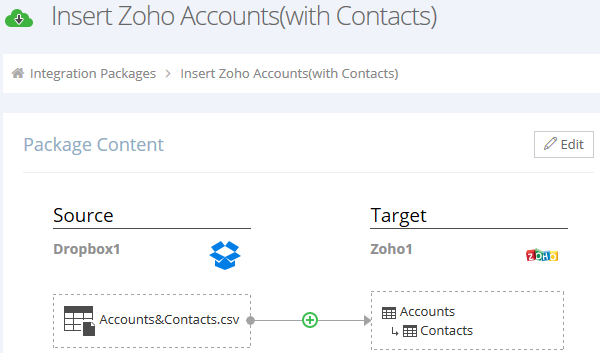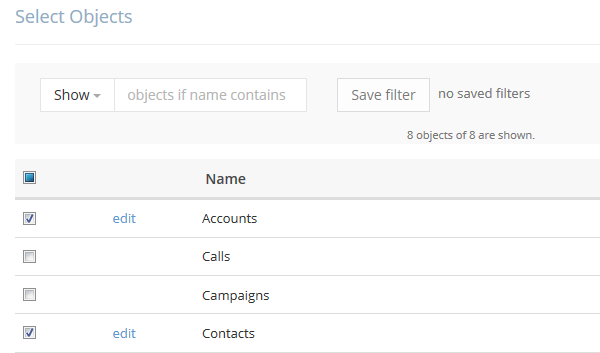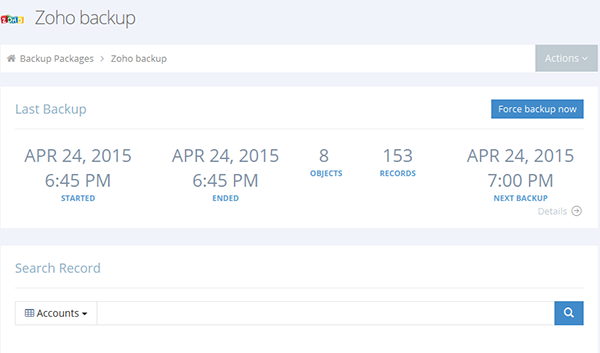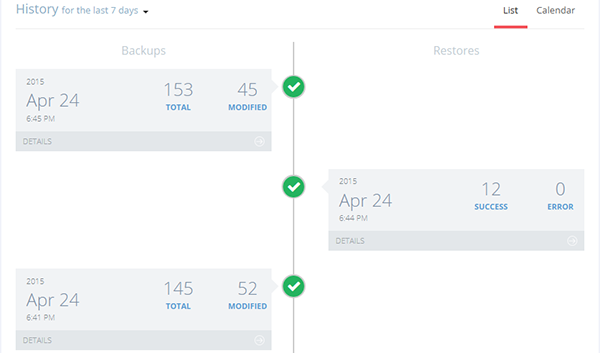 Zoho CRM Integration
Skyvia allows you to quickly integrate Zoho CRM with cloud data sources and ​relational databases. You will also be able to load data between Zoho CRM and other data sources, and configure automatic data synchronization between these sources and Zoho CRM.In Skyvia, all the integration configuration is performed in convenient GUI wizards and does not require much specific knowledge.
Migration to Zoho CRM
When you need to migrate from Salesforce, DynamicsCRM, or SugarCRM to Zoho CRM or vice versa, Skyvia is a perfect choice for you. With its predefined mapping templates you can configure your migration in just a few clicks. All you need is to specify connections and select templates to use. No need for CSV files – the data is migrated directly!
Better CSV Files Import and Export
Skyvia offers better data import from CSV files to Zoho CRM and better data export from Zoho CRM data to CSV files. For import, it doesn't require CSV files to have the same structure as target Zoho CRM objects. You can use expressions for mapping and import a single CSV file to several related Zoho CRM objects.For export, Skyvia allows you to export only some fields of an object and to create data filters to export only data that match specific conditions.You can upload and download the ​CSV manually or specify the location on Dropbox, Box, FTP, etc., and Skyvia will automatically load them from or to this location.
Copying Zoho CRM Data to Databases
Skyvia allows you to create a copy of Zoho CRM data in SQL Server, MySQL, or PostgreSQL in just a few clicks. This opens the way for using data reporting and analysis tools for relational databases with your Zoho CRM data. All you need to do is to specify connections and select Zoho CRM objects to replicate, and then Skyvia creates the schema and copies data automatically. After the data is copied, Skyvia can keep the copy up-to-date automatically.
Integration Automation
All the above operations can be scheduled for automatic execution. Skyvia's powerful scheduling settings allows you to create almost any kind of schedule you may need – you can run the operation every few minutes, on the specified time on workdays, or once on the specified date, etc.
Zoho CRM Backup
Back up and restore your Zoho CRM data easily with just a few clicks and without having to fiddle with CSV files. Skyvia offers automatic daily and anytime manual backup of Zoho CRM data with the ability to compare backups for different points in time and see the data differences in browser, data preview, search, and export, and easy one-click restore. No third-party tools required.
SQL Client for Zoho CRM
In addition to Zoho CRM backup and integration tools, Skyvia offers Query, a cloud SQL editor that allows performing SQL statements against Zoho CRM data. It allows you to use complex SELECT statements with ​joins, grouping, filtering, SQL functions etc. The selected data can be viewed in the browser or exported to CSV files.Skyvia Query also allows modifying Zoho CRM data with INSERT, UPDATE, and DELETE statements, effectively enabling you to quickly perform mass updates with SQL statements. In order to minimize the number of user mistakes when performing mass updates, Skyvia displays the preview of the modified data before actually applying the update.