Using Sandbox
When your organization grows, so does the complexity involved in your sales processes. At such a juncture, any small error in a process could have a domino effect. No organization can afford such a situation. To help overcome this hassle, Zoho CRM offers Sandbox, an environment to test your Zoho CRM settings before you can take it to your production setup. This way, you can feel much safer about changes to your settings, as you can now test them, identify issues and fix them before you take them to your working setup.
Note:
Sandbox is available in the Ultimate Edition of Zoho CRM.
Permission Required: Manage Sandbox
 Access Sandbox
To access Sandbox
Go to Setup > Data Admnistration > Sandbox.
In the Sandbox page, enter the following details under Sandbox Information section.

Name: Enter a name for the Sandbox.
Description: Describe the Sandbox settings.
Status: This is a system generated field referring to the status of the settings. You cannot edit it.
Created By: This is a system generated field referring to the the user who created the Sandbox. You cannot edit it.
Deployed to Production: This is a system generated field referring to the the user who deployed the Sandbox. You cannot edit it.
Accessible To: Define users who have access to the Sandbox settings.

Click the Access button on the top right corner of the screen.
Note:
The Deployed to Production and Status fields contain information about the latest Sandbox settings.
 Make configurations in Sandbox
The Sandbox is an exact replica of your existing Zoho CRM settings. You will see a Sandbox ribbon on this setup. Once you access Sandbox, you can go ahead and make any configurations in it.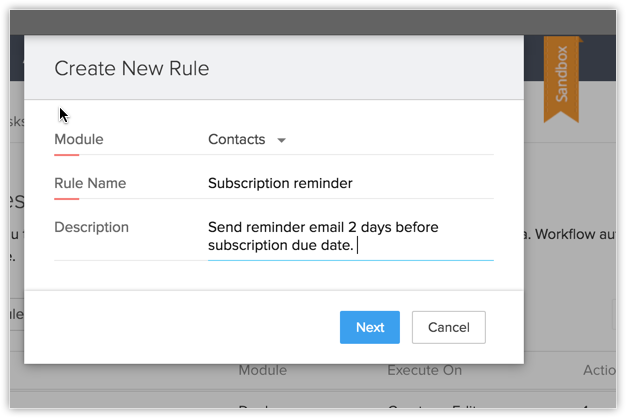 Note:
The Sandbox will contain your existing CRM configurations.
Sandbox will not display your existing records. You must create new records for testing in Sandbox.
While you deploy changes to production, only the configurations will be copied to the production and not the records that you may have created.
Following is an example of a workflow rule that has been created in Sandbox.
To create a workflow rule
In the Sandbox environment, go to Setup > Automation > Workflow Automation.
In the Workflow Rules section, click Create Rule.
Enter the workflow rule's basic information.
Enter the rule trigger, criteria and specify action on rule trigger.
Click Save.
Now the workflow rule has been created in the Sandbox environment. You can create records in Sandbox and test this workflow rule to confirm that it works alrigt. Once you are satisfied with the settings, you can deploy the settings to the production setup.
 Deploy changes to production
The configurations you have made in Sandbox are listed under the Changes section in your production setup.
To deploy Sandbox changes to production
Go to Setup > Data Administration > Sandbox.
In the Changes section, review the changes.

Expand a change and click on an entry to see the difference between Sandbox configuration and Production configuration. The differences are clearly hightlighted for your reference.
Click Deploy to Production.

All changes listed under the Changes section will be deployed to production.
 Refresh Sandbox
When your Sandbox setup is not in sync with the Production setup, any "test" that you conduct in your Sandbox will not be relevant when deployed to production. What worked in Sandbox may go wrong in your production setup as both versions were not in sync. So it is important that you always update your Sandbox settings.
Zoho CRM lets you update Sandbox by using a Refresh Sandbox option.
To refresh Sandbox
Go to Setup > Data Admnistration > Sandbox.
Click the Refresh Sandbox button.
The Sandbox environment will be updated with the latest settings in the Production environment.

Note:
You can refresh Sandbox only once in 30 days.
Any changes you have made in the Sandbox settings which is not yet deployed to Production will be lost when you refresh Sandbox. All settings will be replaced with those in the Production setup.
Also, all data added in Sandbox as well as settings that are not yet available for deployment from Sandbox will be lost.
 Points to Remember
Currently, Sandbox will allow deployment to production for Profiles, Roles, Data Sharing Settings, Groups, Multicurrency, Territory Management, Automation and Customization settings. However, in Automation, Sandbox is currently not available for Custom Schedules.
Sandbox allows you to test what happens not only when you add new configurations, but also when you edit or delete an existing configuration.
To know whether you are working on the Sandbox environment or production setup, look out for a bright orange Sandbox ribbon. This is used to differentiate Sandbox from your production setup.
Sandbox is only to test configurations in Zoho CRM. Records that you enter in Sandbox cannot be deployed to production.
You can only deploy Sandbox changes to production all at once and not selectively.
Once you have deployed changes to production, the Changes section will be empty.
You can refresh Sandbox settings using the Refresh Settings option once in 30 days. When you refresh settings, all exisiting Sandbox configurations are deleted and the Sandbox environment will mirror the latest production setup.
The changes deployed via Sandbox will be listed in Go to Setup > Data Administration > Audit Log. However, the entries in the Audit Log will only contain details of the actions performed and will not contain references to Sandbox.