FEATURES
Sales Force Automation

Journey Orchestration

Process Management

Omnichannel

Analytics

Sales Enablement

Performance Management

Predictive Sales

Customization

Marketing Automation

Team Collaboration
Remote work
Mobile apps
Security
Developer Platform

Sales Force Automation
Automate routine sales, marketing, and support functions that take up valuable work time, giving you more time to concentrate on your customers. Create optimized workflows that help you reduce manual data entry, eliminate redundancies, and speed up your overall process.
Learn more
Journey
Orchestration
Create personalized customer journeys with CommandCenter. Coordinate the actions of various departments and third-party apps used by your organization to provide customers a seamless brand experience. Track the journey taken by each prospect or customer so you always know the path they've taken. Use detailed reports to identify delays or loopholes in the different stages and make improvements.
Learn more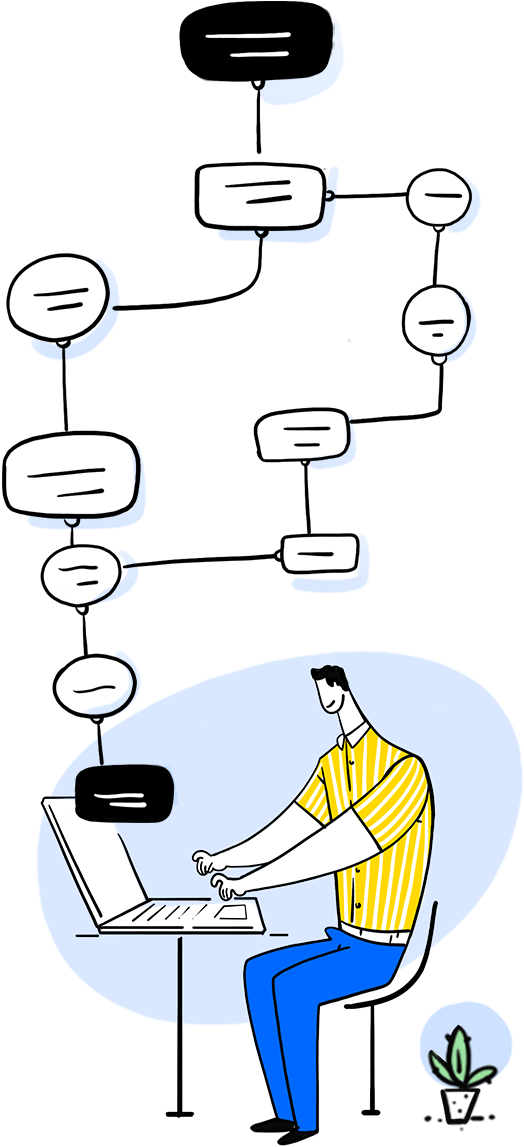 Process Management
Does your sales team know what to do at each stage in your pipeline? With Blueprints, your sales team can find out the next move to make at any moment. Define your sales process for your whole team to follow.
Learn more
Omnichannel
Converse in real time with customers and prospects. Get notified when someone interacts with your brand—whether they're browsing your website, reading an email, or talking about your brand on social media.
Learn more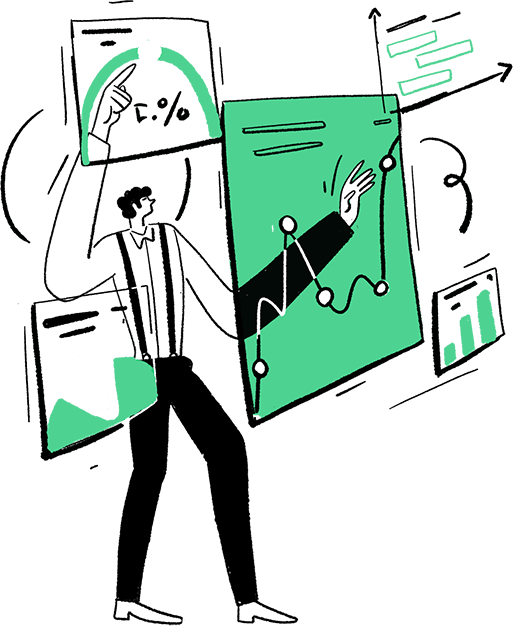 Analytics
The more your business grows, the more you need to know. Measure the performance of every sales activity, and break quotas down into achievable targets with Zoho CRM's reports, analytics, and forecasts.
Learn more
Sales Enablement
With the right set of tools, your team will never have to struggle. Generate price quotes, and access sales scripts. Permit your customers, vendors, and partners to view, add, or edit information through portals from within your CRM saving your team time and effort.
Learn more
Performance Management
Accelerate your sales team's productivity with accurate forecasts of potential revenue, and make use of productivity games to exceed your sales quotas. You can categorize customers quickly, set up multiple currencies, use AI predictions to prioritize leads and deals likely to convert, and track website visitors to convert more prospects.
Learn more
Predictive Sales and Intelligence
Zia is an AI assistant included in Zoho CRM who can help you manage your CRM data. Zia can fetch the information you want, take notes, predict the future of a sale, detect anomalies, automate tasks, and more! Stay on top of every activity with the newest member of your team.
Learn more
Hey Zia!
How can i help?
What is the revenue this month?
REVENUE THIS MONTH
$400,000
Customization
Every business is unique, and your CRM should reflect that. Combine various features to mold your CRM to fit your business—the information you collect, the way you view your information, and even the language and currency used can be customized to suit your needs.
Learn more
Marketing Automation
Get your marketing and sales teams on the same page. Generate new leads, execute targeted email marketing campaigns, and compare ad spending to sales revenue with the Google Ads integration.
Learn more
Keep up the sales pace with remote-ready features
Today's sales teams need to communicate, collaborate, and do their best work from anywhere – not just from the office. Zoho CRM's remote ready features will let you keep in touch with prospects and leads while working remotely.
Learn more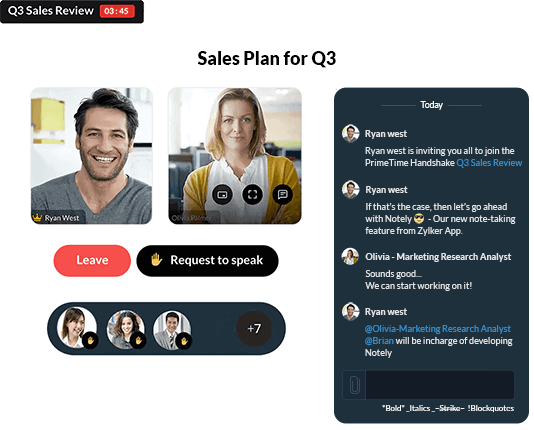 Conduct sales presentations and meetings
Conduct presentations and meetings from within your CRM. Organize webinars, convert attendees to leads, and get webinar reports, all within your CRM.
Collaborate with your team
Host a one-on-one session or a meeting with up to 50 participants, with crystal-clear audio, face-to-face video, and high-quality screen sharing. Keep everyone on the same page, even on the go.
In-depth sales analytics on the go
Keep track of your KPIs, compare sales performance across teams, and turn your sales objectives into achievable targets by accessing your analytics dashboards on the go.
Mobile apps
Stay on top of business everywhere, all the time with Zoho CRM Mobile Edition. Be better informed, stay connected to clients and colleagues, and react to fast-moving changes wherever you are.
Learn more
Security
Your security is our top priority. We understand that every organization needs to strike the right balance between protecting their customers' data and giving employees the freedom to get their work done. Zoho CRM succeeds in meeting both of these requirements.
Developer Platform
Build integrated systems, offer personalized user experiences, and develop apps for both web and mobile. Use Zoho CRM's developer platform and SDKs to build and deploy secure, scalable, and enterprise-ready solutions.
Learn more
FEATURES
Sales Force Automation
Journey Orchestration
Process Management
Omnichannel
Analytics
Sales Enablement
Performance Management
Predictive Sales
Customization
Marketing Automation
Team Collaboration
Remote work
Mobile apps
Security
Developer Platform