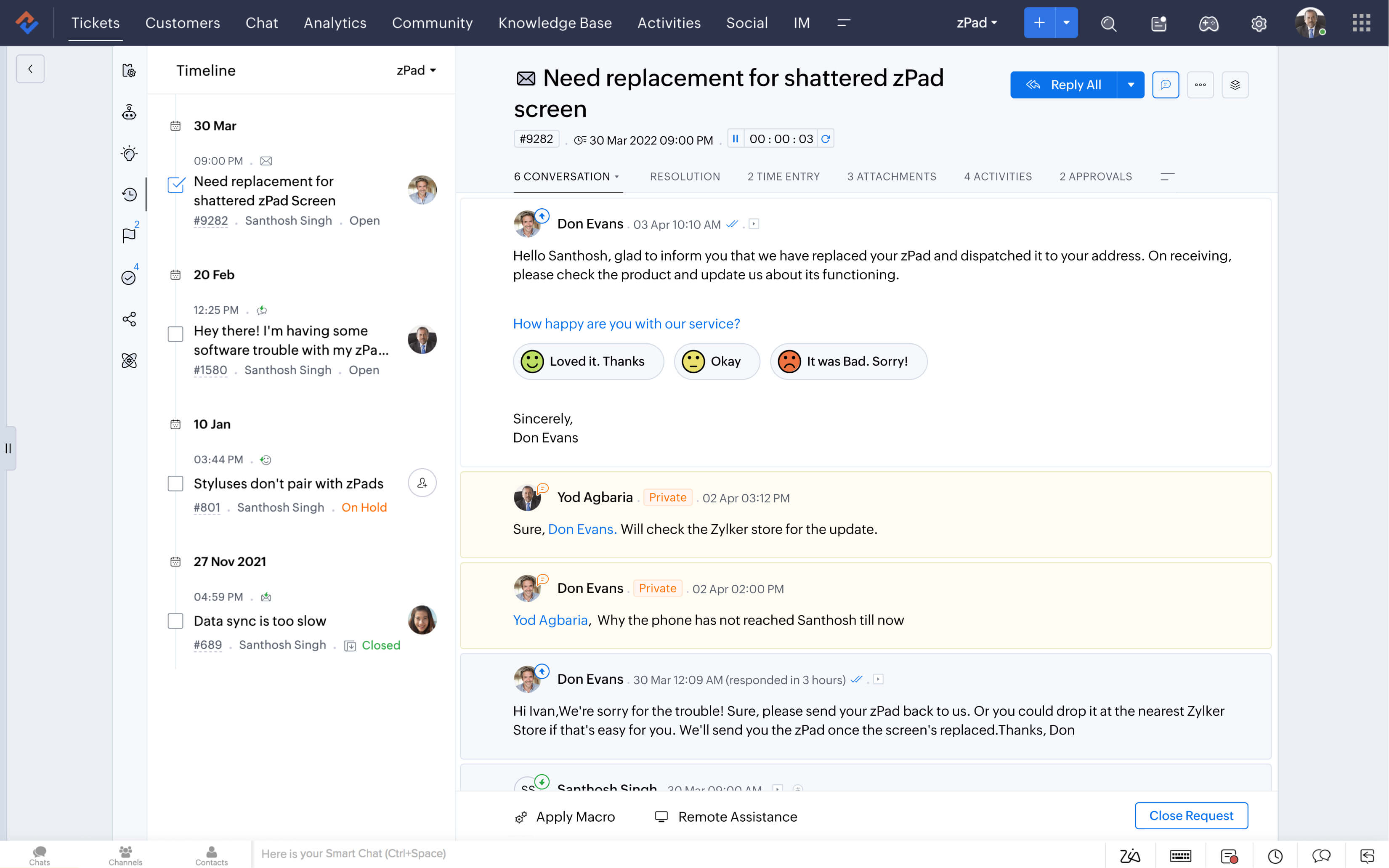 Multichannel ticketing system
Drive customer satisfaction by connecting with them on a wide range of digital channels.
Collect support tickets from different channels and centralize them in one place

View a customer's pending and resolved tickets to understand their journey with your organization

Unify data from different departments to give your agents a 360-degree view of the customer

Automatically assign tickets to the right agent

Keep agents and customers notified of any progress made on their tickets
Resolve issues on time, every time
Increase the productivity of experienced agents and help new agents get started by passing every support request through a predefined, dynamic process.
Define and scale standardized processes for post-purchase support with Blueprint

Give agents a clear picture of the actions they need to take to resolve issues quickly

Analyze how every process performs, identify and resolve bottlenecks, and
improve efficiency across the board

Organize pending tickets based on factors like priority, due date, and CRM status so agents can plan their responses accordingly

Prevent agent overlap with the Agent Collision Detection System
Augment your support with predictive intelligence
Leverage AI-powered predictions, recommendations, and chatbots to increase productivity and quality of support.
Let Zia provide automatic answers to customer questions over chat or call

Notify managers of issues that aren't addressed in your knowledge base so new technical documentation can be created

Identify the sentiment of incoming tickets and tag them with the probable cause of the issue to help agents prioritize their responses

Notify managers of anomalies like a sudden surge in incoming tickets or multiple irritated responses to the same ticket
Help customers help themselves
Make it easy for customers to find answers on their own with dedicated self-help portals, detailed knowledge bases, and online community for peer-to-peer support.
Create unique, brand-specific help centers with dedicated SLAs, communication channels, and knowledge base articles

Tweak your help articles with the right keywords, meta titles, and descriptions to boost SEO

Embed your help desk into your mobile application to help customers browse your knowledge base, engage with the community, or raise tickets from the app

Build rich and engaging communities for customers to share ideas or resolve problems
Deliver seamless and meaningful service in
high-volume B2C environments
Improve your agent productivity with intelligent automation, promote self-service, and
manage cross-functional services to improve customer satisfaction.
Empower customers by providing a rich knowledge base so they can access the relevant answers quickly and resolve issues for themselves

Cut down on any delays in ticket resolution during high volume periods by routing high priority tickets to your support specialists first

Work modes help agents prioritize open tickets based on factors like due time or CRM status
Improve insight into the needs of high value accounts
Align sales and service teams to identify top accounts in your organization and
deliver personalized service experience, addressing their unique needs.
Stay on top of specific details of high value accounts like renewal cycles and critical issues to deliver contextual service

Manage complex cross-functional service processes and collaborate with account management teams effectively

Offer resolutions to your key accounts on time with effective SLA and escalation management

Provide relevant high-touch service interactions via the communication channels preferred by your customers
Don't let distance be a factor in delivering expert service
Resolve customer issues remotely with expert guidance delivered through AR-powered remote assistance.
Experts can view the camera stream of a smartphone or a smart glass at a remote location and
give work instructions right from their desks

Deliver interactive visual assistance sessions with built-in VoIP and text chat

Capture snapshots of the camera stream to document specific events during the session or to analyze an issue further

Create comprehensive trails and document all your sessions to create a knowledge base
Customer service analytics
Analyze various customer service and agent performance metrics to identify bottlenecks and
refine your customer service process.
See how your support operations are performing with a range of metrics in the Ticket Overview screen

Give managers a single, centralized dashboard to check agent availability, measure ticket traffic, monitor customer satisfaction, and track critical feedback

Drill down into more detailed reports on KPIs like response time, resolution time, and
agent performance

Customer success managers can stay on top of these metrics with real-time analytics in
our mobile app