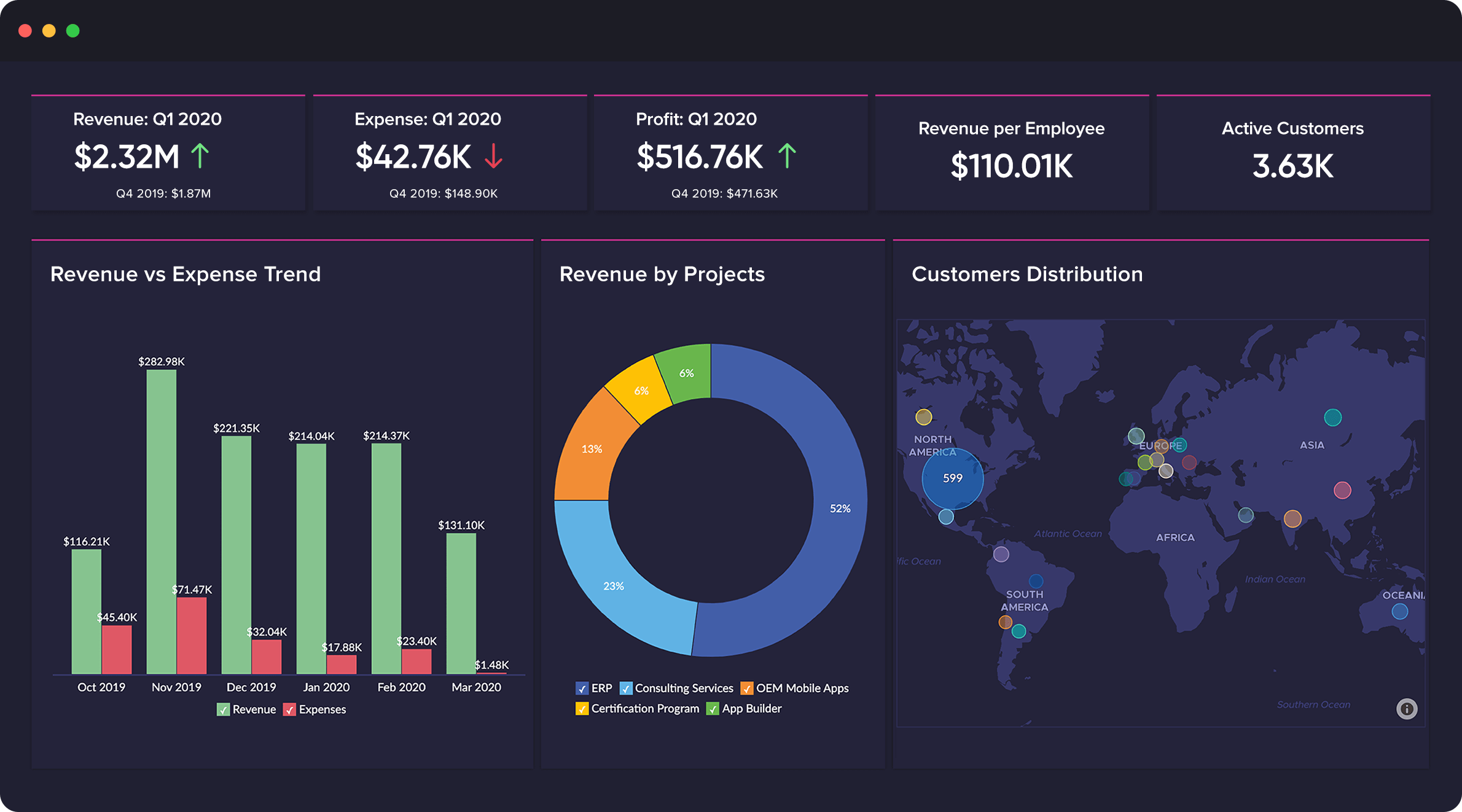 Bring together business data from across your enterprise
Unify business data from various applications in different departments to derive valuable insights and improve your business performance.
Run analysis on data from spreadsheets and flat files as well information pulled from web URL feeds

Connect with a wide range of cloud and on-premise databases that house your business data

Connect to business applications across your tech stack with native connectors and powerful APIs

Blend data from different sources to build meaningful reports and drive intelligent
decision-making
Visualize complex data
Transform underlying business data into a treasure trove of insights with a range of visualization tools.
Build meaningful reports and dashboards easily with our drag-and-drop interface

Derive insights from even the most complex reports with visualization tools like charts, widgets, pivot tables, and more

Explore your analysis by viewing underlying data, drilling down, and using contextual filters to single out specific metrics

Analyze your metrics by geography across regions, countries, states, and postal codes with interactive maps
In-depth analysis for your data
Explore your business data with powerful drill-downs and analytical functions. Stay ahead of trends and deviations in business data with real-time, contextual alerts.
Spreadsheet-style interface for easy data addition, analysis, and reporting

A wide range of simple, easy-to-use prebuilt analytical functions to help you identify key metrics from your data

Zia is always available to answer your questions with reports and KPI widgets

Smart forecasting keeps you informed of future trends based on historical data

Any deviation, spike, or anomaly in the trend triggers alerts to your team
Get insights into the right hands
Collaborate with colleagues, partners, and customers to explore your reports and dashboards and share your discoveries.
Maintain granular control over access to data and the actions that can be performed on your reports and dashboards

Collaborate with peers on reports or dashboards for contextual discussions

Publish and embed your reports or dashboards across your websites, blogs, and intranet to share insights with a wider audience
White labeled BI solution
Become a BI provider by setting up reporting portals with completely rebranded and customized reports and dashboards.
Embed your reports and dashboards directly into your products through a white label Zoho Analytics solution

Host your analytical data, reports, and dashboards on fully rebranded portals and across your websites