A CRM that can be moulded to reflect your business. 
An enterprise CRM software should be customizable—able to handle custom business logic and integrate seamlessly with third party applications, without compromising operational efficiency. Create fields and modules when gathering additional information and set up workflows and functions that automate specific tasks, to help your sales team close more deals.
Custom components

Integrations

Workflows

Custom functions
Data security at heart.
With concerns for data privacy at an all time high, it's vital to protect your customer data and, at the same time, ensure your team has the access they need to do their job. A cloud CRM with multiple data centers, access control, and native GDPR compliance is instrumental in maintaining the integrity of your customer data.
Encryption

Profiles and permissions

IP restriction

Sandbox

Data centers
Encryption during transit and storage
Customer data security is vital for any business, so we encrypt it in storage and transit with the AES-256 protocol, ensuring that the information stays safe while it's being processed.
Access control with user profiles and field-level restrictions
Everyone in your organization can't have access to every piece of data in your CRM. Create roles and profiles with field-level permissions so your CRM data can only be accessed by those who need it.
Learn More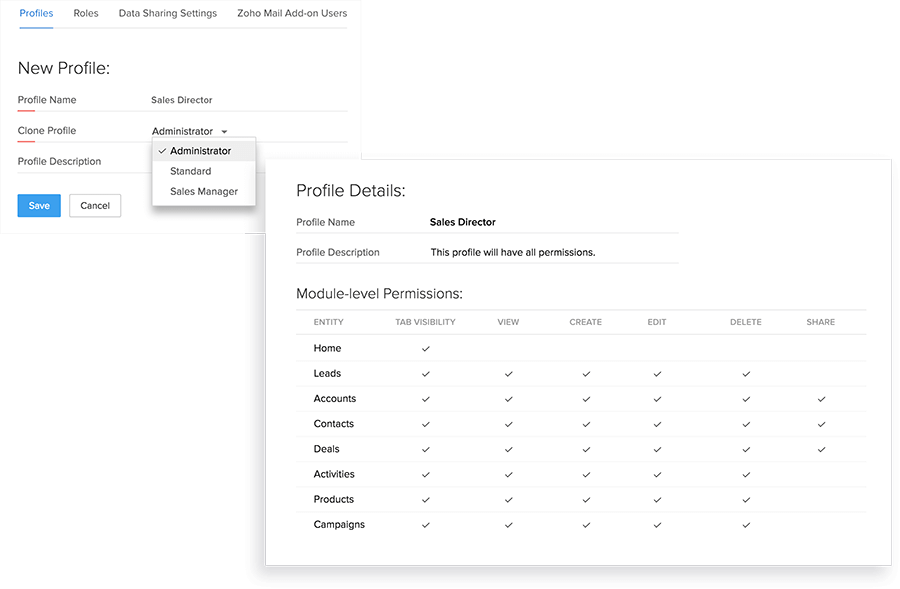 Security from unauthorized IP addresses
Use IP restrictions to ensure that there's no unauthorized access to your CRM from outside your corporate networks. Even if user credentials are stolen, this makes it impossible to access your CRM from outside designated IP addresses.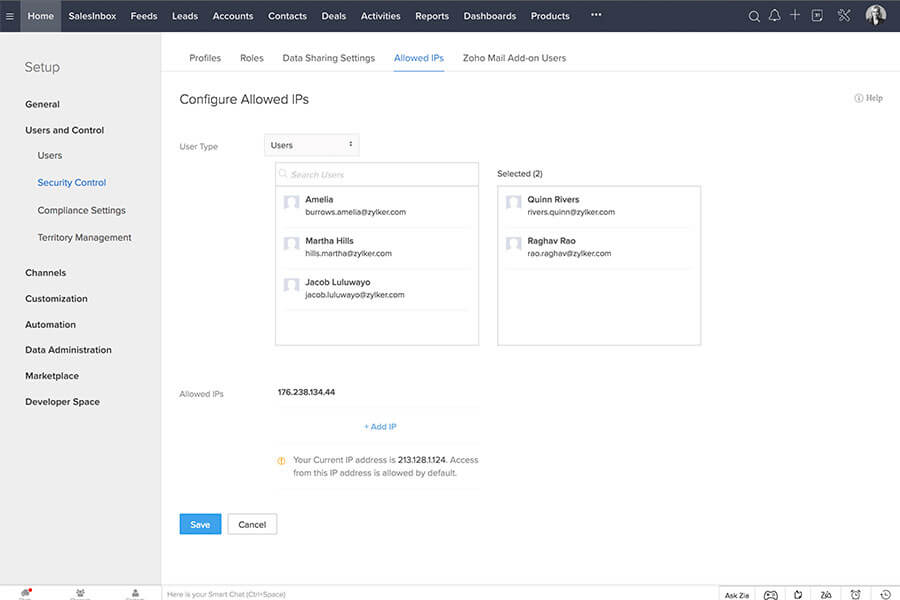 Customize and deploy changes with confidence
Invite external developers to customize your system without compromising your CRM data, with Sandbox. Only publish changes that you approve, and use logs to inspect your sandbox and gain insight into your deployment history.
Learn More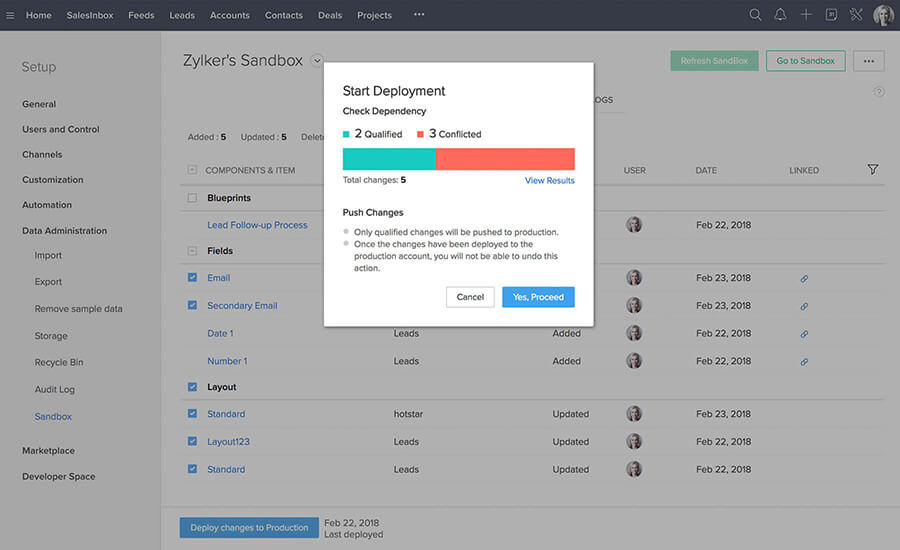 Choose the right location for your data
With state-of-the-art data centers in the US and EU, you can breathe easy knowing that your data is secure. Each location is protected by multiple layers of access restrictions, biometric security, and constant video surveillance to ensure that your data is safe from any physical harm.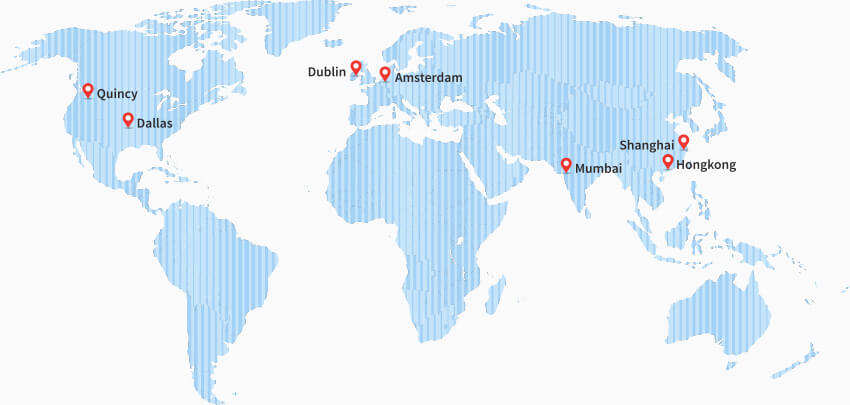 A CRM that grows with your business.
Enterprise CRM solutions should scale with your teams and operations, without a drop in the quality of your service. You should have access to developer tools for creating custom mobile and web applications tailored to your team, as well as widgets that allow you to embed third party applications directly inside your CRM.
Blueprint

Web/mobile SDKs

Widgets
Understand the numbers—understand your business.
There's no room for guesswork when it comes to numbers. A CRM should comb through your data and generate valuable insights for you and your teams. This knowledge, combined with analytics, helps identify and fix anomalies in your business processes. Zoho CRM's built-in analytics engine helps enterprises gain that crucial competitive advantage.
Reports

Analytics

Forecasting

Territory Management
The AI assistant for salespeople.
With data mining and machine learning, AI can help you make sense of your CRM data by finding correlations and providing you with tips to improve your business, automate mundane tasks, and provide an interactive link between you and your CRM's information.
AI

Predictions

Best time to contact

Sentiment analysis
A conversational AI
Zia, Zoho CRM's AI is an interactive link between your team and your CRM data. Simply call or chat with Zia to perform various actions, from viewing your reports to scheduling a call or a meeting to updating records in your CRM.
Learn More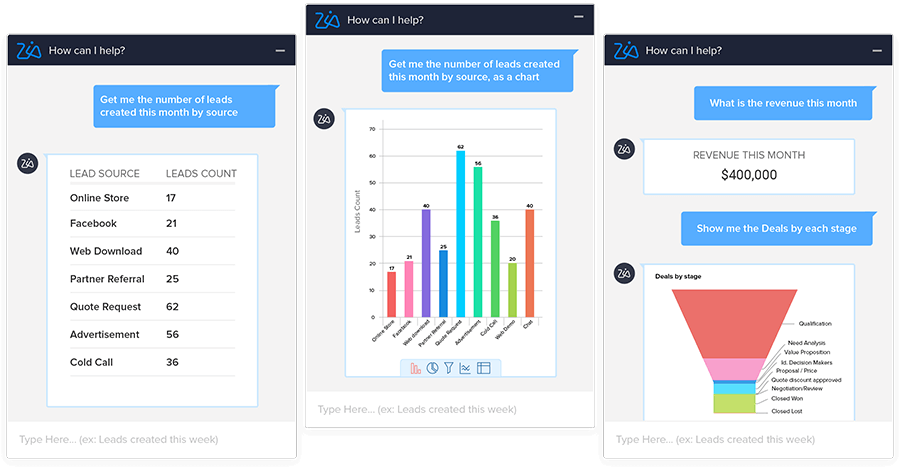 Lead conversion and deal closures prediction
By analyzing the sales activities in your leads and deals, and comparing these with winning patterns, Zia predicts the chances of a lead converting or a deal closing. This allows you to focus on records that have a higher probability of success.
Learn More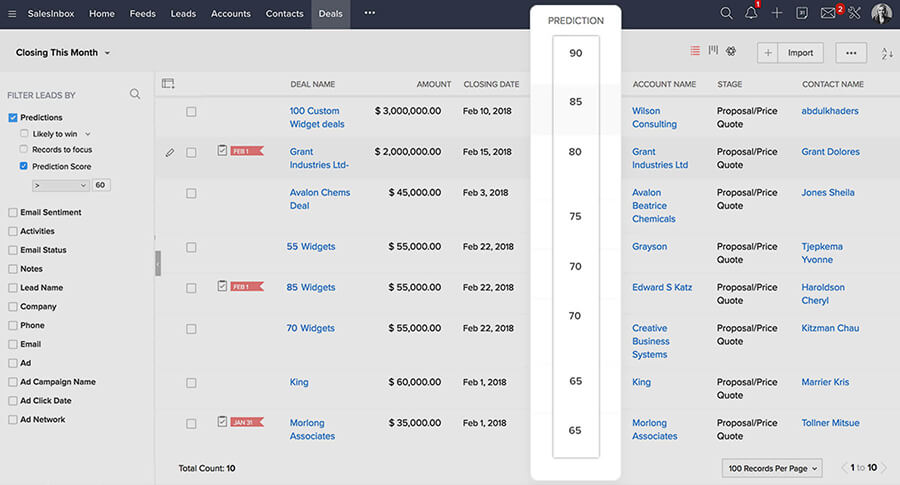 The perfect time to get in touch
One of the hardest parts of sales is catching your prospects at a time when they're able to have a conversation. Zia analyzes your call logs, emails, and social media interactions to suggest the right day and time to contact your prospects, so you have fewer unopened emails and missed calls.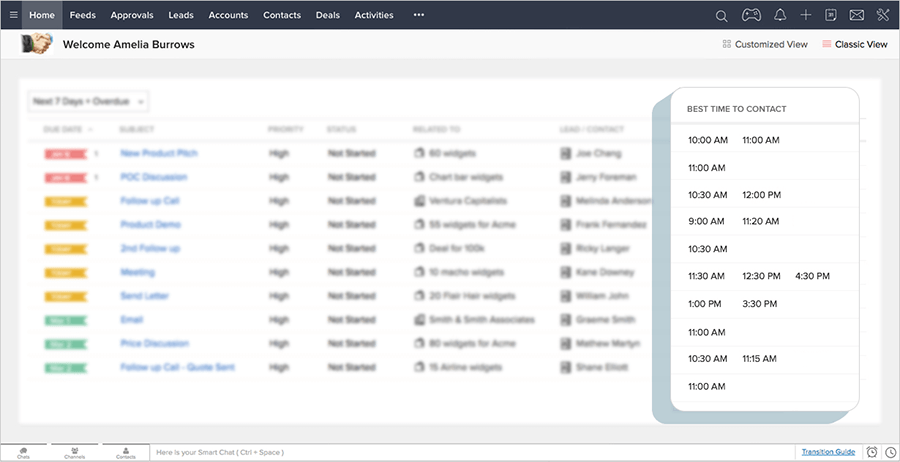 Prospect mood analysis
In this world of digital communication, it can be hard to gauge the tone of your prospects' emails. Zia goes through them and notifies you whether they're positive, neutral, or negative, so you can plan your next interaction accordingly.
Learn More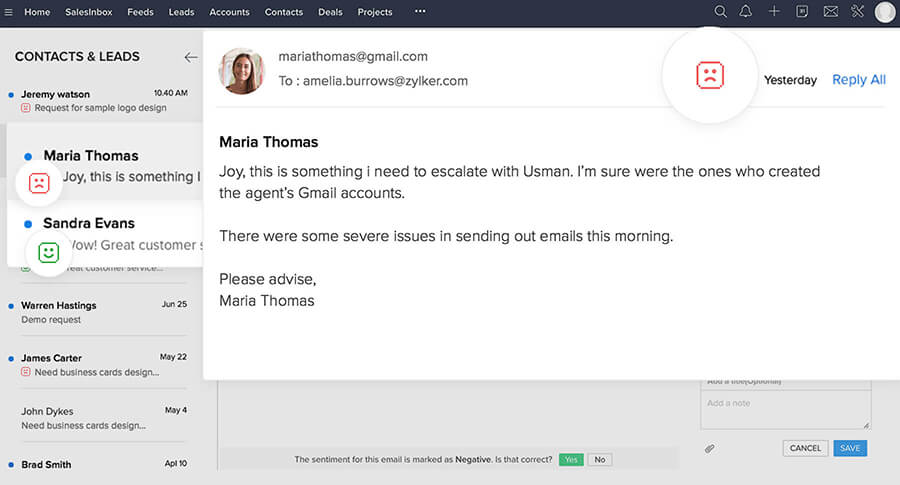 Customization within Zoho CRM was flexible and helped us get a CRM system of our own. We used Zoho CRM for both B2B and B2C sales processes. Automation helped us to keep track of everyday happenings and increased our ROI.
Jon Carder
Co-Founder, Mogl