Marketing persons are responsible for the activities and processes necessary to create, communicate, deliver and exchange offerings that have value for customers and partners. They integrate communication-based process through which product and services meet the customers' requirements.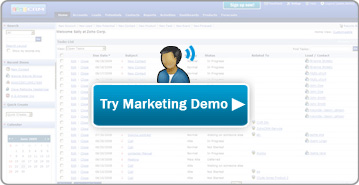 Marketing Role:
Plan & execute marketing campaigns (trade shows, email marketing, etc.)
Generate Leads
Measure ROI of marketing campaigns
Identify cross-selling and up-selling opportunities
In this demo, you experience...
Converting leads to opportunities | Steering accounts towards business revenue | Dealing with opportunities | Identifying competitors | Tracking sales revenue against probabilities | Analysing business performance