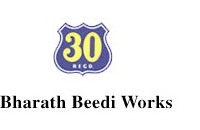 Our business model is complex with multiple production facilities and sales locations each using techniques and processes localized to suit their requirements.
Ananth Pai, Executive Director,
About Bharath Beedi Works
Bharath Beedi Works Ltd. is a market leader in the tobacco business with sales coverage of over 2000 towns in India. The company has 50,000 staff strength with pan-India presence.

They export products to over 16 countries across the globe catering to a vast clientele which needed a strong, widespread and decentralized sales team. This, in turn, necessitated close coordination across various internal and external divisions.
Challenge
Simplify highly transactional sales cycle.
Synchronize between production, logistics and transportation, warehousing, sales and distribution management.
Track market scenarios and easy monitoring of sales volume fluctuation.
ROI on marketing campaign.
Reduce duplication and ease communication flow across the sales and distribution network.
Solution
A CRM that captures all production information, transportation and logistics details and sales data, right from the wholesalers to the last mile resellers.
Provides inputs to different stakeholders using email and SMS reminders.
RFID integration with CRM for ease in uploading data.
Customized online reporting to management and staff process leads.
Innovative practices to automate task flow, competition information, market details, product feedback and marketing campaign monitor.
Result
A win-win situation for the client, internal sales staff and external sales agents.
Improved sales channel productivity process to strengthen the client's leadership position in the market.
Re-factor of sales techniques to improve sales productivity.
Decisive steps to closely track the functioning of sales personnel at both the micro and macro level.
Investing in a CRM tool to enable the client track the progress of every enquiry without any manual intervention.
Recommended RFID integration with CRM, thus saving several man-hours for the client and reducing errors.
About KVP

KVP, a Zoho Alliance Partner Program member, implemented Zoho CRM for Bharath Beedi Works Pvt Ltd. You can contact KVP at: info@kvpcorp.com