Get your Email inside CRM
You use CRM to manage your customer relationships. Yet the vast majority of your customer conversations happen via email. No problem. MailMagnet for Zoho CRM captures, collates and distributes important customer email activity all within your CRM system. Every update, development and opportunity is immediately shared with appropriate team members, without you having to remember who to copy or forward.

You can even receive notification and reply to customer emails within CRM, saving you the time and hassle of toggling back and forth between applications. With MailMagnet for Zoho CRM there's no gap between what's said and what needs to be done. Nothing falls through the cracks, and everything is stored and organized for easy, instant access.
Instant notifications.
MailMagnet intelligently scans your mailbox and displays only emails from prospects and customers that are relevant to you inside CRM. You can also instantly reply to emails, add follow-up tasks and write important notes.
Centralize emails.
Organize all customer information and emails within your Zoho CRM system. Easily switch between email and CRM modules within the same browser tab.
BCC customer emails to CRM.
Send emails to customers from any of your favorite mail clients, and get a copy of the email linked to the right lead or contact in CRM. Automatically have a record created if the customer detail does not exist in CRM.
Richer customer profiles.
Link prospect and customers emails with your CRM data so you have better information about your interactions with customers always at hand.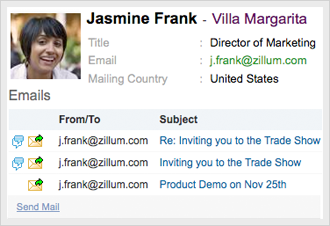 Share emails.
Collaborate with your colleagues by sharing emails from prospects based on your own rules and organizational hierarchy set within CRM.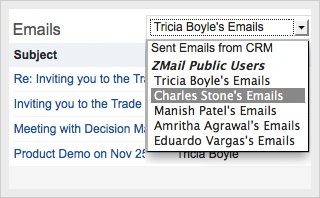 Works with any email system.
Send and receive emails simultaneously within CRM and from your business email clients, such as Zoho Mail, Gmail, Google Apps, or Yahoo!