Complete ROI visibility with attribution *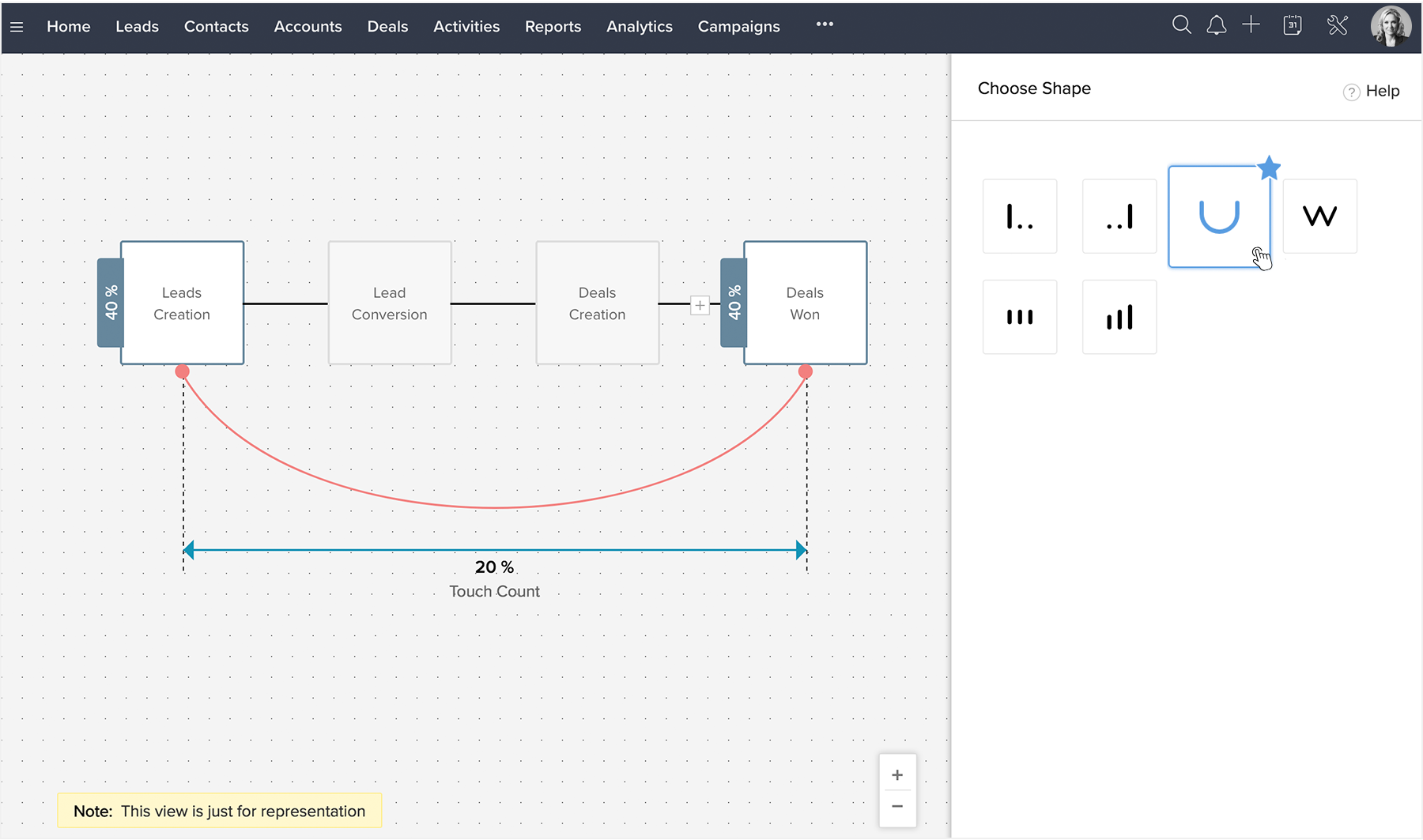 Bring your marketing campaigns together
Zoho CRM gives you the power to run your campaigns from idea to execution. From sending out personalized and high-performing email campaigns to launching a webinar or survey campaign—create, send, and track campaigns that are specific to your business. Set ownership of tasks, assign budgets, and measure the success of your campaigns, all from within Zoho CRM.
Manage and implement your webinars better

Don't waste your time switching between your webinar and CRM interface. Zoho CRM works with Zoho webinars and other third party service providers to showcase your webinar campaign information in your CRM window. Set up your campaign with engagement polls, invite registrations with customized emails, measure it's performance, and more.

Send out targeted survey campaigns

We've brought your survey interface inside Zoho CRM, powered by Zoho Surveys. Create and send out objective surveys while also keeping an eye on how each of them is performing. When your prospects respond to a survey, add them as leads and associate follow-up actions that are timely, as well as effective.

See how your Google Ads investment is performing

Zoho CRM combines your Google AdWords spending with your sales data, so you can figure out which campaigns, ads, or keywords are helping you convert leads to customers. Spend your dollars where they count and get a better return on your investment by targeting advertisements to your most profitable campaigns.

Learn More

Convert more with effective email campaigns

Send out email campaigns that are targeted, yet personal, from Zoho CRM, powered by Zoho Campaigns. Choose from a range of pre-designed templates from our gallery or easily create one that suits your business. Associate drip campaigns, while also being able to track your email open rates, clicks, and bounces.
Insightful reporting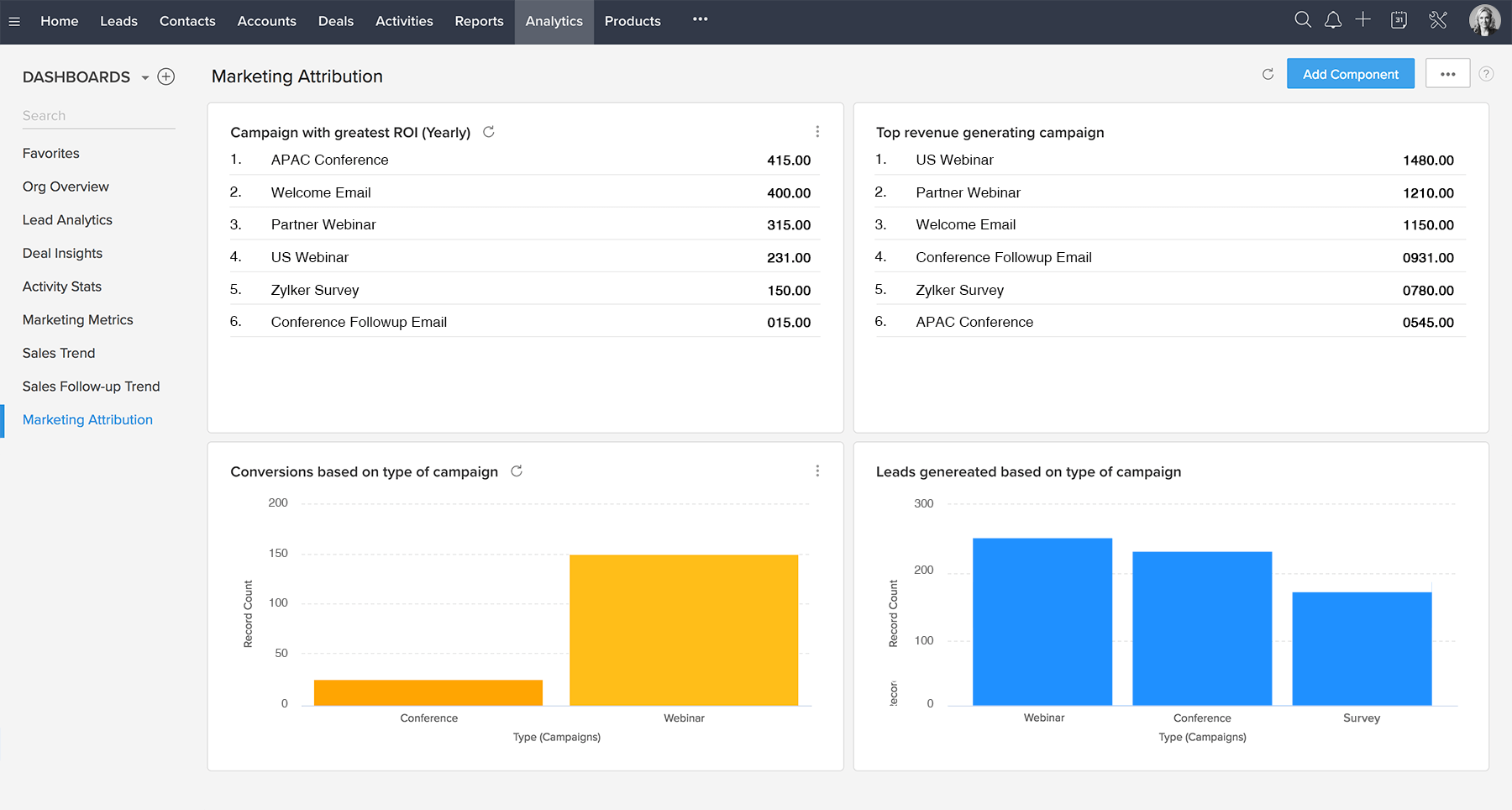 Associate multiple campaigns together
There are multiple campaigns behind a deal's closure and it's crucial to have visibility on each of them. Hierarchies in Zoho CRM help you do just that. Associate sub-campaigns to your main campaigns and see how each is performing. Send out a survey campaign to your trade show leads and schedule a webinar invite only to people who filled it out. Follow up contextually and track the campaign journey of your deals.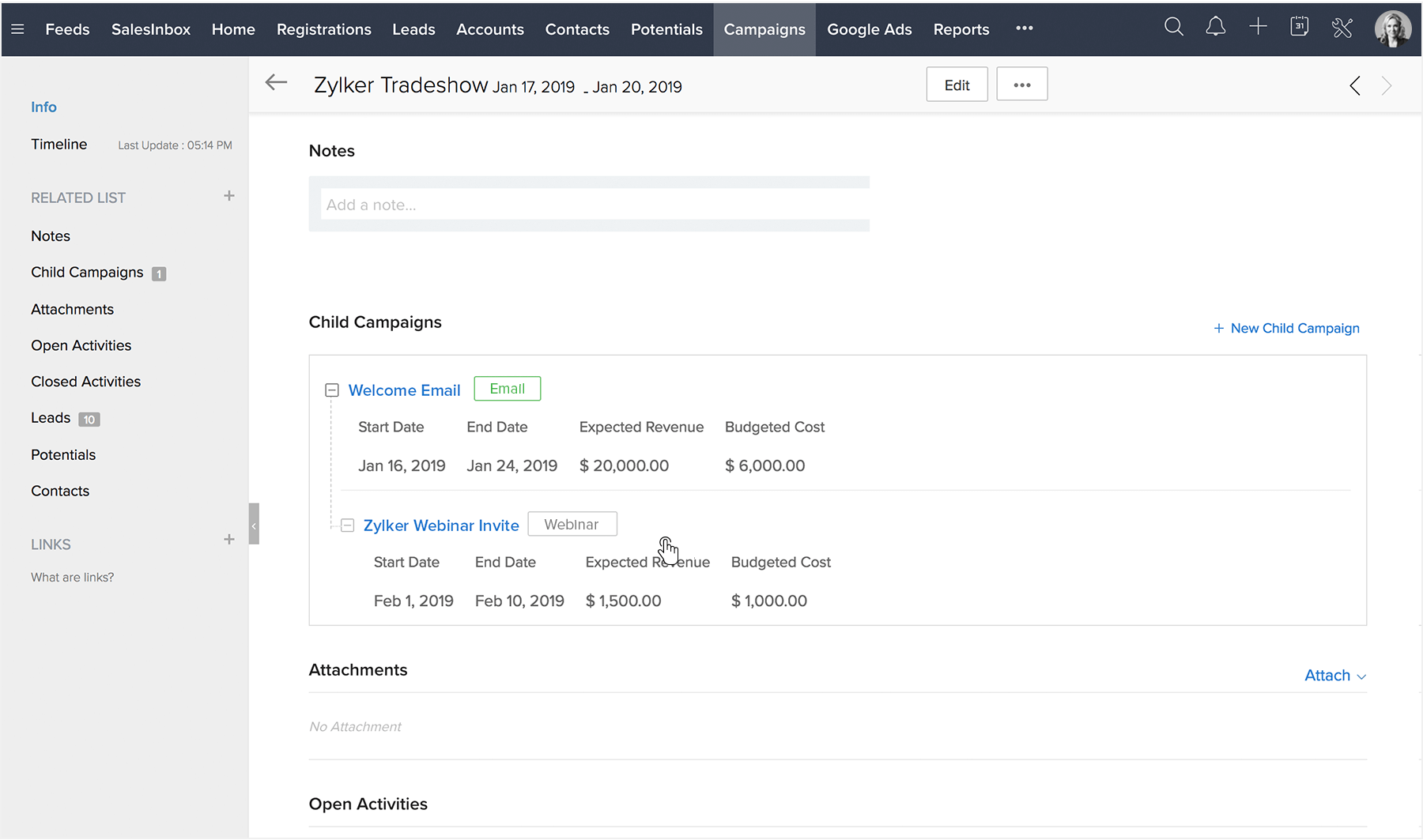 Capture visitor information directly in your CRM
When you have visitors on your landing page, web forms in Zoho CRM make sure to make every single one of them a lead. Build your forms with a simple drag-and-drop interface without the need for any coding expertise.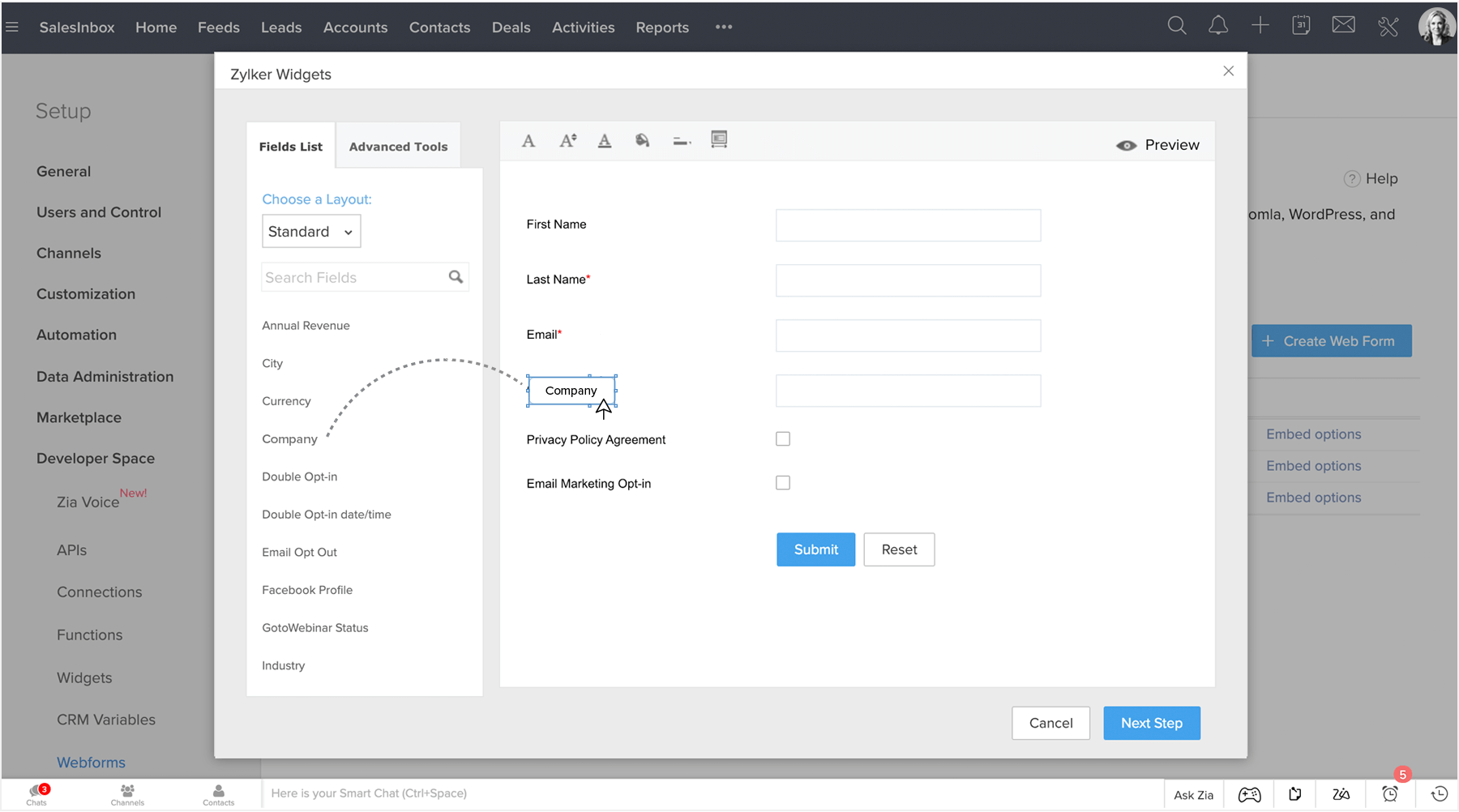 Keep your leads' business cards safe
Scan the business cards of your trade show leads and automatically push them as leads into Zoho CRM. Acknowledge them by associating follow-up emails, even before they leave your booth.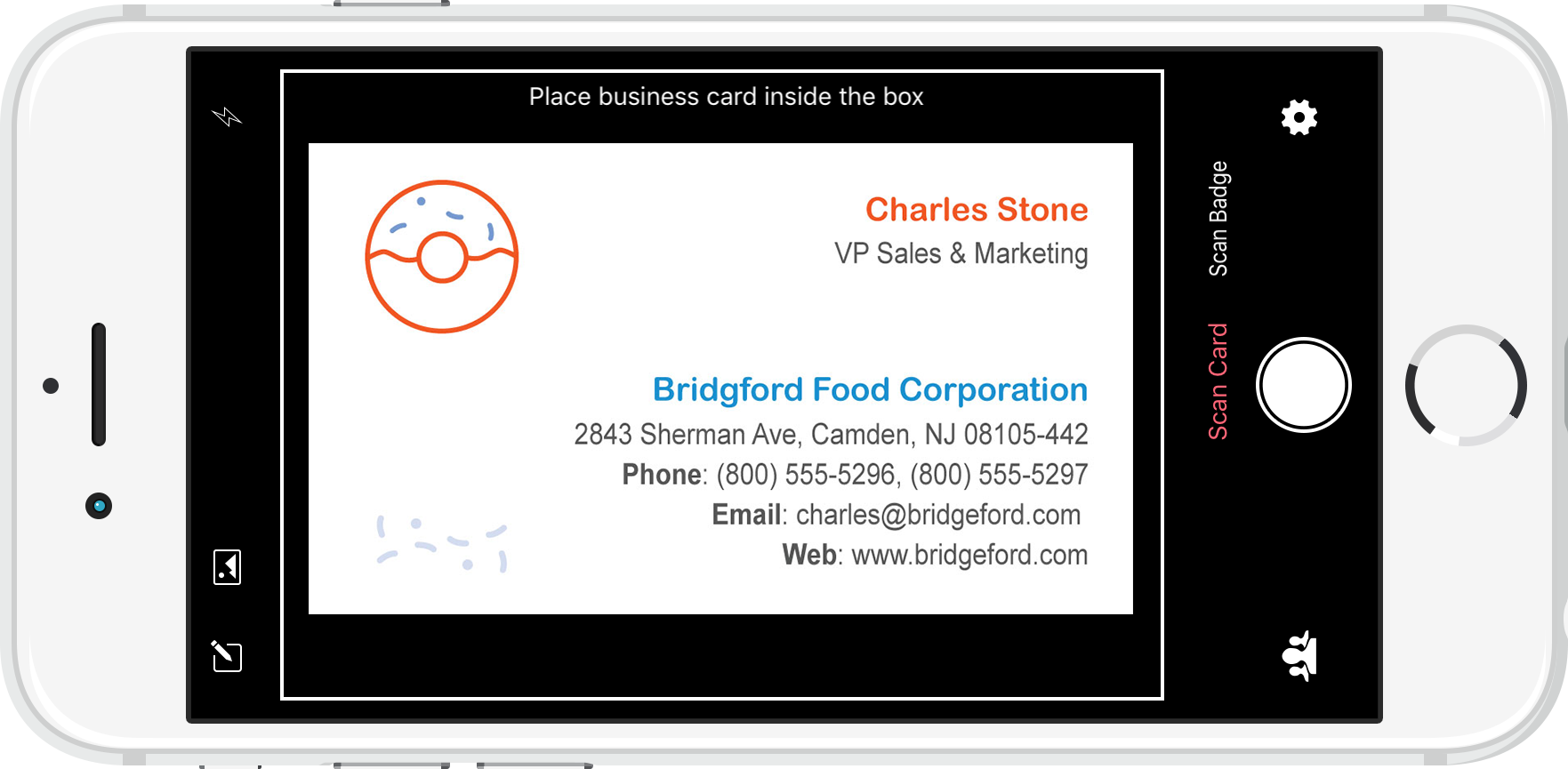 Maximize your marketing ROI and close more deals
Zoho CRM gives you the tools to make smarter marketing investments.